One charged, two arrested in connection with Christopher Gray's death


MILWAUKEE (WITI) -- Family members and friends on Tuesday, November 26th gathered to remember Christopher Gray -- a popular Milwaukee club promoter known as "Caly Kris." Gray was laid to rest on Tuesday.  Also on Tuesday -- a 22-year-old man was formally charged in the case, and two others were arrested.

Services for Gray were held for Gray Tuesday morning, and friends and family members gathered to remember his life.

Gray was killed early last Monday morning, November 18th when he came home to a robbery in progress.

On Monday, Milwaukee police announced a 22-year-old man was arrested in connection with this case, and on Tuesday, police announced a 15-year-old boy and a 34-year-old man have been arrested in the case.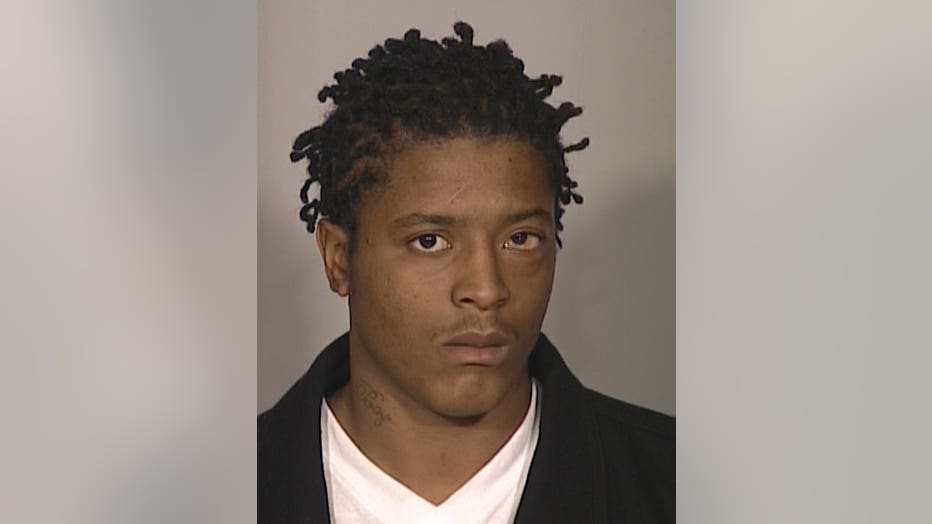 Jonathan Sellers of Milwaukee was formally charged in the case on Tuesday. He faces one count of burglary (building or dwelling) as party to a crime.

A criminal complaint in the case says officers were dispatched to Gray's home on N. 68th Street and found Gray lying on the ground unresponsive and barely breathing. Life-saving measures were attempted but unsuccessful.

The complaint says Gray had a large contusion on the back of his head, as well as an abrasion on his right shoulder.

The complaint says in an alley, officers found an asthma inhaler, a black metal Gucci brand watch clasp, Gray's driver's license and other items of clothing. The complaint says a Durex 10oz claw hammer was found in the shrubbery in a parking lot nearby.

The complaint says Gray's residence was in disarray, with electrical cords on the ground in the living room that appeared to have once been attached to a TV. Additionally, the kitchen cupboards and drawers were open, and there were several items of clothing on the floor, according to the complaint.

In Gray's bedroom, the complaint says officers noticed clothing, hats and shoes strewn about the room -- and a TV mounted to the wall that appeared to be pointing in a downward angle and the mounting bracket was bent, as if someone was trying to get the television off the wall.

A long mirror was found broken on the floor of the bedroom, according to the complaint.

The complaint indicates the suspect(s) may have entered through a bathroom window.

Sellers was charged after his fingerprints were found on some of the items recovered from the home by investigators, according to the complaint.

When interviewed by officials, Sellers told them he was with three other individuals on the morning of Monday, November 18th. Sellers told investigators he and the other three individuals drove to Gray's residence and waited for him to leave, according to the criminal complaint.

The complaint says after Gray left, the group waited about 30 minutes, before Sellers and another individual, believed to be the 15-year-old boy, entered the residence through an open bathroom window and "looked for things to steal."

Sellers told officials he and the 15-year-old boy took a large flat screen television from the living room, two laptops, and an XBOX 360 -- according to the criminal complaint.

That's when the two heard the garage door open and knew someone was home.

Sellers told officials the 15-year-old boy went to the kitchen and grabbed a hammer, and that's when Gray opened the door to his home -- according to the complaint.

The complaint says Sellers and the 15-year-old boy "jumped out" on Gray and began to chase him. They chased him into the alley and pushed him down twice. Sellers told officials the 16-year-old boy hit Gray in the head with the hammer three to four times "really hard" -- according to the complaint.

The complaint says while the boy was hitting Gray with a hammer, Sellers went through Gray's front left pants pocket and removed money and an iPhone.

If convicted of this felony burglary charge, Sellers faces a maximum of 12 years in prison and a maximum fine of $25,000.

The complaint says Sellers and the 15-year-old boy fled the scene, and were picked up in the area of W. Chambers and W. Girard by the other two individuals in the car.

"A life was taken too soon. I'm hoping this 22-year-old boy holds the key to what happened. If he was there, he knows what happened. Everyone is feeling a glimmer of hope that this may come to an end. We just don't need to linger on these people. They need to be off the street and in jail. We figure it's a couple -- at least two or three involved in this. If we can get those people in custody, the family can move forward. We definitely are hoping that this whole case is resolved immediately to the family and we can proceed in the grieving process," Gray's cousin, Tory Lowe said.

Lowe says Tuesday's funeral services for Gray were about celebrating Gray's life.

"He was an awesome person. He wouldn't want you to cry for him. He would want you to celebrate. He was a promoter -- wanted everyone to party and have a good time," Lowe said.

Gray left behind two young children. A fundraiser was held for the boys on Sunday.