On heels of new poll showing Clinton lead, Bernie Sanders rallies supporters in Milwaukee


MILWAUKEE -- Bernie Sanders was in Milwaukee Wednesday, November 2nd to campaign for Democratic presidential candidate Hillary Clinton. He rallied supporters at Turner Hall in downtown Milwaukee -- making a final push for voters to choose Hillary Clinton and Russ Feingold on November 8th.

Sanders, who won Wisconsin in the primary, once a Clinton rival, has been campaigning on her behalf in Wisconsin. The Vermont senator has made several appearances here in Wisconsin.

Clinton, however, has not made a single visit during the general election. Even so, she continues to have a lead in the polls.

The latest Marquette University Law School Poll, released Wednesday, showed Clinton up by six points with less than a week until the election on November 8th.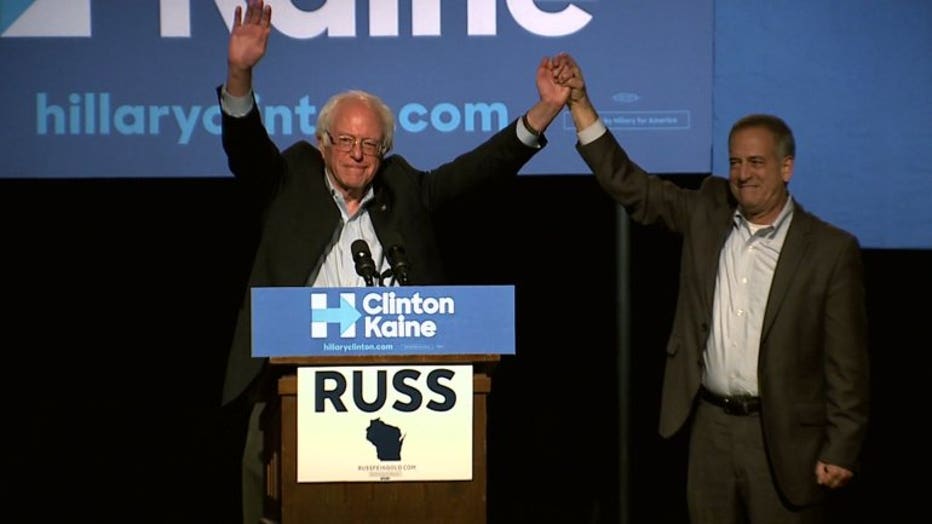 Bernie Sanders and Russ Feingold in Milwaukee


In the home stretch, Clinton has been campaigning in key battleground states.

In Milwaukee, Sanders was introduced by Feingold -- who is in a very tight race vs. incumbent Sen. Ron Johnson. The latest MU Law School poll showed Feingold just a point ahead of Johnson.

"Where's the deal in America that if you work hard, you get a little bit of opportunity to pay your bills and have a little bit to be with your family? That's what I believe in. That's what Bernie believes in and that's what the president and next vice president believe in," Feingold said.

"If you want a candidate to stand up and take on those billionaires, then you vote for Russ Feingold," Sanders said.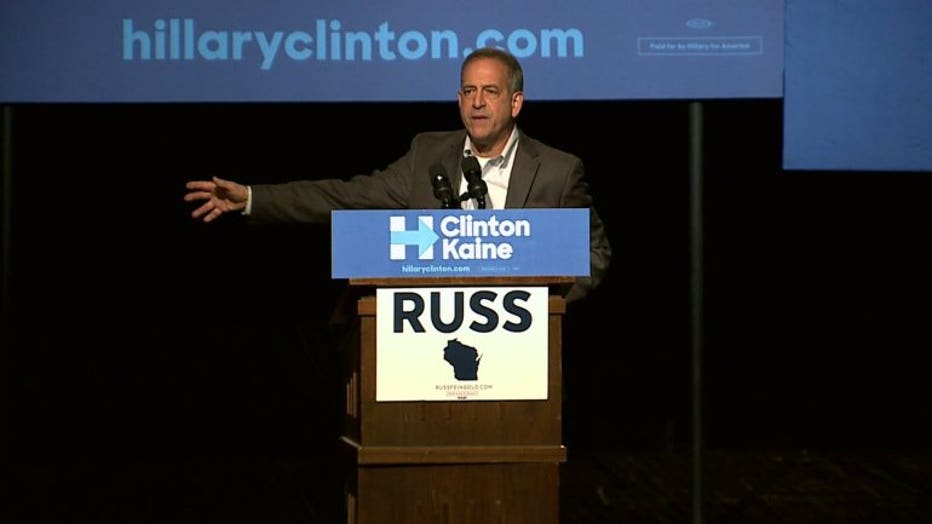 Sanders promised a victory for Clinton on November 8th will help bring change.

"On the day after, we begin the process of taking on the billionaire class and transforming this country into the kind of country you and I know we can become," Sanders said.

Clinton supporters said despite an FBI investigation into Clinton's emails, they are standing by the Democratic nominee.

"I don't feel it does. If people come out and vote, they'll come out and vote for Hillary and she'll be victorious in Wisconsin and in this election," said Joseph Brown, a Clinton supporter.



In response to Bernie Sanders visit to Wisconsin. The Trump WI Campaign issued the following statement.

"Hillary Clinton rigged the primary to get herself the nomination, rigged the debate's to get the questions in advance and is under another FBI investigation. Wisconsinites have had enough of the Clinton corruption that has followed them throughout her 30-year long career. Donald Trump is the only candidate who will clean up the mess that's been made from career politicians who stack the system in their favor," said Matt Schuck, Wisconsin Communications Director, Donald J. Trump for President.

Sanders will join Clinton and musician Pharell Williams in North Carolina Thursday.