Officials release new clues in Fond du Lac County Jane Doe case from November 2008
FOND DU LAC -- The Fond du Lac County Sheriff's Office announced on Tuesday, Aug. 21 it has new information related to a decade-old Jane Doe case.

The victim's remains were discovered by deer hunters in a shallow creek in the southern part of Fond du Lac County on November 23, 2008.

As part of the ongoing investigation to determine the identity of Jane Doe, the Fond du Lac County Sheriff's Office submitted samples to a laboratory for chemical isotope analysis.  In turn, historical data was delivered to investigators that provided a geographical region where Jane Doe may have previously resided.

The results from those tests showed that Jane Doe was a resident of the regions spanning from Las Cruces and Albuquerque, New Mexico to Flagstaff, Arizona for the majority of her life.  The test results also indicated that she likely resided in the regions of South West Wisconsin, Southern Minnesota, and Northern Iowa for less than a year prior to her death.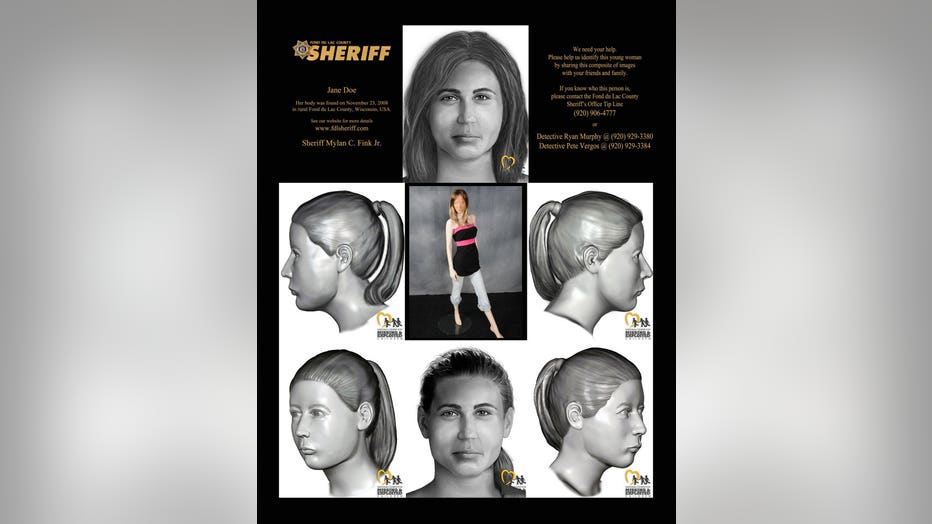 Officials say Jane Doe was petite, approximately 15-21 years of age, stood approximately 5'1" tall, and weighed around 120 pounds. Her hair was light brown to dark blonde in color, 12-14 inches in length, and she is believed to be Caucasian; however, she may be of Hispanic, Asian, or Native American decent. Jane Doe's DNA is entered into the National DNA Database and her dental records are also on file. These records are routinely checked against missing persons as well as other databases.

The Fond du Lac County Sheriff's Office is working closely with the National Center for Missing and Exploited Children (NCMEC), and with other jurisdictions to disseminate Jane Doe's information in hopes of identifying her. Anyone with information is encouraged to contact the Fond du Lac County Sheriff's Office or NCMEC tip lines below.