Officials encourage residents to prepare for winter weather
MADISON (WITI) -- A winter storm is heading towards Wisconsin this weekend. This one is forecast to hit several southern Wisconsin counties. A Winter Storm Watch remains in effect for Saturday night and Sunday. Travel could be difficult especially Sunday morning.

Winter Storm Watch for all of southeast Wisconsin from 6 p.m. Saturday through 6 p.m. Sunday.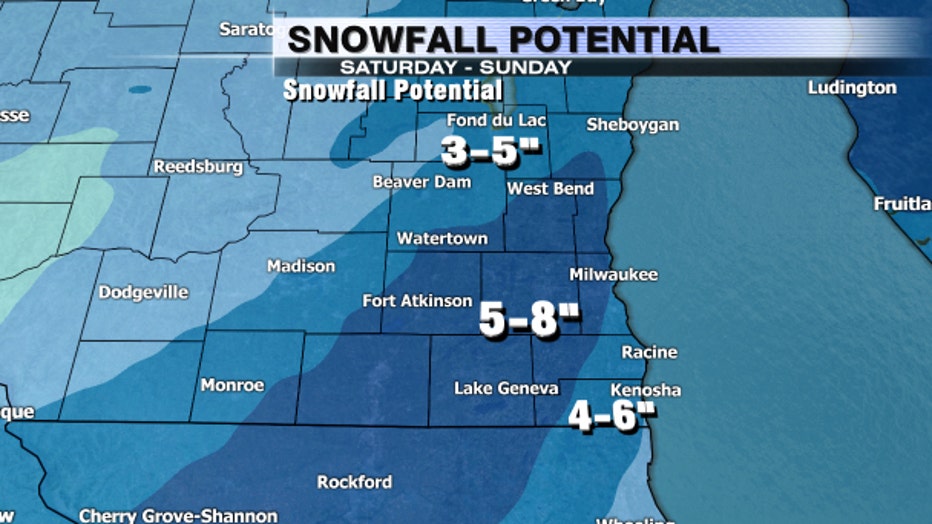 Preliminary Snowfall Forecast. NOTE: This WILL change before Saturday night when the snow starts.


Be ready for the storm. Here are a few simple things you can do:

Have an emergency winter weather survival kit in your vehicle. Your kit should include water, snack food such as energy bars or raisins, first aid kit and booster cables. If you have a cell phone make sure you have a power adapter you can plug into the lighter. You can find more tips on our website: http://readywisconsin.wi.gov

Check the roads before you travel. Call 511 or go to www.511wi.gov for the latest road conditions across Wisconsin. You can also go to our website for a regional travel map which covers North and South Dakota, Illinois, Indiana, Iowa, Minnesota, Michigan, Missouri and Wisconsin. http://readywisconsin.wi.gov/511/default.asp

Get supplies for your home. Depending on conditions it may be safer to stay home. Make sure your home emergency kit is stocked with food that can be stored and eaten without electricity. Also, make sure you have extra water, flashlights with extra batteries and medications. For a complete list of kit items go to our website: http://readywisconsin.wi.gov/kit/GetKit.asp

Be careful removing snow. Heavy, wet snow can plug up snow blowers. Following these steps:


Stay informed. ReadyWisconsin will keep you posted on any emergencies that occur during the storm. Follow us on Facebook (www.facebook.com/readywisconsin) or Twitter (www.twitter.com/readywisconsin) for updates.