Northbound I-94 reopens near Highway K after fire on car hauler trailer
RACINE COUNTY --  A car hauler trailer caught fire on Wednesday morning, September 9th, and that forced officials to close the northbound lanes of I-94 at County Highway K in Racine County.

It happened shortly before 10:00 a.m.

The Racine County Communications Center received a 911 call from a truck driver reporting his car hauler trailer was on fire.

The driver from Michigan was driving northbound on I-94 just North of County Highway K when he noticed smoke coming from the rear axle area of the trailer.  The driver said he pulled over to the right shoulder and as he was exiting the tractor, he noticed flames coming from under the trailer.

At the time of the incident, the trailer was loaded with nine vehicles that were being transported to an auto auction.

The first arriving deputy on scene attempted to extinguish the fire, but was unable to do so due to the size of the fire.  The fire quickly spread to four of the vehicles on the trailer and it was at this time the interstate was shut down for northbound traffic due to the hazards being created by the fire.

Raymond Fire Department officials arrived on scene and were able to quickly extinguish the fire.  Traffic was opened for one left lane while the remaining two traffic lanes stayed closed for removal of the damaged vehicles.

There were no reported injuries to anyone on scene.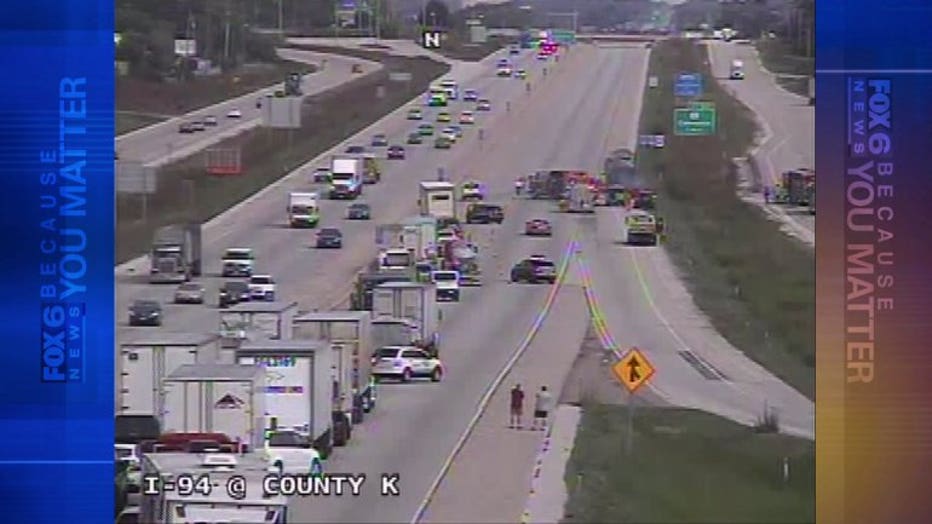 Car hauler fire on I-94 near CTHK in Racine


Monitor FOX6 News and FOX6Now.com for updates on this developing story.