'No face, no case:' Criminals bribe, threaten and kill to keep witnesses from testifying


MILWAUKEE — No face, no case.  It's a popular mantra for criminals who aim to silence the witnesses against them.

If you've been the witness to a crime, be prepared.

The suspected criminal just might try to reach out and touch you from behind bars.

It's no secret investigators are listening to jailhouse phone calls, but that doesn't keep the bad guys from trying.

In Milwaukee's most violent neighborhoods, it's not what you do that could be dangerous, but what you see. Nikeyia Jones found that out the hard way.

"We're taught from bein' kids not to tell on people," Jones said.

She was sitting on a front porch near 29th and Locust when another man was shot and killed right in front of her.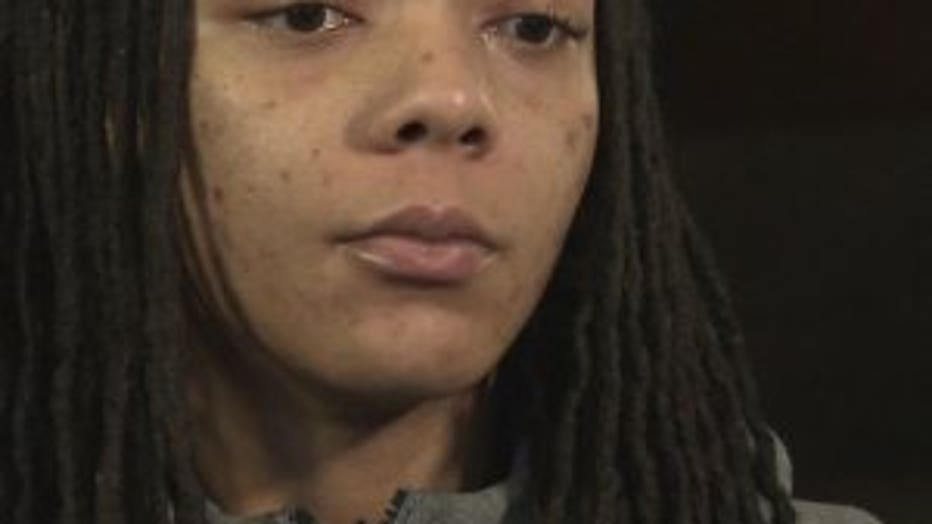 Nikeyia Jones says she heard people calling her a "snitch" as she left the courtroom after testifying about the homicide she witnessed.


"I tried to run. I couldn't. My feet were planted," she said.

What she saw made her an instant target.

"I was just scared because I didn't know what to do," she said. "It was my first time going through anything like that. Ever."

It's the kind of thing Milwaukee County District Attorney John Chisholm battles every day.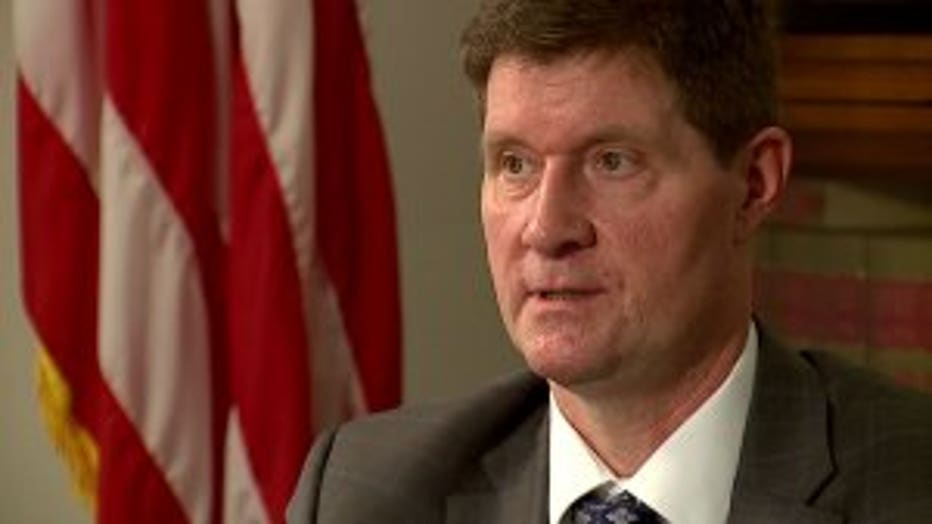 Milwaukee DA John Chisholm says the witness protection unit has grown from 1 employee to nearly a dozen in the past 9 years.


Last year alone, his office charged more than 90 defendants with intimidating witnesses and victims.

"It's not good enough to identify it. You have to disrupt it. You have to stop it from happening. And then you have to prosecute it," Chisholm said. "It's not easy."

Time and time again, prosecutors have used the defendants' own words against them.

"Make sure that b**** don't press no m*****-f***** charges against me."

Those are the words of Carlos Davis as he talked to another man in a phone call from the Milwaukee County Jail. FOX6 Investigators obtained the recordings of several jailhouse phone calls in which accused criminals attempted to dissuade victims and witness from coming to court or cooperating with authorities.

Like Davis, Dmitri Moss was accused of domestic violence and tried to keep his victim from participating in the case against him.

"Just like a m*****-f***** always say, 'No face, no case.' Point blank, period," Moss said.

Much of prosecutors they uncover is more manipulation than intimidation, especially in cases of domestic violence.

"I often use the word 'dissuasion,'" Chisholm said.

Carols Davis punched the mother of his children in the face and pulled out chunks of her hair.  Hours later, he called her from jail.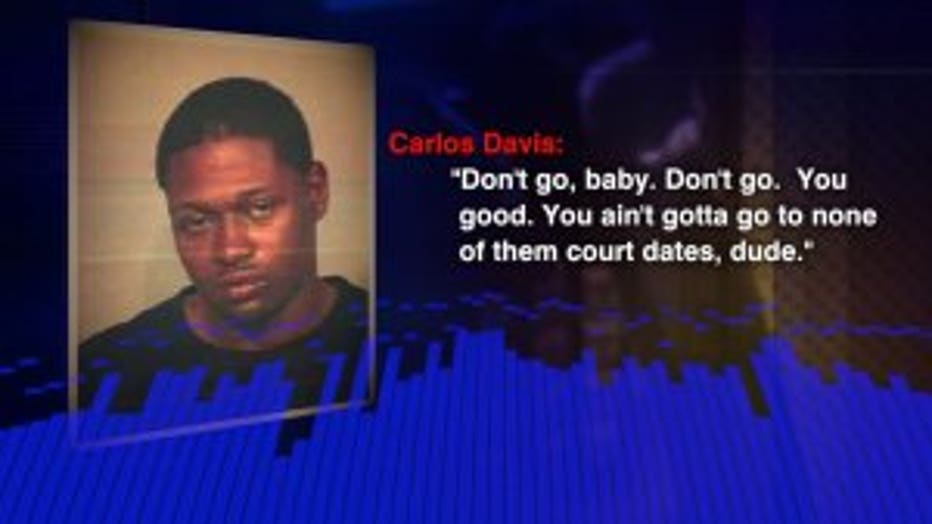 Carlos Davis was sentenced to two years in prison for attempting to keep the victim of his domestic violence case from coming to court.
Carlos Davis: "I said okay I didn't mean that shit 'Ne. I love you though."
Victim: "You should see my face, you broke my damn nose."
Davis: "I broke your nose?"
Victim: "Yes."

After apologizing and professing his love more than once,  Davis got to the point of his call.

Davis: "Don't go, baby. Don't go. You good. You ain't gotta go to none of them court dates, dude."

Sometimes it takes more than manipulation to keep a witness away from court.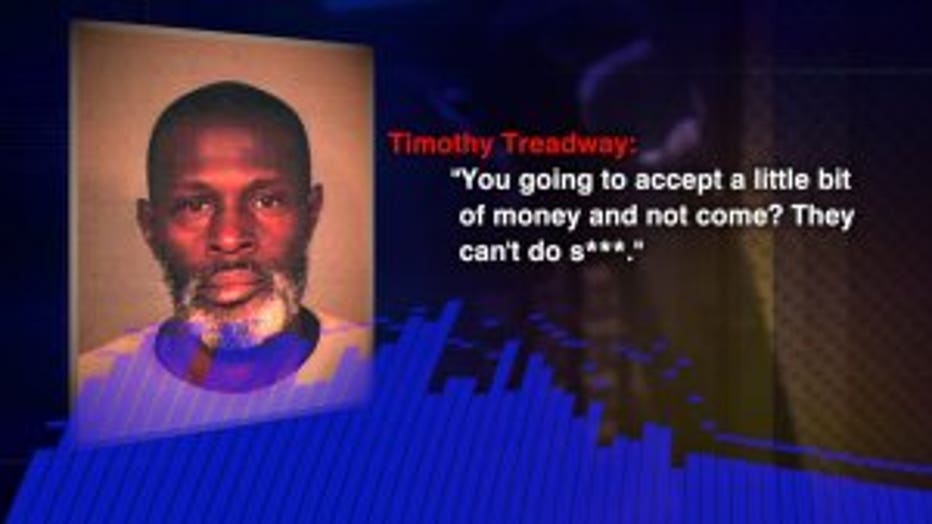 Timothy Treadway was not convicted of child sexual assault, but was sent to prison for bribing the child's mother not to cooperate with the case.


Timothy Treadway was accused of molesting a 5-year-old-girl, but when the victim and her mother failed to show up for trial, the case was dismissed. And prosecutors soon discovered why when they came across an incriminating phone call.

"You going to accept a little bit of money and not come?" Treadway says. "They can't do s***."

He offered the woman $400 to keep herself - and the victim - away from the case.

"Just keep a low profile, that's it."

But when it comes to eliminating witnesses, it's hard to top Christopher Anderson, who was the "enforcer" for a violent street gang known as Brothers of the Struggle -- or BOS.

Known by the nickname 'Gunz,' Anderson shot and killed Jarvis Johnson whose brother was believed by the gang to have witnessed a wild shootout on I-43. The killing was intended to send a message not to testify against his fellow gang members. And prosecutors say it was a common practice for Anderson.

"The very next day the defendant was involved in the shooting and attempted homicide of a state's witness against a different BOS gang member," said Assistant District Attorney Grant Huebner during a sentencing proceeding for Anderson.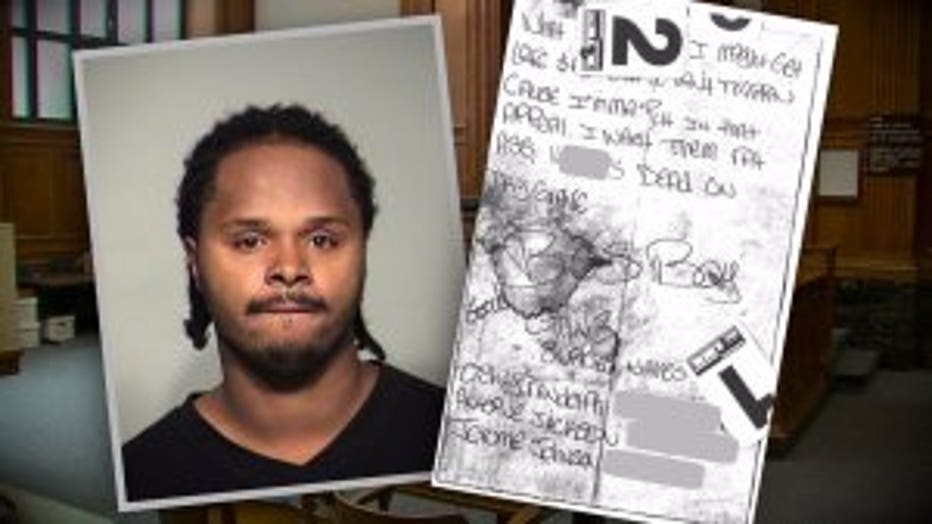 Christopher Anderson, known as "Gunz," authored a 'hit list' from behind bars. Guards confiscated the note before the homicides could be carried out.


Even after he was convicted of murder, Anderson tried to silence three more witnesses from behind bars. And he might have succeeded if guards had not intercepted a note he tried passing to a fellow inmate. It was a 'hit list' with instructions to kill.

"Revenge. It's retaliation," Huebner said.

"A lot of it is outright, cold-blooded murder," Chisholm said.

It's also nothing new.  The FOX6 Investigators first exposed jailhouse intimidation way back in 2002. Our stories helped change state law to make it a felony in 2007. And the DA launched an official witness protection program in 2009. In fact, Milwaukee County prosecutors have been so proactive in rooting out intimidation that other jurisdictions around the country have dubbed their approach, "the Milwaukee Method."

"When I talk to other major city prosecutors, they deal with these same issues," Chishold said. "And they're actually looking at the Milwaukee model to try and adopt some of the practices that we use here."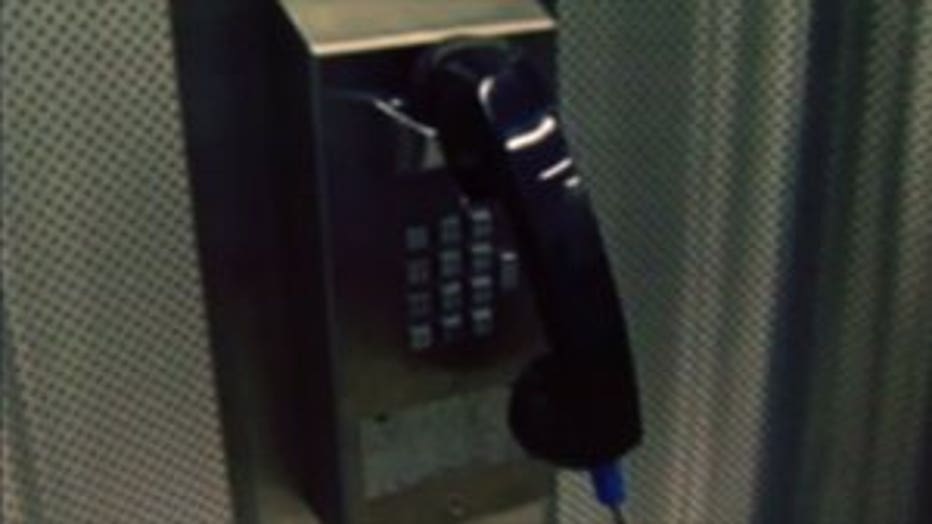 Prosecutors have a full time analyst who monitors jailhouse phone recordings for hours every day.


Criminals in Milwaukee today are well aware their jailhouse phone calls are being recorded. Still, it hasn't stopped them from trying.

"Because they don't know any other way of communicating," Chisholm said.

Consider what happened Courtney Stokes. She did not witness a homicide. Rather, the father of her child one to her. In a videotaped interview with detectives from the Milwaukee Police Department, she declares, "I'm ready to tell you guys the truth."

Stokes told detectives that Shontrevious Harmon had admitted to her that he committed murder.

"He told me like, 'Maaaaan. I done did something,'" Stokes recounted. "I'm like, 'What did you do?' He was like, 'I shot and killed somebody.'"

Harmon tried to keep her quiet, first with direct phone calls from jail:

Harmon: "Hey."
Stokes: "Hey."
Harmon: "Listen, just keep your mouth closed. Don't go to court and tell them nothing else, man. I love you and I will be home in a couple days."

Then, by sending letters to his sister, his mother and even his grandmother in hopes of giving Stokes a scare.

"Tell her don't cross me," he wrote in one letter. "Let her know how dangerous it is to be runnin' her mouth," he quipped in another. "Innocent people get hurt for stuff like this."

But the state's star witness against Harmon wasn't Stokes. It was Nikeyia Jones.

"Right is right and wrong is wrong," Jones said.

She saw Harmon pull the trigger, recognized his face, and told the jury so.

"You get butterflies in your stomach and all types of thoughts running through your head and you never know what can happen to you, but you know you are doing the right thing," Jones said.

But there's one thing she never knew about the case until now. An item that became known as State's Exhibit 1. It was a note Harmon wrote from jail with instructions to others for silencing the witnesses who could testify against him.

"Do what needs to be done, my n****," Jones read aloud from the note. "He got my daddy name, my grandmother name, my uncle's, my auntie," Jones said.

Throughout the handwritten scribbles, the word "Ratt" appears next to several names, including Jones'. A reference to her willingness to cooperate with the investigation.

"Sticks and stones may break my bones but words shall never hurt me," Jones said.

Jones does not appear to be phased by the revelation.

"You're not a man," she said, directing her words at Harmon. "I'm a snitch. You're not a man."

After all, she helped put a cold-blooded killer in prison. Because she was not intimidated.

The Milwaukee DA's office started the Maurice Pulley Witness Protection Unit in 2009 after the 24-year-old Pulley testified against another man and was gunned down for doing so. But prosecutors were battling this problem long before that.

They worked with FOX6 News in 2002 and again in 2006 to educate victims about witness tampering and that education has paid off.

They've now charged more than 800 offenders with intimidation since launching the unit nine years ago.

And while the numbers dropped off slightly last year, the D-A says that matches an overall drop in crime after a spike in 2015 and 2016.

If you are a victim or a witness to a crime and are subjected to threats the first thing to recognize is that if someone tries to talk you out of testifying or cooperating with investigators, that could be a crime.

If that happens, preserve any evidence you can. Save your call history, text messages or any written letters or notes the offender has sent you, either directly or through a third party.

Make sure you tell police or prosecutors that it's happening. They say that's the only way they can stop it.