New Wisconsin tourism ad to feature stars of "Airplane"
MILWAUKEE (WITI) -- Writers, directors and Wisconsin natives, David Zucker, Jim Abrahams and Jerry Zucker (ZAZ) went behind the camera on Thursday, September 19th to direct their "Airplane!" stars Robert Hays and Kareem Abdul-Jabbar in three new 30-second TV commercials for the Wisconsin Department of Tourism. This is the first time cast members Hays and Abdul-Jabbar have been reunited since the making of the movie.

The spots (summer, fall and winter 2014), which will include seasonal aerial footage of Wisconsin, were shot in the original cockpit from the iconic 1980 comedy at the Air Hollywood Studio in Los Angeles, and will debut at the Wisconsin Governor's Conference on Tourism next March in Lake Geneva.

Abdul-Jabbar is the NBA's all-time leading scorer and helped the Milwaukee Bucks win its only world championship in 1971. He was named the Finals MVP that year. While he holds numerous basketball records, his "Airplane!" character of "Roger Murdock" still greets him by fans at appearances throughout the world.

For Hays, this will be his second appearance in a Wisconsin tourism ad.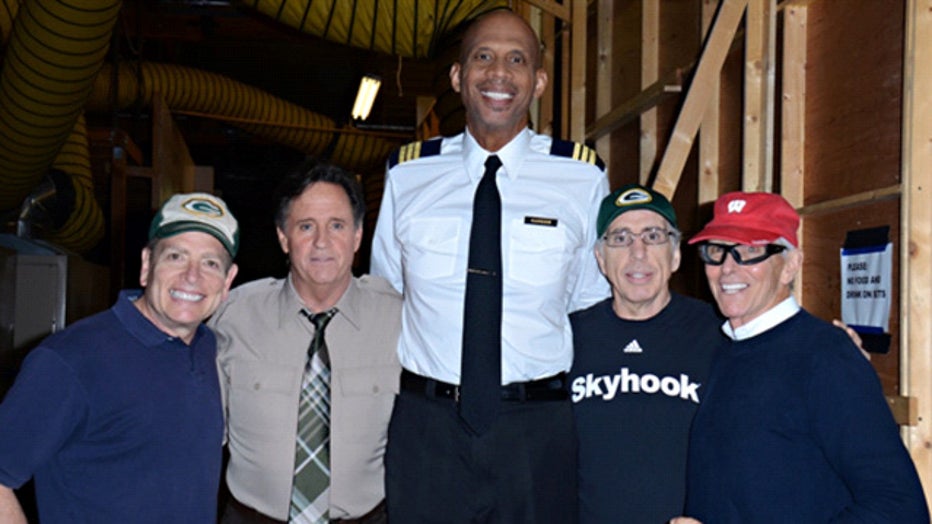 For the first time in thirty years, Airplane! directors and cast members David Zucker, Robert Hays, Kareem Abdul-Jabbar, Jerry Zucker, Jim Abrahams reunite to film Wisconsin Tourism commercials in Los Angeles on September 19, 2013.