'Never thought shampoo could do this:' Women voice complaints about MONAT hair products



MILWAUKEE -- Hair loss, bald spots and rashes are just some of the issues being blamed on MONAT Global Hair Care Products.

One woman with complaints is Rebekah Snyder. She spent more than $1,000 over 10 months on products from MONAT in the pursuit of long, beautiful hair.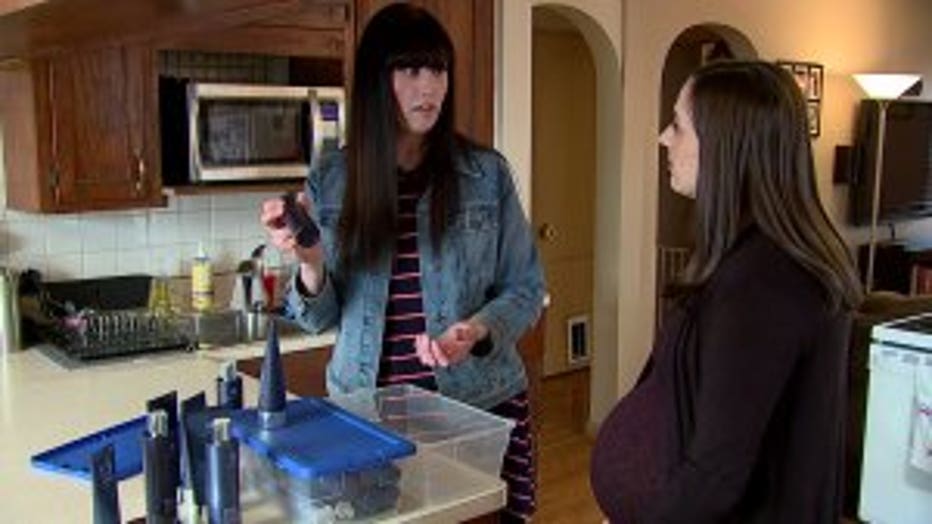 Rebekah Snyder shows Contact 6's Jenna Sachs MONAT hair products.


"I was really hopeful. This was going to be my miracle product," Snyder said.

Instead, she says she got the opposite.

"Hair started coming out in clumps and in handfuls," Snyder said.

Snyder says after five months, her hair started breaking off. She developed a rash. She says her doctor ran tests, but couldn't pinpoint a cause.

"I thought I was going crazy," Snyder said.

Then, she found a community of people online complaining about similar symptoms they blamed on MONAT hair products.

"The more I read, the more I found out I am not crazy. This is real," Snyder said.


Photo from Rebekah Snyder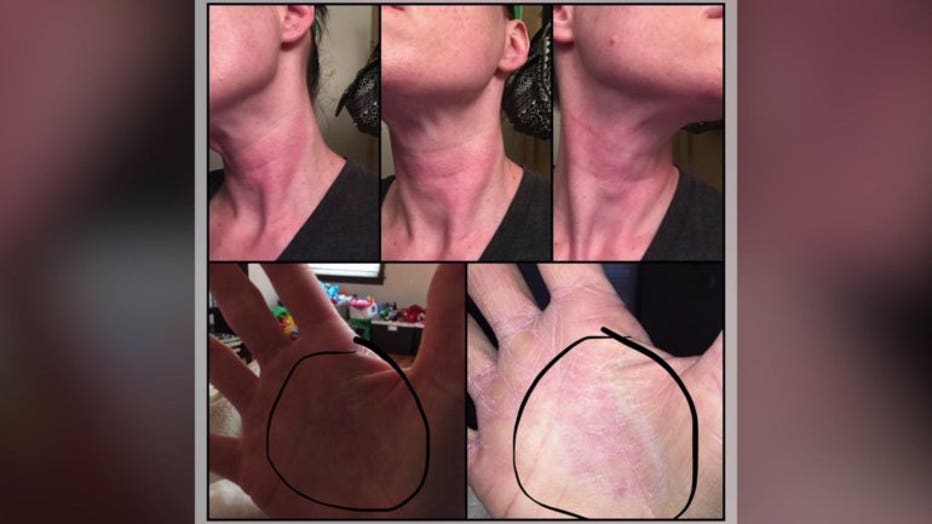 Photos of rashes from Rebekah Snyder


A series of class action lawsuits have been filed against the company. One accused MONAT of "deceptive, misleading, unfair and unlawful conduct" and says "instead of disclosing the risk of hair loss and other damage,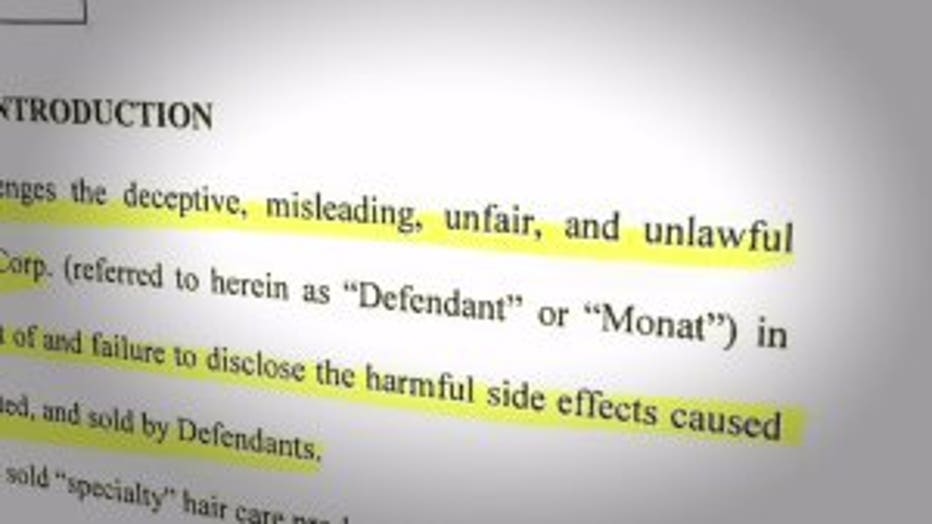 MONAT has intentionally concealed those risks."

"I feel like they're just ignoring it, and they're getting angry with customers," Snyder said.

Brittany Pillars, a spokeswoman for MONAT, wrote in a statement:

"I know from my own experience that MONAT products are safe and that there is no scientific or other factual basis for the claims that have been made. MONAT's products have undergone independent, clinical testing, and hundreds of thousands of consumers safely use the products every day." 

In a video posted online, MONAT's President, Stuart MacMillan said they are the real victims of false misleading online attacks.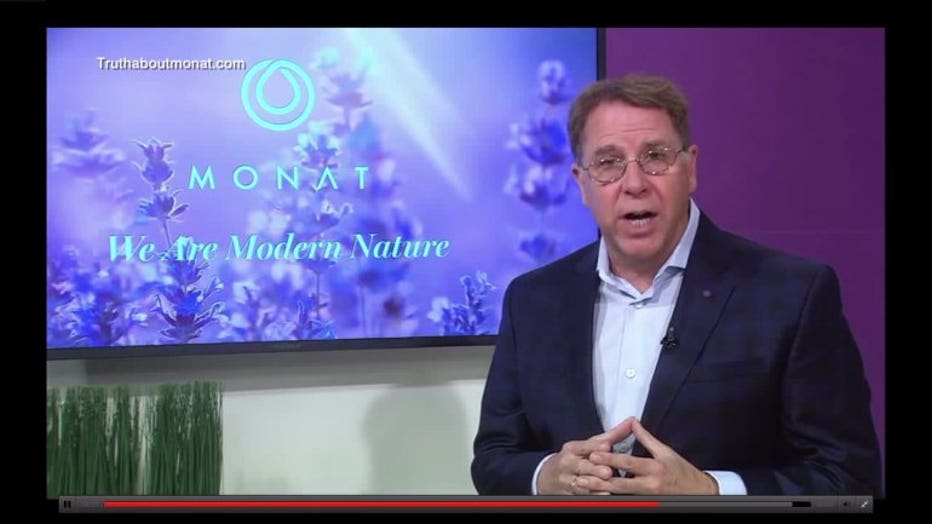 "Let me be clear we are not going to allow this cyberbullying continue unchallenged and we are going to do everything possible to make it stop," MacMillan said in the video.

In a statement to FOX6's Contact 6, Pillars wrote:

"I also know that as with any consumer product, some people may develop adverse reactions. When that is the case, they should stop using the product and report their reaction to the company. But going to the media and trying to make it appear like there is something wrong with a product in order to damage the livelihoods of so many good people is just shameful and wrong."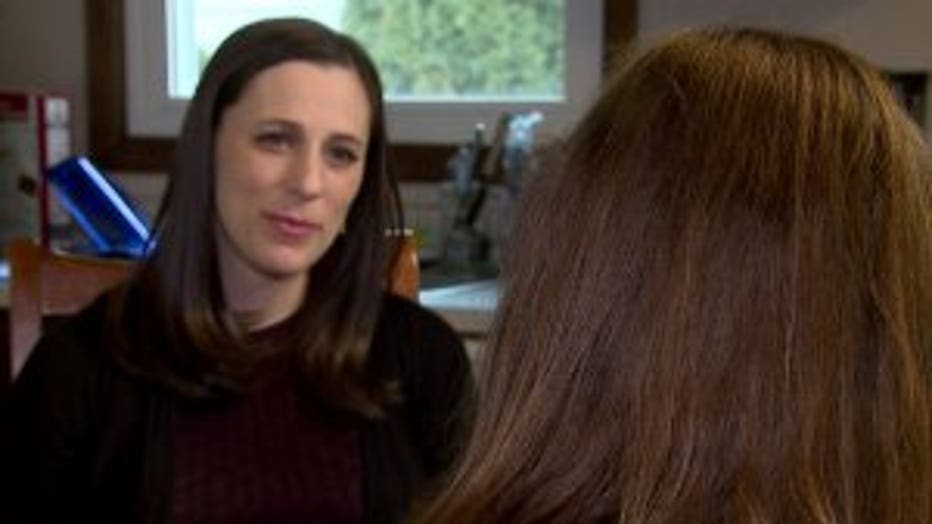 A local woman, who asked not to be identified, voices her concerns about MONAT to Contact 6's Jenna Sachs.


Another former MONAT customer spoke to Contact 6 about her dissatisfaction with the products.

"It's not the same as it used to be. It's coarse. It's frizzy," the woman said about her hair after using MONAT. "Never thought shampoo could do this to my hair."

She asked not be identified, pointing to the company's history of filing defamation lawsuits.

The company claims some of those critics are hairstylists trying to sell competing products. Neither of the women who spoke to Contact 6 fit that mold.

Pillars sent the following statement:

"MONAT is being forced as a last resort to use litigation to stop online defamatory attacks on Market Partners like me and on our products. We're the real victims of the falsehoods and online bullying that has come from attackers who are trying to hurt our company. These attacks are aimed at damaging the livelihoods of thousands of Market Partners and their families who have safely and successfully served their customers across the United States and Canada."

The woman says three months after starting the products, her hair began breaking off.

"It's just no growth here and it's just completely thinned out here," she said.

MONAT products are not sold in stores, but person-to-person. "Local Market Partners" earn commissions by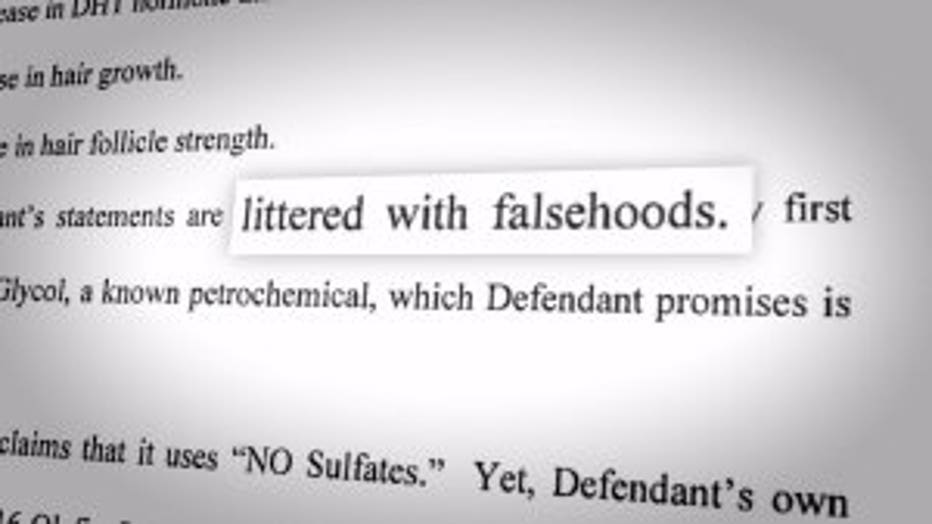 making sales often through social media.

MONAT's website describes its ingredients as"naturally-based, safe, pure and sustainable."

But one lawsuit writes the company's marketing and ingredient claims are "littered with falsehoods."

A MONAT spokeswoman says hundreds of thousands of customers use their products safely every day.

The woman who spoke with Contact 6 says customers need to be aware of the potential sides effects.

"I would like some warning labels on it," she said.

The women Contact 6 spoke with are interested in joining the class action lawsuits.

MONAT Global has a D- rating with the Better Business Bureau, which says it has received more than 500 complaints about the company.

The company says all its products are clinically tested for safety. The class action lawsuits argue that past tests were not adequate.

Contact 6 reached out to the FDA inquiring about MONAT. The FDA sent the following statement:

"The FDA has received and is in the process of assessing 199 adverse event reports to date about Monat products.

The law does not require cosmetic companies to share adverse event reports from consumers with the FDA.

The FDA urges consumers who have experienced problems with cosmetics to contact us. We provide phone numbers for consumer complaint coordinators for each state, and have a web-based reporting form that consumers can either complete online or print out and mail. More information, including details on how we handle confidential information, is here."