Navy sailor, pregnant wife shot while trying to buy phone with popular app


PORTSMOUTH, Virginia – A Navy sailor and his pregnant wife are in the hospital Monday after being shot multiple times while trying to buy a cellphone through an app used to buy and sell personal items called OfferUp.

The young couple, who didn't want WTVR to use their last name, were just starting their lives together.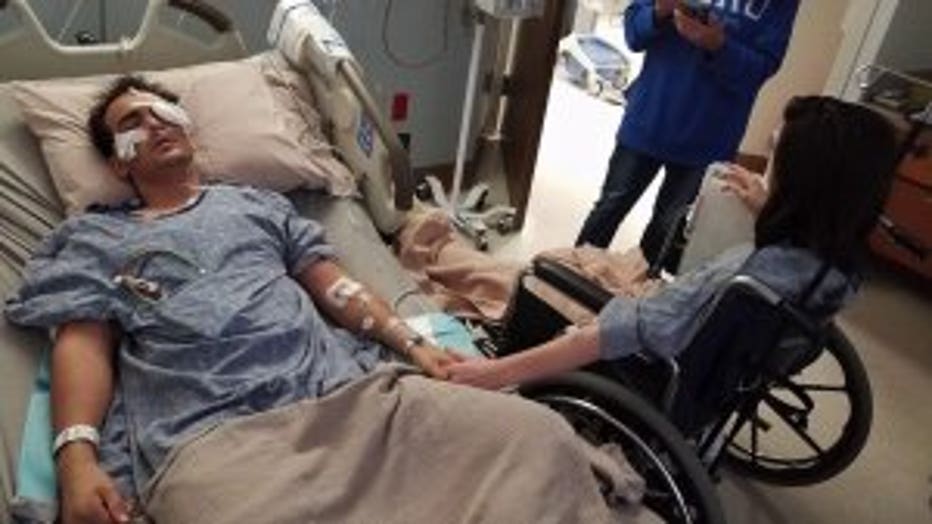 Frederick joined the Navy in January at the top of his class and married his love, Emily. They were stationed in Virginia at the start of the summer.

On Saturday night, they were using the OfferUp app to buy a cellphone from an 18-year-old girl.

"My son just recently joined the Navy. His wife is pregnant and they were expecting their first child. He had the whole world ahead of him and someone just took it away in a matter of seconds," Frederick's father said.

According to Frederick's father, his son agreed to meet at a home where the girl said she was babysitting.

He says his son knew immediately something wasn't right.

"When they pulled up, six individuals and then four others surrounded the car. There was one shooter and that one shooter is the one who approached the car and instantly started firing shots," the father said.

Emily's parents say they tried to drive away, but Frederick started screaming that he couldn't see.

He was shot through his arm, chest and temple.

Emily, who is four months pregnant, was shot through the chest.

"It missed her heart by centimeters. Missed the baby and  went out her right side," the father said.

Now, the family is fighting to make sure this doesn't happen again.

Saturday night after the shooting, Portsmouth Police announced a new designated safe location for people to meet when they are buying or selling items.

The family says they were told by police that there have been several incidents reported from people using the OfferUp app. In one such incident in early May, a suburban Illinois father was killed after meeting up to buy a cellphone that had been listed on OfferUp.

Frederick and Emily's family members say they wonder if their children's injuries could have been avoided.

"That's one of the things I feel the police department dropped the ball on. The public should've been made aware of this several weeks ago," they said.

The family told WTVR the couple refuse to be separated and have been by each other's side since Frederick got out of surgery.

Click here to donate to the couple's GoFundMe page.