National Guard called to Milwaukee; Curfews issued for Milwaukee, neighboring municipalities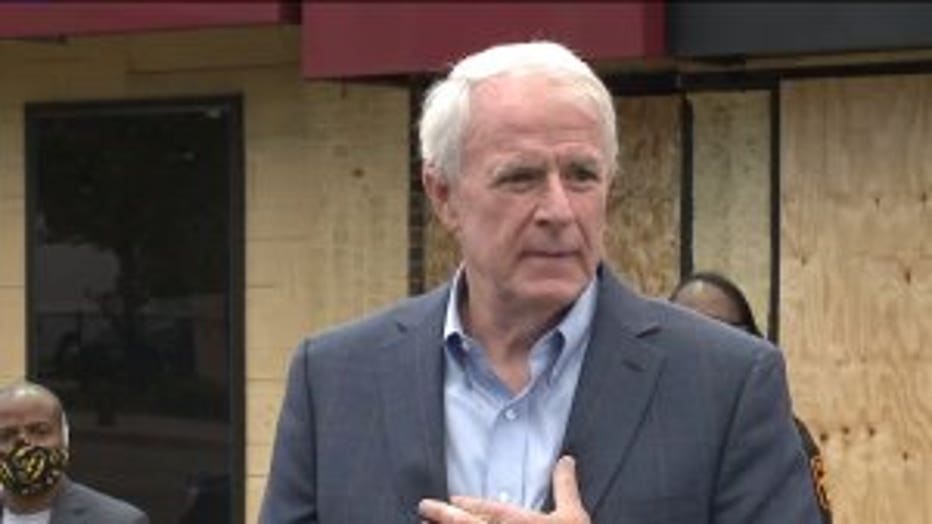 Milwaukee Mayor Tom Barrett


MILWAUKEE -- Milwaukee Mayor Tom Barrett announced a 9 p.m. curfew for the City of Milwaukee on Saturday, May 30 -- a decision made after overnight unrest caused damage to buildings across the city, disrupting otherwise peaceful protests held throughout the city on Friday in response to the death of George Floyd.

The curfew will be in effect from 9 p.m. Saturday through 7 a.m. Sunday, May 31.

In a declaration, Barrett stated:

"All persons shall cease vehicular and pedestrian travel on the public way, streets, sidewalks and highways and return to their homes, places of work or other convenient place. Government, social services and credentialed press acting in their official capacity are exempt from this order."

Milwaukee police said they will enforce the curfew and requested voluntary compliance. Police said those found in violation of the curfew will be arrested and fined $691.

A mandatory curfew was also issued in the City of Glendale beginning at 9 p.m. Saturday evening through 8 a.m. Sunday, and again from 9 p.m. Sunday evening through 8 a.m. Monday.

A citywide curfew was also issued in the City of Wauwatosa beginning at 9 p.m. Saturday, ending at 7 a.m. on Sunday. The city also issued a curfew from 9 p.m. Sunday to 7 a.m. Monday. The Wauwatosa Police Department will be enforcing this curfew.

The Village of Shorewood issued a curfew starting at 11 p.m. Saturday through 7 a.m. Sunday, May 31. The Village said all businesses that are normally open during that time should close to the public.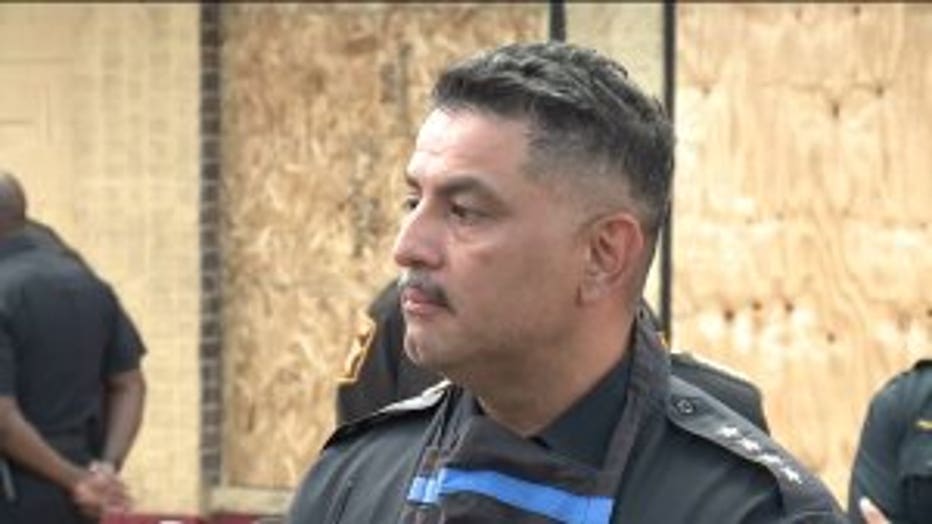 Milwaukee Police Chief Alfonso Morales


Milwaukee Police Chief Alfonso Morales said in a news conference Saturday that at least 16 businesses were looted Friday night into Saturday, and some were set on fire when events turned violent around 11:30 p.m. on Friday. More than 50 people were arrested.

A Milwaukee police officer was struck by gunfire around 3:30 a.m. Saturday as unrest unfolded near 2nd Street and Locust Street. Morales said that the officer is expected to be OK.




The Wisconsin National Guard has been called to Milwaukee Saturday to assist local law enforcement in response to "agitators" that disrupted otherwise peaceful protests, Gov. Tony Evers announced on Saturday.

The assistance comes at the request of Morales, Barrett, Milwaukee County Sheriff Earnell Lucas and Milwaukee County Executive David Crowley.

"The role the National Guard will play is not to be patrolling the streets. What they can do is help protect valuable institutions, cultural institutions, child care centers, churches and fire houses," Barrett said.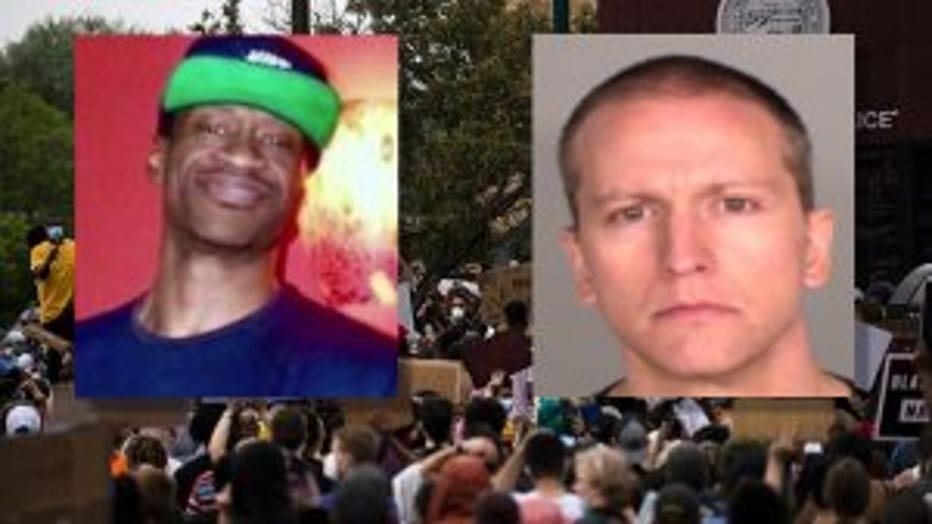 George Floyd (L) and Derek Chauvin (R)(Background Photo by Stephen Maturen/Getty Images)


Demonstrators have clashed with police after the officer-involved death of Floyd in Minneapolis. Cellphone video captured a police officer -- since identified as Derek Chauvin -- with his knee to Floyd's neck.

Barrett said he also is angry about Floyd's death in Minneapolis.

"I believe we witnessed a murder," Barrett said. "America witnessed a murder. It was shocking. It was indefensible, and it was immoral."

The governor authorized 125 members of the National Guard's Quick Reaction Force to be immediately used by local law enforcement in response to the agitators. Guard members may not be used to impede the ability of people's peaceful protests or interfere with the media's ability to report on these activities.

"Some people are going to say, 'We don't want the National Guard here,'" said Barrett. "But we know there are others who are going to say, 'We cannot lose our city.'"

Officials are not sure how long the National Guard's support will last.

Statement of United States Attorney Matthew Krueger:

"The Justice Department and the FBI are making the investigation of George Floyd's tragic death a top priority.

"As the Major Cities Chiefs Association said, George Floyd's death is "deeply disturbing and should be of concern to all Americans."

"Yesterday, the vast majority of protestors in Milwaukee expressed their concerns peaceably. But late last night, some protestors set fires in several stores, causing
damage to innocent owners. In addition, a Milwaukee Police Department officer suffered a minor gunshot injury from a currently unknown source. Such violence and
property damage accomplish nothing and instead only create more victims.

"Although we respect the rights of all to express their concerns peaceably, federal law enforcement is joined with state and local authorities to address further violence. Federal law imposes stiff penalties for commercial arson and other crimes. I encourage everyone to act in peace so that our nation can promote healing rather than suffer new wounds."

Gov. Evers and Barrett issued the following statement:

"It is critical that people are able to peacefully express their anger and frustration about systemic racism and injustice, in Milwaukee, the State of Wisconsin, and our Nation. This limited authorization of citizen soldiers from the Wisconsin National Guard will help protect people who are exercising their First Amendment rights and ensure the safety of the public."

Statement from Milwaukee County Sheriff Earnell Lucas:

"I thank Governor Evers for supporting law enforcement's effort to help keep Milwaukee safe. His authorizing the Wisconsin National Guard to provide needed assistance to our effort helps gives us the ability to protect those choosing to exercise their 1st Amendment Right to peaceful assembly and at the same time deny attempts by those choosing to breach the public peace."

Statement from Milwaukee County Executive David Crowley:

"I encourage the community to express their first amendment rights around the injustice at hand. I see you," said Milwaukee County Executive David Crowley. "Everyone deserves to be heard, and everyone deserves to be safe. I support our local law enforcement officials' request to Governor Evers to use the resources available to them during this time. I am also calling on everyone to remain peaceful tonight."

Statement from ACLU of Wisconsin:




"Public anger and frustration has reached a boiling point again over the murders of unarmed people of color, including George Floyd in Minnesota, and Joel Acevedo in Milwaukee," said Chris Ott, ACLU of Wisconsin executive director. "People have taken to the streets to exercise their right to demand accountability, as well as an end to generations of police violence and brutality against Black communities. Ending this unrest depends on ending the violence that starts it – not further escalation or militarization.




"We urge state and local law enforcement, as well as the National Guard, to respect demonstrators' First Amendment rights and avoid making arrests or using force, including tear gas, unless necessary to protect human life. Tear gas has been banned in warfare and should never be used against peaceful protesters exercising their constitutional rights.




"ACLU legal observers are monitoring today's protests, and we are committed to holding law enforcement accountable for upholding their oath to protect and serve."



Statement from Milwaukee County Board Chairwoman Marcelia Nicholson:
"We have to break down and dismantle institutional and structural racism if we want to make progress and live in a community based on justice and equity.

"The distress we are witnessing in Milwaukee and across the country in the wake of George Floyd's murder is a response to an unjust system that has oppressed and exploited Black people for hundreds of years.

"The legacy of racism in Milwaukee is seen in the extreme poverty and denial of opportunity for Black and brown people, and countless examples of police violence that our community has had to endure.

"The legacy of racism is also seen in the harsh disparities in health outcomes for Black people, once again laid bare by the Covid-19 pandemic.

"The only way to work towards justice is to replace systemic racism with a society based on equity, and that is what Milwaukee County government is committed to doing."

PHOTO GALLERY