Mom says $1.1M award is "justice" for dead son


OAK CREEK (WITI) - A Milwaukee County judge slaps a million-dollar judgment on a nurse who made a fatal mistake.  The patient's mom says it's finally "justice" for her son.

Jane Frederick couldn't find an attorney to take her case until the FOX6 Investigators brought it to light last summer.

In January of 2012, a home health nurse allowed Frederick's adult son - a quadreplegic - to fall from a massage table.  But it's what happened after the fall that prompted Frederick to contact FOX6 and, eventually, file a lawsuit for wrongful death.  It was a careless mistake that ended a man's life and may have ended a nurse's career.

"I don't believe will ever have a position in the nursing field again," says Frederick, referring to the nurse who dropped her son.

Last month, a Milwaukee County judge awarded $1,130,000 in damages to the Estate of D.J. Chartier -- more than half of it for the pain and suffering he endured in the final days of his life.  Frederick recalls those days with sadness.

"He would cry out, 'Uhhh uhhh,'" she says, contorting her face as her son did.  "And it was very hard to watch him like that."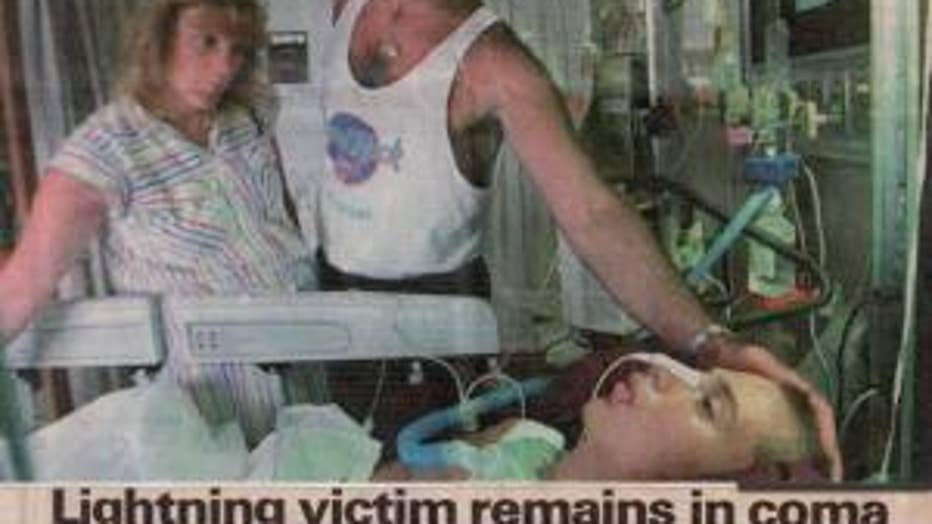 At the age of 15, D.J. survived a lightning strike that left him a quadriplegic.  He lived another 16 years without the use of his limbs or the ability to speak.  His mom hired nurses to help provide 24-hour care, but in January of 2012, one of those nurses made a mistake that would prove deadly.  A mistake that was captured on a home surveillance camera.

Ted Alexander is the home health nurse who made that life-changing error.  Last summer, he shared his recollection of the incident with the FOX6 Investigators.

He was preparing to do physical therapy exercises with D.J., so he sat the patient upright on a massage table.  Without bracing the patient, Alexander briefly stepped away to grab a TV remote control.  As the video clearly shows, Alexander has his back turned when D.J. starts to lean to his left.  Unable to brace himself or cry out for help, D.J. falls to the floor.

"It was just so fast," Alexander recalls.

He knew he'd made a terrible mistake.

"Oh God, this is horrible," Alexander recalls thinking.

But it's what happened next that D.J.'s mom calls "intolerable."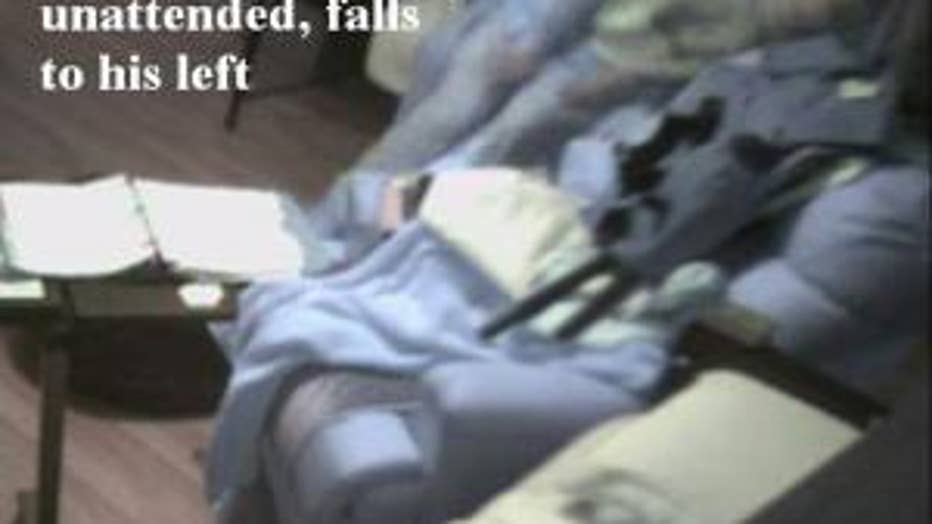 "He picked DJ up," Frederick emphatically exlaims, "put him on the table and pretended nothing ever happened!"

The fall had broken D.J.'s hip, but the nurse didn't notice.

"I did not see any signs of pain or discomfort," Alexander said.

The video shows Alexander propping his patient back up and resuming physical therapy exercises on D.J.'s right leg -- the same leg that, unbeknownst to the nurse, was now attached to a broken hip.  A pain specialist testified at trial that the exercises produced "bone on bone grinding" and that D.J. "could feel the pain."

"I guess I didn't know the extent of how much he suffered," Frederick says.

D.J. was eventually taken to the hospital and doctors performed surgery on the broken hip.  There were complications.  Six days later, D.J. died.

"A horrible act was committed and it was an act that Mr. Alexander did not want to take responsibility for," says Kevin Martin, attorney for the Chartier estate.  "If you do something wrong, accept responsibility for that.  Don't try to run and hide."

Last fall, the state board of nursing found that Alexander had failed to do a proper assessment of his patient after the fall; had failed to properly notify the patient's mother; and had failed to log the fall in the patient's daily chart - instead noting that it was a 'quiet day.'

"Ted knew exactly what he was doing when he hid the facts," Frederick says.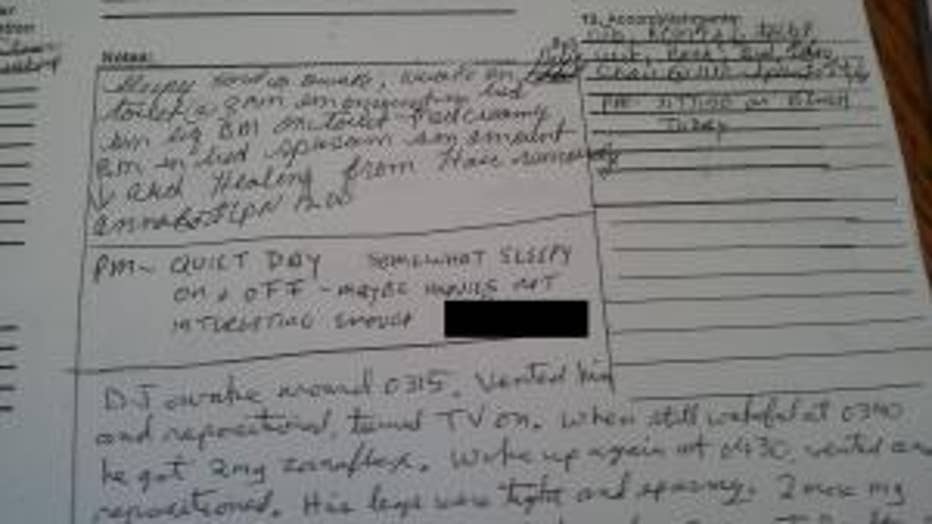 The judge did not find evidence of an intentional or malicious cover-up, which meant the family cannot collect punitive damages.  Still, the judge did award $700,000 for pain and suffering, another $350,000 for wrongful death and more than $80,000 for medical expenses -- for a total of $1.1-million.

Martin says it is unlikely, however, that Jane Frederick will ever see that kind of money.  Alexander did not have liability insurance.

"I think in all likelihood, Mr. Alexander will discharge this judgment in bankruptcy," Martin says.  "But that doesn't mean we stop pursuing.  That doesn't mean we give up trying to find justice.  And we found it here."

"DJ deserved justice," Frederick says.

She still carries D.J. close to her heart - literally.

"He's in this heart," she says, pointing to a small heart-shaped locket that rests on her breastbone.  "His ashes are in here.  And he's with me everyday of my life and always will be."

She says she's talked to D.J. everyday since he passed.  Only now, there's a new message.

"I smile and I say, Deej, we did it.  We have justice."

All of the comments in this story from Ted Alexander were made during an interview with the FOX6 Investigators in the summer of 2012, before the million-dollar court judgment against him.  Alexander did not return a phone call seeking comment for this story.  His license to practice as an LPN in the State of Wisconsin is currently suspended.