MMSD: Combined sewer overflow estimated at 594 million gallons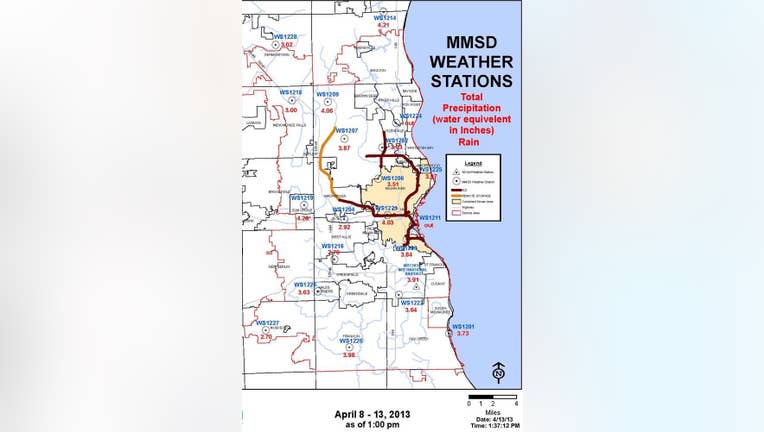 article


MILWAUKEE (WITI) -- The Milwaukee Metropolitan Sewerage District (MMSD) is reporting the following information to the Wisconsin Department of Natural Resources regarding sewer overflows that resulted from heavy rain April 8 through 12, 2013.

Nearly three inches of rain or more fell on the MMSD service area during the week, producing more than 21 billion gallons of water (see map below).  Every inch of rain on the District equals 7.1 billion gallons of water.

To reduce the risk of basement backups and reserve room in the Deep Tunnel for separate sewer flows, combined sewer overflows were initiated at about 6:40 a.m. on April 10 and stopped around 6:10 a.m. on April 13.  The total combined sewer overflow is estimated at 594 million gallons.

MMSD took emergency steps to increase treatment capacity and reduce the volume of combined sewer overflows by conducting combined sewerage treatment at the Jones Island Water Reclamation Facility starting around 5:30 p.m. on April 9 through 4:15 a.m. on April 13.  The volume for that emergency treatment procedure is estimated at 201 million gallons.  Combined sewerage treatment involves pumping water directly out of the Deep Tunnel into disinfection chambers at Jones Island.  The treatment process is used during heavy storms and meets State and Federal standards for fully treated wastewater.