Milwaukee wins "Healthy Communities Challenge," President Obama to visit


MILWAUKEE -- President Barack Obama will be making a trip to Milwaukee in the near future. The visit has nothing to do with the presidential campaign -- instead, the president wants to personally congratulate the city for winning the "White House Healthy Communities Challenge."

Friday, February 12th the city, county, state and national leaders, along with healthcare advocates gathered around a speaker phone as the White House made the announcement. The call was the from the president's Chief of Staff, Denis McDonough.

"He wants to come see all the people who helped pull this off and did such a great job," said McDonough.

A news release issued by the White House Friday said under the leadership of Mayor Tom Barrett and County Executive Chris Abele, about 38,000 people in the Milwaukee area newly selected a plan through the Health Insurance Marketplace during this open enrollment period.

In Milwaukee, libraries were opened for enrollment events and thousands of flyers were delivered to promote enrollment events. Digital signage was displayed on county buses directing people to HealthCare.gov and additional services available through 211 to help individuals with the application process.

Together with returning Marketplace consumers, about 89,000 people in the Milwaukee area selected a 2016 Marketplace plan. Altogether, participating communities saw over 1.6 million new enrollees, representing the people where were uninsured for years as well as Americans finding coverage as they go through changes in life such as being in between jobs, striking out as entrepreneurs, or aging off their parents' plans. Many more consumers renewed their previous Marketplace coverage.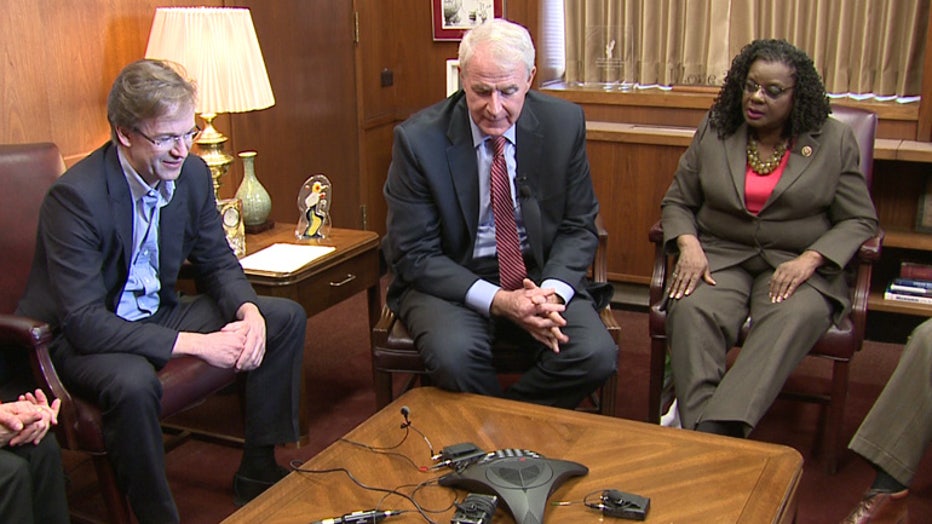 Milwaukee County Exec. Chris Abele, Mayor Tom Barrett, Cong. Gwen Moore


Chicago, Ill.; Atlanta, Ga.; Detroit, Mich. and Oakland, Calif. rounded out the top five for the Challenge. As the victorious community, Milwaukee receives bragging rights, a healthier community, and a visit from President Obama to celebrate their success in helping ensure Americans have health coverage. President Obama will visit Milwaukee in the coming weeks.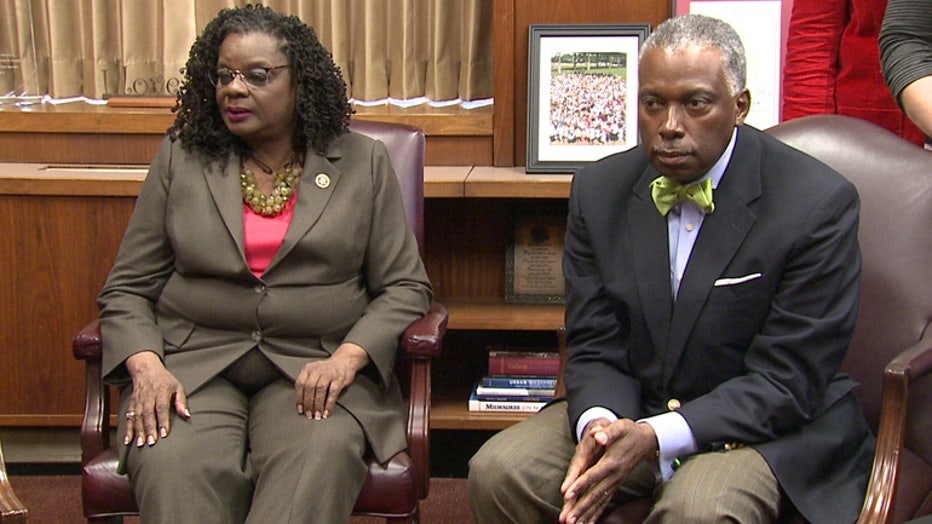 Cong. Gwen Moore, Bevan Baker


President Obama said the following in a statement:

"I congratulate Milwaukee, and all of the other communities who took part in the challenge, for their passion and innovation in finding ways to make sure they and their neighbors could get the health care and peace of mind that they deserve. That's what the Affordable Care Act is all about. The efforts from mayors, local officials, assisters and residents remind me of what's best in America, and what I see whenever I travel around the country: good people in strong communities who look out for each other and take care of their own. As always, Washington can learn a lot from the communities we represent."

Senator  Tammy Baldwin issued the following statement:

"I'm so proud that Milwaukee won the President's Healthy Communities Challenge. This award is an example of the strong dedication from our community leaders and advocates, including Mayor Tom Barrett and County Executive Chris Abele, who came together to make the Affordable Care Act work for Milwaukee and to help improve the health and economic security of Wisconsinites. Thanks to all of the hard work done in Milwaukee, more Wisconsin families now have the quality, affordable health coverage that they need and deserve. This recognition proves that the Affordable Care Act is working for Wisconsin."

The White House announced the "Healthy Communities Challenge" to engage key communities with large numbers or high percentages of uninsured in states across the country. Based on particularly high opportunity for impact with strong federal, state and community collaboration, the White House reached out to local officials in each of these 20 communities to get their uninsured constituents covered.

Final Results for the Healthy Communities Challenge

Success in the Healthy Communities Challenge was measured by the ratio, for each community, of the number of Marketplace plan selections by new consumers during open enrollment compared to the number of uninsured individuals eligible for Marketplace coverage at the beginning of open enrollment. Communities were defined as designated market areas (DMAs). New plan selections were reported by HHS or, where applicable, the State-Based Marketplace serving each community. The number of Marketplace-eligible uninsured was estimated by HHS.


































































































































| | | | |
| --- | --- | --- | --- |
| DMA Name | New Marketplace Plan Selections During Open Enrollment | Marketplace-Eligible Uninsured at the Start of Open Enrollment | Ratio of New Plan Selections to Eligible Uninsured |
| MILWAUKEE | 38,376 | 51,000 | 0.752 |
| CHICAGO | 130,852 | 178,000 | 0.735 |
| ATLANTA | 200,960 | 304,000 | 0.661 |
| DETROIT | 62,399 | 95,000 | 0.657 |
| OAKLAND | 83,723 | 134,000 | 0.625 |
| PHILADELPHIA | 102,712 | 178,000 | 0.577 |
| SALT LAKE CITY* | 74,259 | 135,000 | 0.550 |
| CHARLOTTE | 83,352 | 153,000 | 0.545 |
| NASHVILLE* | 49,281 | 98,000 | 0.503 |
| Seattle | 45,261 | 91,000 | 0.497 |
| TAMPA | 113,821 | 231,000 | 0.493 |
| RICHMOND | 28,912 | 59,000 | 0.490 |
| Long Beach | 217,347 | 480,000 | 0.453 |
| KANSAS CITY | 47,957 | 112,000 | 0.428 |
| NEW ORLEANS | 40,535 | 98,000 | 0.414 |
| DALLAS-FT. WORTH | 176,747 | 446,000 | 0.396 |
| PHOENIX | 66,999 | 194,000 | 0.345 |
| LAS VEGAS | 30,826 | 96,000 | 0.321 |
| Denver** | 50,376 | 161,000 | 0.313 |
| GREAT FALLS | 2,970 | 13,000 | 0.228 |

* Some counties of this DMA are served by a State-Based Marketplace, not HealthCare.gov. The reported numbers of plan selections and QHP-eligible uninsured reflect only the portion of the DMA that is served by HealthCare.gov.

** Some counties of the Denver DMA are located outside Colorado and are served by HealthCare.gov, rather than Connect for Health Colorado. The reported numbers of plan selections and QHP-eligible uninsured reflect only the portion of the DMA in Colorado.