Milwaukee police officer hurt after drunk driver strikes squad car near 26th & Hopkins


MILWAUKEE -- Police say a drunk driver hit two Milwaukee police squads and sent an officer flying through the air. Officials say that driver never should have been behind the wheel in the first place -- he was on parole for his fourth OWI. Police say the man has a total of five OWI convictions.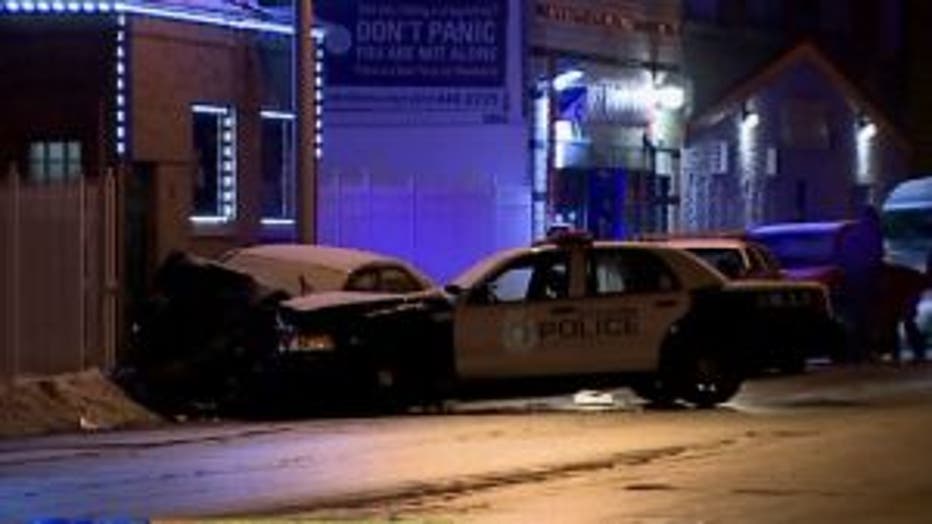 This incident happened early Wednesday morning, January 20th in the neighborhood near 26th and Hopkins.

According to police, officers were in the neighborhood around 1:00 a.m . investigating a battery complaint when a northbound car, operated by a 55-year-old Milwaukee man at a high rate of speed, collided with two parked cars and then a marked squad car. The squad car then struck an officer standing nearby, causing him to fly through the air before landing back on the pavement.

The incident was captured via surveillance video at a nearby store. What the video did not capture was the car hitting a different parked squad, sending it slamming into a second squad.

The officer who flew through the air, a 42-year-old man with 13 years experience, suffered what appear to be non-life threatening injuries. He was taken to a hospital for treatment.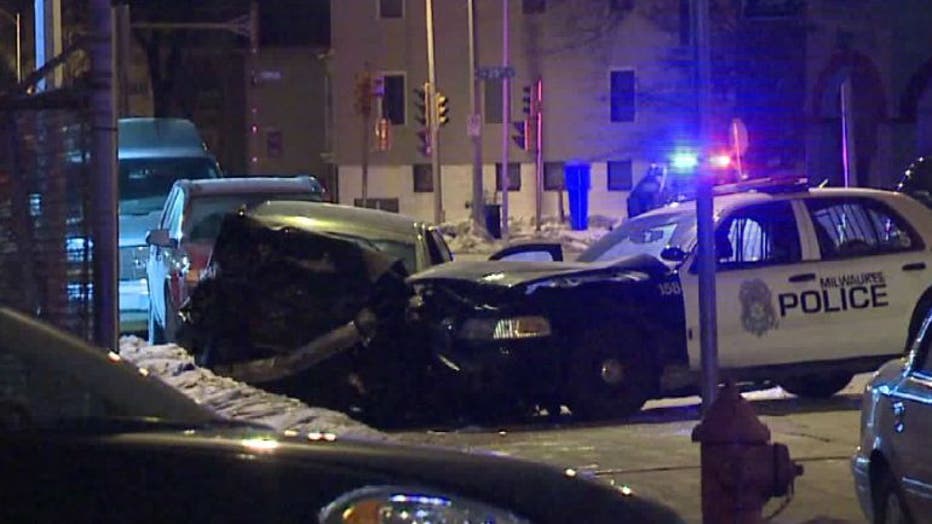 The driver and lone occupant of the car was arrested on scene for operating while intoxicated causing injury and a violation of probation. He was treated for minor injuries at a hospital. He is currently on parole for operating while intoxicated -- fourth offense.

He has been convicted of five OWIs in the past. He was last convicted more than two years ago.

"This is a story we hear over and over again," Rep. Jim Ott (R-Mequon) said. "What a tragic situation.  The guy's out there doing his job investigating something else and ends up getting injured."

Ott has been working on a bill to toughen up laws on drunk driving. That bill was approved by the Senate on Wednesday -- just hours after the incident in Milwaukee.

"If there's a way we can make this less likely to happen, certainly we have to try it," said Ott.

The bill under consideration would make a fourth offense OWI a felony -- no matter what. It would also increase the felony category for each offense, therefore increasing prison times in many cases.

"Which would give district attorneys and judges significant more ability to deal with chronic repeat offenders with longer prison sentences," said Ott. "Maybe that's enough to get some people to change their behavior."

Rep. Ott said he knows this bill, which he hopes to have passed by spring, will not solve the problem of having multiple OWI offenders on the streets. But he said it could help.

The bill now heads to the Wisconsin Assembly.

Rep. Ott says he is hopeful it will pass by spring.