Milwaukee Office of Violence Prevention; Ashanti Hamilton named director
MILWAUKEE - Milwaukee Alderman Ashanti Hamilton will be the new director of the city's Office of Violence Prevention, Mayor Cavalier Johnson announced on Monday, Aug. 15.
"I'm looking forward to hitting the ground running," Hamilton said.
"He understands the needs for results -- tangible metrics that show we're making Milwaukee safer," said Mayor Johnson.
Alderman Hamilton said he plans to build upon the partnership with the community to address violence in the city.
"There's been some concern about whether or not there is a continued commitment to understanding that violence is a public health issue, and our approaches to solving violence in our community has to continue with that approach, that there are strategies out there that work, that we have to continue to invest in those strategies," Hamilton said.
Hamilton told reporters that once he has been onboarded with the Office of Violence Prevention, he will resign his seat as alderman for the 1st District.
The shakeup in the office comes as Milwaukee homicides are up 33%. 2021 beat the previous record in 2020, and 2022 is on pace to beat it again. There have been 141 homicides this year compared with 106 at the same time last year. 
Members of the Common Council have criticized the effectiveness of the Office of Violence Prevention and what they say was the lack of any clear results.
"I'm not seeing anything, in essence, positive coming out of these programs," said Alderman Mark Borkowski during a June committee meeting.
"We want to support something that works, but it's hard to support something if you don't know if it's working or not," said Alderman Michael Murphy during a September 2021 meeting.
Arnitta Holliman critical of firing
"OVP should never be solely held accountable for a rise in homicide numbers. OVP is one office. The mayor has repeatedly said that this takes a multi-pronged – or an approach that is not just MPD. It's OVP but also, the community," said Arnitta Holliman, former director of the Office of Violence Prevention.
SIGN UP TODAY: Get daily headlines, breaking news emails from FOX6 News
Holliman said her firing on Aug. 3 was "unprofessional."
"There was no heads-up. There were no performance reviews, disciplinary action or anything of the sort to give me a heads-up that this would be happening," said Holliman. "The mayor did not communicate that he was looking to make any changes in terms of the director for OVP, and the mayor did not communicate the termination to me either, so I have not spoken with Mayor Johnson."
Holliman led the office for 14 months.
"I don't know any director or any person that steps into a role and is able to make sweeping-like changes or to see massive change or progress in a year's time. Like, that's just not even realistic, no matter what organization it is," Holliman said. "The work is bigger than me. It can still be done. I hope that the new director will continue to move those efforts forward."
"My hope is that the new director will have the full support of the health commissioner and the mayor and his administration – things that I did not receive as the leader of OVP," Holliman said.
Mayor vows to make the city 'safer'
Milwaukee has seen 537 non-fatal shootings in 2022 – along with 251 carjackings.
Milwaukee Police Department crime stats show other violent crimes are down compared with this time last year. Rape is down 41% and robbery is down 9%.
"I do understand that our previous directors have put in a lot of work in helping people understand what violence as a public health issue is. We want to build on that work. We want to expand it. We want to ensure that we're measuring whether or not that we're what we're doing is actually having an impact for the residents that live in this city," Hamilton said. "That's our commitment, and we look forward to getting to work and making sure that we're having an impact in the community."
"We know that there are no simple solutions to violence in some parts of our community. We rely on the police, but we cannot just rely on the police," Johnson said. "I want to make certain that tomorrow, next week, next year, that we're in a safer position, that the city is safer."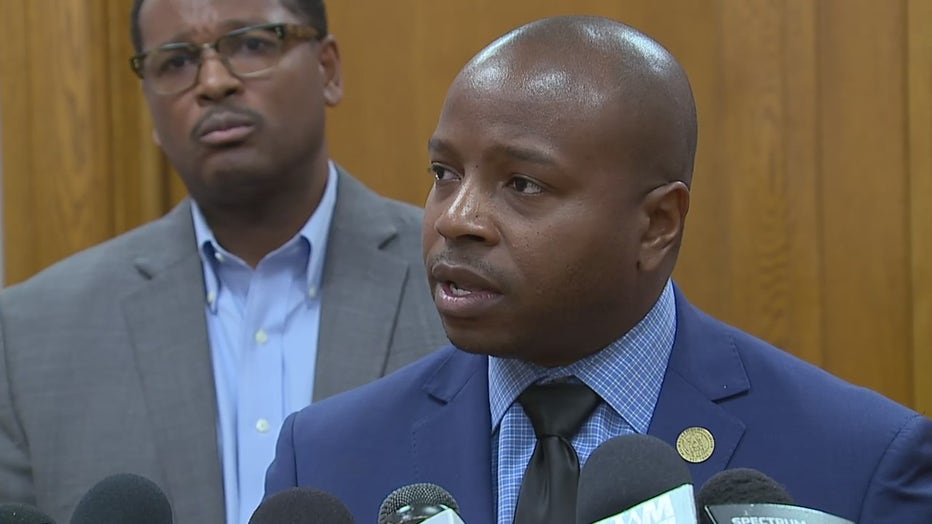 Milwaukee Mayor Cavalier Johnson
Hamilton's future resignation from the Common Council will leave four vacancies – a quarter of the spots will be open. Two will be filled during the November election, while the other two, including Hamilton's seat, will have to wait into 2023. 
FREE DOWNLOAD: Get breaking news alerts in the FOX6 News app for iOS or Android
Hamilton will get a pay raise in the new job. Council members earn $73,000 a year. The current city budget gives the director of the OVP a salary of $102,000.