Milwaukee County Behavioral Health Mobile Crisis Team 'saving lives'
MILWAUKEE - Finding help when you're struggling with mental health can be just another challenge. In Milwaukee County, you can make a call and get mental health resources right to your doorstep.
The free mobile service is available to anyone in Milwaukee County, and there have been some changes to make it even more accessible.
"You get ones where you know you probably saved their life," said Cait Fleming, Milwaukee County Behavioral Health Mobile Crisis clinician.
Mental health struggles can take people down a lonely road, so clinicians like Fleming not only answer the calls, but hit the road themselves.
"We're saving lives, changing lives, and we're providing people with critical support in a time of need," said Lauren Hubbard, crisis services director.
You often hear about meeting people where they are. Milwaukee mobile crisis clinicians do that literally.
Milwaukee County Behavioral Health Mobile Crisis Team
"Now that we're Milwaukee Mobile Crisis, we're doing a lot more in the community, by far," said Fleming.
What used to be two separate mobile crisis teams – one for adults and one for children – have been streamlined into one program with lines open 24/7.
"We'll help anyone who gives us a call," said Fleming.
As call volume generally rises, Hubbard said not only will the merger cut down on wait times but can better help serve a whole family, regardless of age.
"Our line sees over 20,000 calls annually, and we work to be able to turn as many of those phone calls as we can into mobile responses," said Hubbard.
Pairs drive resources right to people's homes in an effort to keep them at home if the situation allows.
SIGN UP TODAY: Get daily headlines, breaking news emails from FOX6 News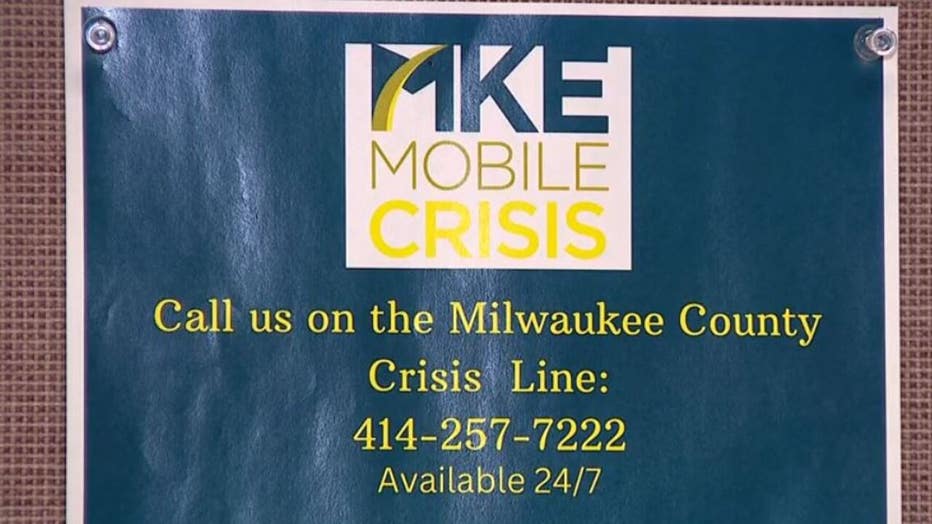 Milwaukee County Behavioral Health Mobile Crisis Team
"Our goal is to be able to get to people before a crisis situation rises to the level of needing a higher level of care, so we encourage community members to call the crisis line, ask questions, seek support before things get down a path where they may potentially need in-patient hospitalization," said Hubbard.
Hubbard said no matter where you are when it comes to your mental health, the service is available.
"Whether you think it's a true mental health or substance abuse need, you can still call us, and we're here to provide that support, provide those resources and connections and to be there on the way with people," said Hubbard.
"It's for literally anyone who is in a place where they're not fully comfortable with their mental health, and they need someone to talk to, they need support from someone," said Fleming.
Milwaukee County Behavioral Health Mobile Crisis Team
Milwaukee County is looking to hire clinicians for this program.
The Milwaukee County Crisis Line is 414-257-7222.
The number connecting to the former Children's Mobile Crisis Team, 414-257-7621, will now take you to the new integrated call center.