Milw. family forced out of their home after television catches fire


MILWAUKEE (WITI) -- A Milwaukee family is forced out of their home after their television caught fire! Firefighters say the TV was old, and an electrical short is to blame.

Fire officials say the family that lived in the home say their TV just started burning -- and officials are hoping this will be a cautionary tale for others.

Basement windows are boarded up on a home on West Denis Avenue -- where early Sunday morning, January 12th firefighters made their hasty entry.

"Our fire crews made entry to the basement. They extinguished the fire in the basement. They did have a working smoke detector," Deputy Fire Chief Aaron Lipski said.

All three people inside the home got out safely.

The fire caused $30,000 worth of damage.

"The origin of the fire was determined to be an older television," Lipski said.

Lipski says TVs account for one percent of all fires in the United States -- or about 600 fires every year.

"As the equipment gets older, its ability to protect itself really degrades," Lipski said.

Tom Pearson has been repairing televisions for more than 30 years. He showed FOX6 News some charred circuit boards, but says TVs aren't usually flammable.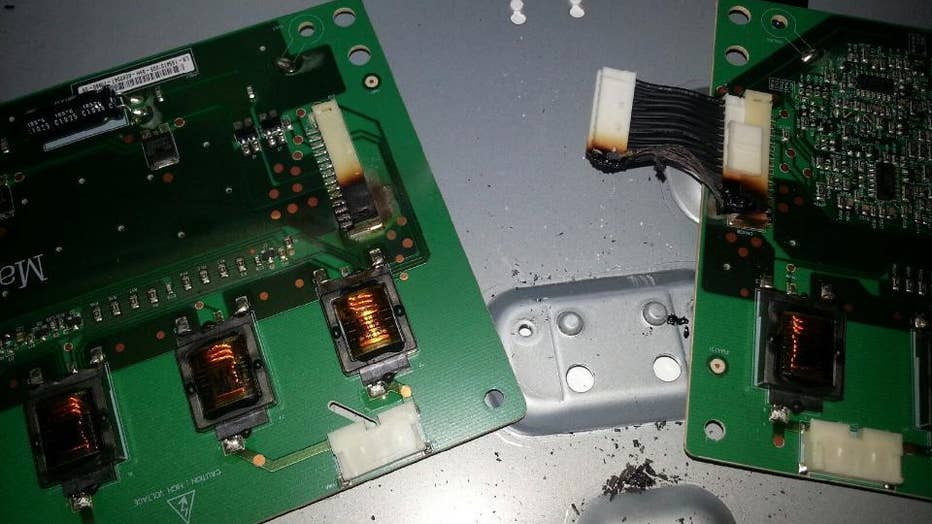 Photo from Robert Higgins at Higgins in Home TV Service. Photo shows a badly burned circuit board.


"I`ve had them smolder to where they smell bad. I've never had a physical fire in a TV. It doesn`t really start on fire -- a puff of smoke and it`s done," Pearson said.

Pearson suspects most fires linked to TVs started with a worn-out cord or an overburdened outlet.

"If it was near something that was flammable, sometimes the older TVs would run hot or whether the outlet it was plugged into was secure," Pearson said.

Pearson and fire officials recommend keeping the area around your television clear, so it has enough ventilation. Also -- avoid overloading your circuit.

One tip: If the holes on your power strip are starting to darken, that means it's overheated.

Another test you can do at home is checking the end of any cord to see if it is hot. If it is, it's time for a new surge protector.

When it comes to older TVs, they tend to need more ventilation, and more space from other items in the room.

Newer TVs tend to run cooler and don't need as much space.