Members of the public weigh in on arena plan, proposed Park East sale; dueling arguments emerge


MILWAUKEE -- For the first time, the public had the opportunity to weigh in on the proposal for a new Bucks arena in downtown Milwaukee, and a plan to finance it. There was a large crowd Tuesday evening, June 9th at Milwaukee's War Memorial Center for a public hearing on the arena plan.

The sale of land in Milwaukee's Park East corridor is just one piece of the arena puzzle -- but it was enough to draw dozens on both sides of the issue looking to weigh in.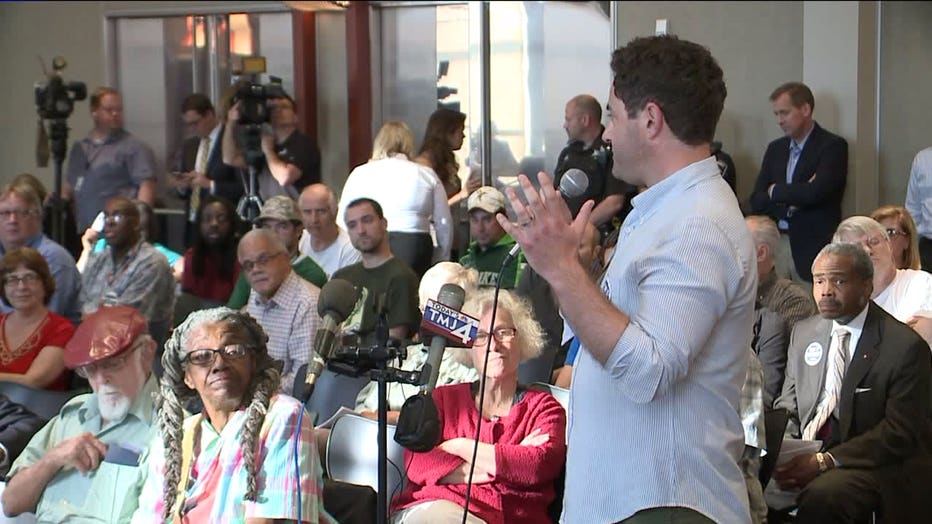 Two dueling arguments emerged: "We should not give public money to a private team owned by billionaires," vs. "This is a once-in-a-generation chance to reinvent downtown Milwaukee."

"If we do not get this done in our window of time as citizens, we will instantly fall to a fourth or fifth-tier city," Andy Gorzalski said.

"The Bucks are privately-owned by billionaires. Building an arena using tax dollars is a subsidy to billionaires," Jim Carpenter said.



Tuesday evening's hearing focused on the proposed sale of vacant land in downtown Milwaukee's Park East corridor to the Milwaukee Bucks owners.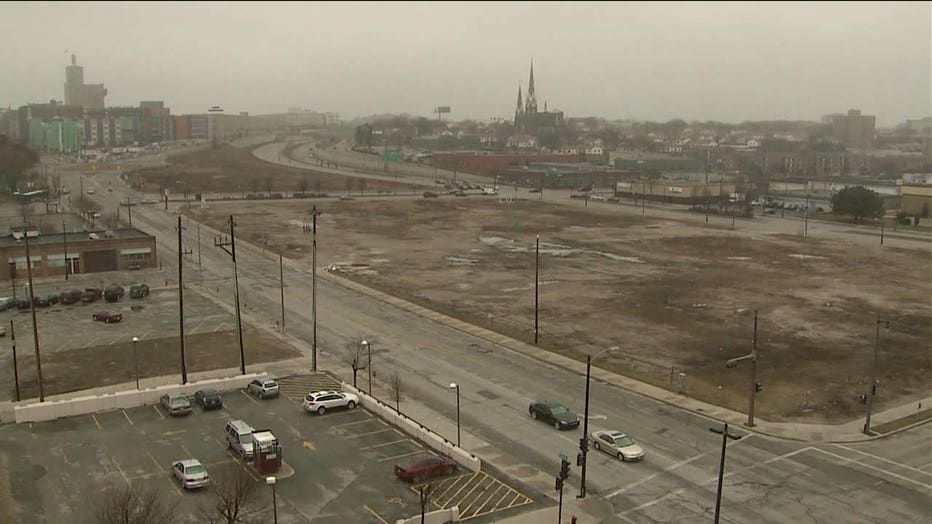 The owners of the Milwaukee Bucks submitted a proposal to Milwaukee County to buy the vacant land west of the Milwaukee River in early April. The Milwaukee Business Journal says the Bucks would buy almost 10 acres of public land in the Park East corridor for $1 -- for an envisioned $400 million in development over more than 10 years.

The Milwaukee Business Journal says the land price would be set at $1 because of the high cost of preparing the land for development, which includes dealing with underground sewers and piers from the now-demolished Park East Freeway spur. The Bucks also would commit to local hiring requirements for the Park East projects.

The owners envision 1.5 million square feet of residential, office, parking, retail and other new development on four city blocks.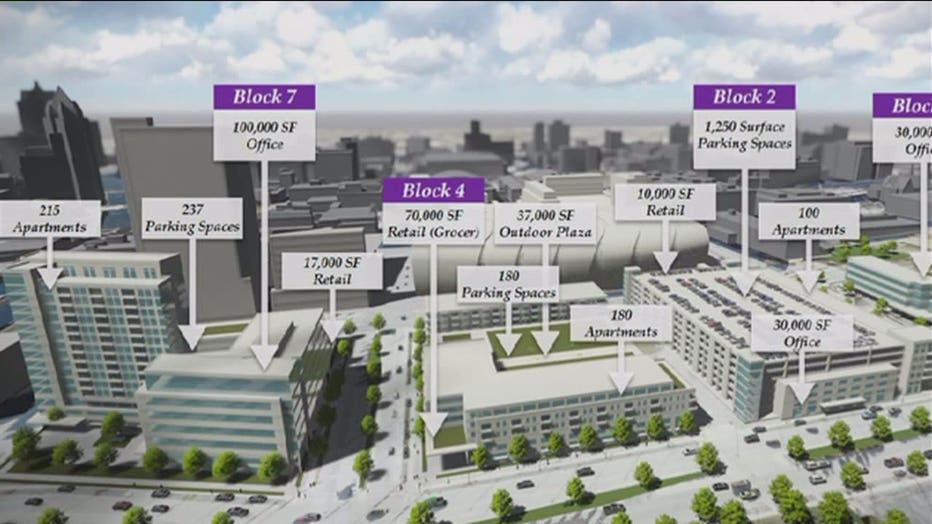 Many of those waiting to speak during Tuesday evening's public hearing struggled to find a seat.

"I`ve been passionate about the Park East for many years. I`ve looked at it for a decade trying to figure out ways to develop it. We are a city of neighborhoods. We have the opportunity to create our first authentic downtown neighborhood," Blair Williams said.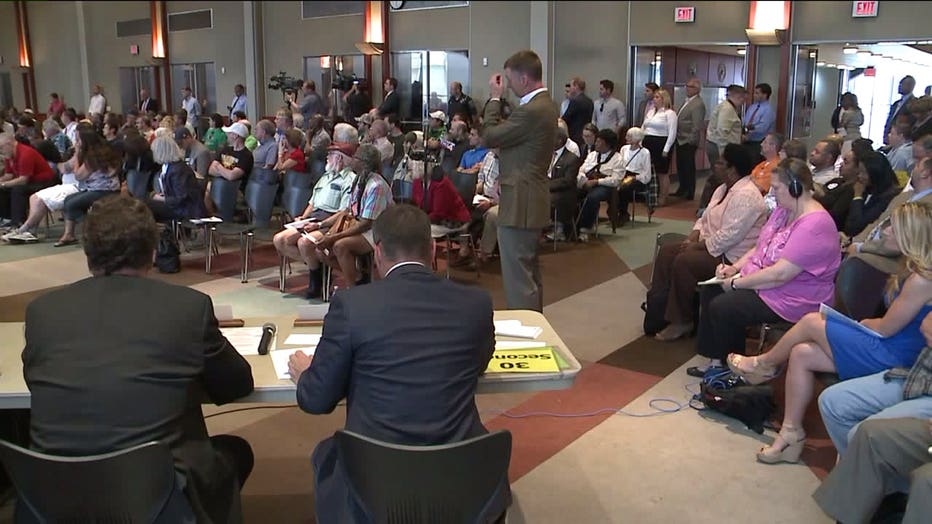 Others in the audience said that sounds good, but only as part of a bigger plan that benefits everyone.

"If we`re gonna do taxes for this, why not add another $100 million on it, put an endowment for UWM and MPS and then we`ll have something going," Jarrett English said.

Even as details have slowly emerged about the arena plan, much of the conversation remains familiar: Will the public receive a fair return on its investment?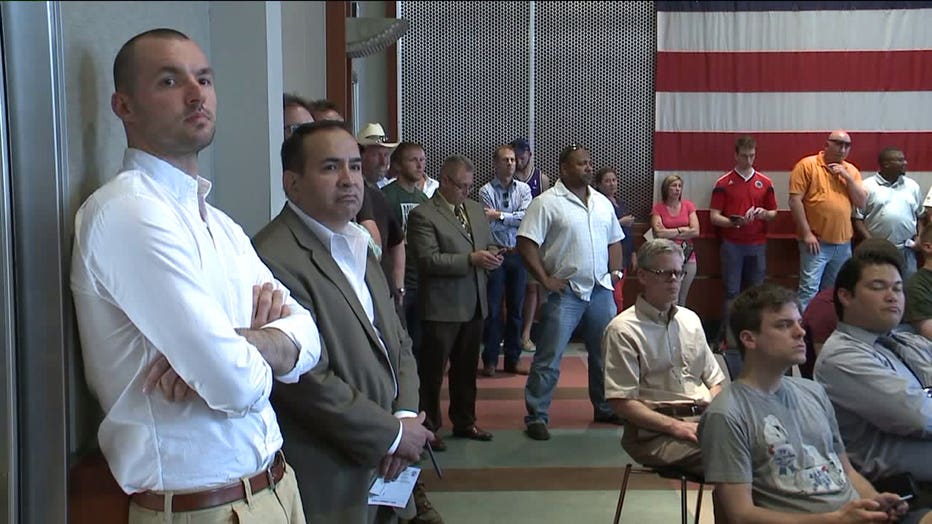 "Independent work on the economic impact of stadiums and arenas has shown uniformly no statistically significant positive correlation between sports facility construction and economic development," Ann Batiza said.

"We went to the playoffs this year. You could see Bulls fans coming up from Chicago in droves. You could see the money coming into Wisconsin from out-of-state," Paul Henning said.

This conversation is expected to resume early next week. The Milwaukee County Board's Economic Development Committee is expected to discuss the proposed sale on Monday, June 15th.

County supervisors say they've heard that if the County Board rejects the sale, the state will step in and alter the board's authority.