Mayor: 'Heroes' died protecting women from anti-Muslim rant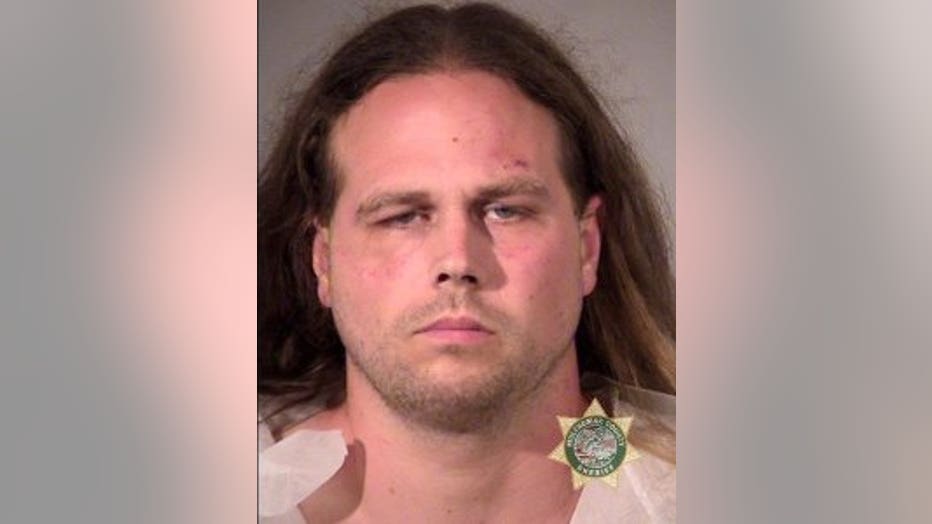 Portland Police confirm that on 5/27 suspect Jeremy Joseph Christian was arrested in the MAX train stabbing that left two persons dead, and one injured.Jeremy Joseph Christian, age 35, was booked into the Multnomah County Jail at 5:12aE on 5/27. He i


PORTLAND, Ore. — Police said Saturday they'll examine what appears to be the extremist ideology of an Oregon man accused of fatally stabbing two men who tried to intervene when the suspect yelled racial slurs at two young women who appeared to be Muslim on a Portland light-rail train.

The attack Friday happened on the first day of Ramadan, the holiest time of the year for Muslims, and it sent shockwaves through a city that prides itself on its tolerance and liberal views. A memorial where the stabbing occurred grew steadily Saturday, and a vigil was planned.

"That people feel emboldened to come out and show their racism and bigotry in that way is horrifying to me. It's a gut check for everywhere — and absolutely for Portland," said Christopher Douglas, who stopped at the memorial. "Portland ... floats in a little bit of a bubble of its own liberal comfort and I think the reality is sinking in."

Jeremy Joseph Christian, 35, was being held in the Multnomah County Jail on suspicion of aggravated murder, attempted murder, intimidation and being a felon in possession of a weapon. He was arrested a short time after the attack on Friday.

He will make a first court appearance Tuesday, and it wasn't clear if he had an attorney. A phone at his home in Portland rang unanswered Saturday, and no one came to the door at his parents' home.

Police identified the victims as Ricky John Best, 53, of Happy Valley, Oregon, and Taliesin Myrddin Namkai Meche, 23, of Portland. Police say Best died at the scene and that Meche died at a hospital.

Meche's mother, Asha Deliverance of Ashland, Oregon, confirmed on Facebook that her son had been killed. She did not immediately return a call to her business phone listing or a message sent through social media.

"He was a hero and will remain a hero on the other side of the veil. Shining bright star I love you forever," she wrote.

Meche graduated last year from Reed College in Portland with a bachelor's degree in economics, the college said on its website. Mayor Ted Wheeler said at a news conference that Best was an Army veteran and a city employee.

"These two men died heroes as a result of a horrific act of racist violence."

Police say Micah David-Cole Fletcher, 21, of Portland was also stabbed in the attack and is in serious condition at a Portland hospital. Police say his injuries are not believed to be life-threatening.

"Their actions were brave and selfless and should serve as an example, an inspiration to us all. They are heroes," Wheeler said.

Police said one of the two young women on the train was wearing a hijab. The assailant was ranting on many topics, using "hate speech or biased language," police Sgt. Pete Simpson said.

Dyjuana Hudson, a mother of one of the girls, told The Oregonian/OregonLive (http://bit.ly/2qurEGz) that the man began a racial tirade as soon as he spotted the girls. Her daughter is African-American and was with a friend who was wearing a hijab, she said.

"He was saying that Muslims should die," Hudson said. "That they've been killing Christians for years."

The FBI and U.S. Attorney for Oregon are working with Portland police. The FBI says it's too early to say whether the slayings qualify as a federal hate crime however Christian is charged with two counts of intimidation, the state equivalent of a hate crime.

Wheeler decried the charged national political environment surrounding immigration.

"Violent words can lead to violent acts," Wheeler said. "All elected leaders in America...must work deliberately to change our political dialogue."

Court records show Christian served prison time for first-degree robbery and second-degree kidnapping after a crime committed 15 years ago and theft and weapons charges were dismissed in 2010.

The Portland Mercury, one of the city's alternative weeklies, posted an article on its website saying Christian showed up at a free speech march in late April with a baseball bat to confront protesters and the bat was confiscated by police.

The article included video clips of a man wearing a metal chain around his neck and draped in an American flag shouting "I'm a nihilist! This is my safe place!" as protesters crowd around him.

Simpson confirmed the man in the videos was Christian and said investigators were aware of them. He declined to comment further.

Neighbors who live next to Christian's parents' house — which was also his last listed address in court records — said the family was quiet and they often saw Christian's two adult brothers but never him.

One neighbor, Kenny Jenkins, said he occasionally saw Christian riding his bike around the neighborhood.

The neighborhood is on the northern outskirts of Portland, an area that has been rapidly gentrifying in recent years because it remains one of the last affordable sections of the city. The homes immediately surrounding the Christian residence now hold biracial families and same-sex couples, Jenkins said.

"The parents are very quiet. The dad was always helpful," he said. "Good people."

Christian has had several encounters with the law, and spent time in prison for robbery and kidnapping charges years ago, according to court records and a defense attorney.

In 2002, he was arrested and charged with first-degree robbery and second-degree kidnapping after he rode to a convenience store on his bike and held up employees there with a gun, according to court records and his court-appointed defense attorney at the time, Matthew Kaplan.

When police caught up with him, Christian aimed the gun at himself before he was shot and injured by police, Kaplan said.

He was sentenced to more than seven years in prison.

Kaplan said he remembers the case vividly because Christian was so young, so earnest and had never been in trouble before. At the time, the attorney suspected the onset of mental health problems.

"I'll remember this case forever because it made no sense," he told The AP in a phone interview.

At the memorial to the stabbing victims 8-yearold Coco Douglas left a sign and some rocks she had painted with rainbow colors

Her stepmother, Angel Sauls, said the attack had been particularly hard on their family because Sauls is black and Coco and her father are white.

"I had hoped that it was Portland, Maine, and not Portland, Oregon," Sauls said, after choking back tears. "I'm scared that this is going to make people afraid to stand up for other people. ... I'm just really sorry that their acts of kindness were repaid in such a horrible way."