Mayor Barrett: 'At this time, I am not ordering a curfew' for Tuesday night


MILWAUKEE -- Milwaukee Mayor Tom Barrett announced Tuesday afternoon, June 2, "I am not ordering a curfew" for Tuesday night.

Below is Mayor Barrett's statement:

"Last night we saw a notable reduction in illegal activity associated with public protests. I am optimistic that reduction will continue this evening.

"At this time, I am not ordering a curfew for tonight, Tuesday, June 2. However, if conditions warrant, I will, on short notice, institute a citywide curfew.

"I want to thank all the public safety officials who have been working tirelessly to protect our city.

"I have respect for the thousands of Milwaukee residents who have peacefully demonstrated in recent days, and I hope that all future protests are lawful."

Demonstrators marched peacefully until approximately 3 a.m. Tuesday in Milwaukee. The protesters marched through the city -- then up Oakland Avenue into Shorewood and Whitefish Bay.

Whitefish Bay Police Chief Michael Young issued this statement Tuesday regarding that protest:

"Dear Whitefish Bay Community Members,

"I am writing to provide some information about protest activity that occurred in Whitefish Bay during the early morning hours on Tuesday, June 2, 2020.

"At approximately 12:15 am, a group of protesters entered Whitefish Bay. The group had made their way north through Milwaukee and subsequently Shorewood. After proceeding through various streets in Whitefish Bay, the group reached Bayshore and then headed south through Glendale before returning to the City of Milwaukee. In total, the group spent approximately 90 minutes in Whitefish Bay. While the activity in our community did result in a noise disturbance, the protesters demonstrated in a peaceful and safe manner.

"The dedicated officers of the Whitefish Bay Police Department work tirelessly to protect and serve this amazing community. Through a practice known as mutual aid, the Whitefish Bay Police frequently collaborate with neighboring Police Departments and other agencies to maximize resources in the interest of public safety. These past few days, Whitefish Bay officers have been able to assist in other municipalities and that same level of assistance has been reciprocated within our Village. Our Department will continue to utilize increased staffing levels, mutual aid and all other available resources to protect and serve the Village of Whitefish Bay. Law enforcement will facilitate lawful protest but the potential for outliers to use current events as a cover for illegal activity will require constant diligence.

"On behalf of the entire Whitefish Bay Police Department, I would like to express my sincere gratitude to the residents of Whitefish Bay for the support that you have shown to our Police Officers."

The march started around 4:30 p.m. Monday near Milwaukee Police District 5. The march went on for miles and hours.

Milwaukee Police Chief Alfonso Morales said there were 105 arrests Monday night/Tuesday morning for curfew violations. Those arrested were fined $691. An MPD spokeswoman said "several" businesses were damaged/looted. Morales expressed displeasure with the curfew violations and said when the sun goes down, the protests should end. The chief said he's concerned there will be no curfew Tuesday night -- noting many disturbances including looting, shooting and reckless driving.

In response to reports that protesters were tear-gassed near Capitol Drive and Port Washington, the chief said he cannot speak for other law enforcement agencies -- but said MPD did not tear-gas the crowd.

Mayor Barrett said there were multiple reports of reckless driving, including people driving the wrong way at high rates of speed, and some driving on the sidewalk. FOX6's cameras captured vehicles being towed Monday night.

"From the accounts I've received from the police chief and others, clearly, in the period of 10 p.m. to 2 a.m., one of the biggest challenges we have are people driving recklessly and that is something that puts people in harm's way," said Mayor Barrett.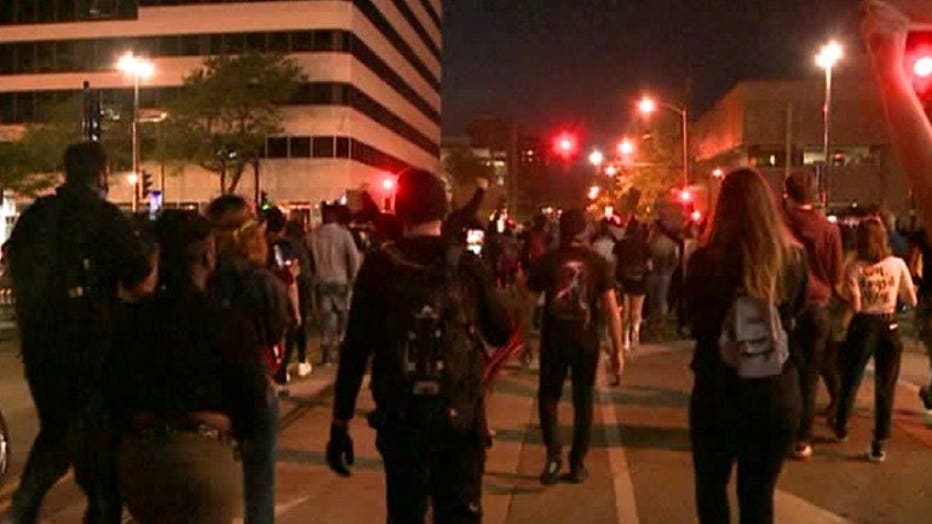 During a Monday afternoon news conference, Milwaukee Police Chief Alfonso Morales said there were 109 arrests over two nights for curfew violations. At least five were not from Milwaukee. Chief Morales said 24 stores were burglarized and 11 damaged Sunday into Monday -- describing the violence as "absolute chaos."

Milwaukee Fire Chief Mark Rohlfing noted people throwing items at first responders.

Sheriff Earnell Lucas said law enforcement worked over 72 hours tirelessly to keep Milwaukee County safe, and asked the community to "show some restraint, and show some calm, and show some dignity."

Mayor Barrett noted Monday the city saw three days of peaceful protests, and, "It's important in America people have their voices heard." The mayor said, "I understand the anger we are seeing not only in this community, but communities across this nation," and added that he was appalled by the video of George Floyd's death.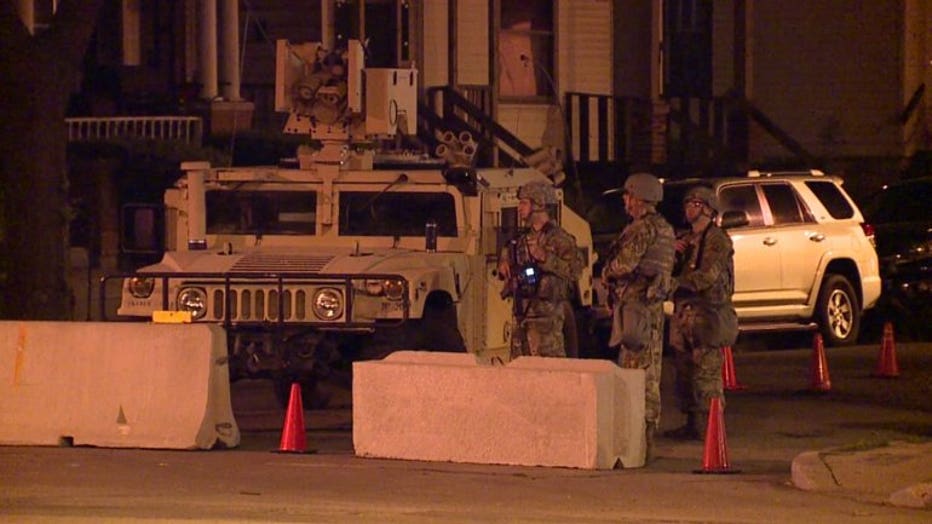 Wisconsin Gov. Tony Evers on Saturday called on the Wisconsin National Guard to help support law enforcement in Milwaukee following protests over the deaths of Floyd and Joel Acevedo, who died in April after an altercation with a Milwaukee police officer, that turned violent Friday night. Evers said in a press release that he authorized 125 Guard members to assist after receiving a request from Milwaukee city and county officials worried about a repeat of the demonstration over Floyd and Acevedo.

More than a dozen businesses were damaged and about 50 people were arrested Friday night into Saturday, Milwaukee Police Chief Alfonso Morales said in a statement.

Amid the curfew, while Saturday was a calmer night than Friday, there were a few break-ins and other issues amid the ongoing protests.

"During the last 48 hours, more than 60 arrests have been made," said Chief Morales on Sunday. "The reckless, destructive behavior, criminal behavior HAS to end."

Morales said Sunday of those dozens arrested, only three were from outside the City of Milwaukee.

PHOTO GALLERY