Machete-wielding homeowner fends off 5 would-be robbers; all of them arrested


SARASOTA COUNTY, Florida -- Police say a homeowner in Florida used a machete to fend off five would-be robbers at his home.

The suspects were armed with a shotgun when they broke into the man's home in Sarasota on Friday morning, June 16th around 4:45 a.m. -- near 22nd Street and Dodge Avenue.

Surveillance video shows the homeowner grabbing the machete and fighting back. He managed to disarm one suspect, while the other four took off.

The homeowner held the suspect until police arrived.

The other suspects were arrested after the suspect vehicle was located at a gas station. Sheriff's officials say four men wearing dark clothing were inside -- one with several zip ties. Two admitted to the attempted robbery.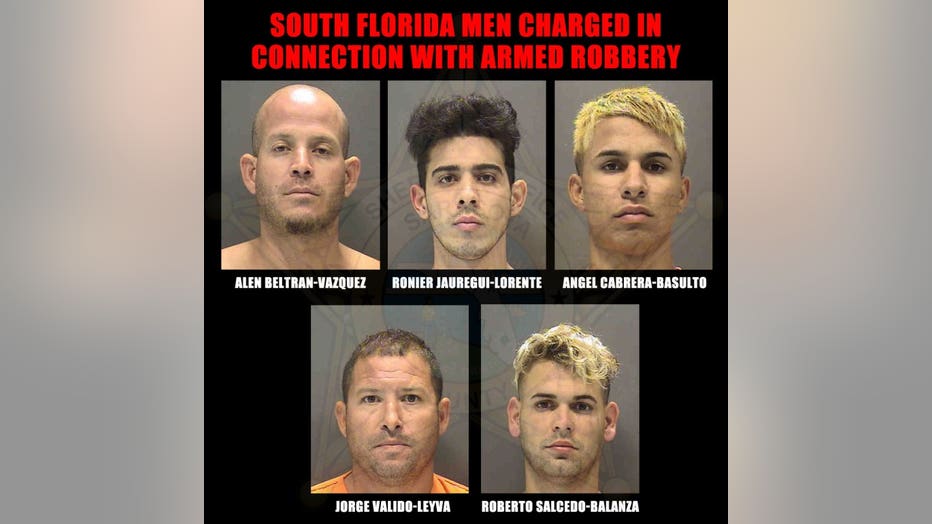 PHOTO: Sarasota County Sheriff's Office


According to a news release from sheriff's officials, in the surveillance video obtained from the homeowner, Allen Beltran-Vazquez, Angel Cabrera-Basulto and Ronier Jauregui-Lorente enter the victim's porch armed with a shotgun, machete and crowbar, in an attempt to rob the victim.

Cabrera-Basulto and Jauregui-Lorente are seen fleeing the home, while the victim arms himself with a machete and holds Beltran-Vazquez until deputies arrive.

Detectives identified Jorge Valido-Leyva and Roberto Salcedo-Balanza as the other men in the vehicle and through interviews, learned that they helped coordinate and plan the robbery.

All five men are in custody at the Sarasota County Jail without bond.

Beltran-Vazquez is charged with two counts of armed robbery and possession of a firearm by a convicted felon. Jauregui-Lorente and Cabrera-Basulto are each charged with two counts of armed robbery. Valido-Leyva and Salcedo-Balanza face two counts each of principal to armed robbery.

The investigation is ongoing and additional charges are pending.