Local, state health officials gather to ensure they're on the same page on Ebola


MILWAUKEE (WITI) -- There has been no reported or confirmed cases of Ebola in Wisconsin, but health officials met on Tuesday, October 14th in Milwaukee to make sure they're prepared if Ebola reaches the state. The "Ebola Symposium" featured national experts as well as local officials and doctors.

Those involved in the symposium say it's highly unlikely we'll see an Ebola patient in Wisconsin -- but this is the worst Ebola outbreak in history. The virus has killed more than 4,000 people in West Africa and last week, Thomas Eric Duncan became the first person to die of Ebola on U.S. soil.

That's why state and local officials want to make sure they're all on the same page.

"You can only get Ebola by direct contact with the body fluids of someone who has the Ebola disease with symptoms," Wisconsin State Health Director Karen McKeown said.

While it's unlikely many of us would even be in a position to contract the Ebola virus, a number of health officials and healthcare providers met Tuesday at the Italian Community Center in Milwaukee.

The forum was closed to the public, but those FOX6 News spoke with afterwards say the goal is for everyone to have the same plan should Ebola hit Wisconsin.

"We want to make sure all of the healthcare partners in Wisconsin are prepared should there be a case of Ebola in Wisconsin. That individual could present to a clinic, an emergency room, an ambulance -- and we want to make sure no matter where they come in, the system is prepared," McKeown said.

Ebola can only be transmitted through contact with the bodily fluids of an infected person -- like blood, saliva, urine and vomit.

Health officials say the public shouldn't worry about the disease spreading through our water systems.

"There`s no evidence that the Ebola virus can be transmitted through the water. It`s not a water-borne pathogen, so that shouldn`t be a concern," Milwaukee Health Commissioner Bevan Baker said.

State health officials say they would be immediately notified in the case of a suspected Ebola patient. Doctors say should that happen, they're confident the person could be treated without spreading the disease.

"My message to the people in our community is one of reassurance. The chances of us seeing a patient of Ebola virus disease in the Milwaukee area are very low, and if we do see a patient with the Ebola virus disease, we are very well prepared to take care of such a patient," Froedtert Hospital Associate Chief Medical Officer Dr. Sid Singh said.

Another common question related to Ebola is whether people can get Ebola from a pet -- like a dog or cat.

According to the Centers for Disease Control, there haven't been any reports of those animals spreading Ebola to people -- even in Africa.

In cases like the one in Texas involving a nurse, who has a dog, it is up to local and state health officials to decide how that animal is treated.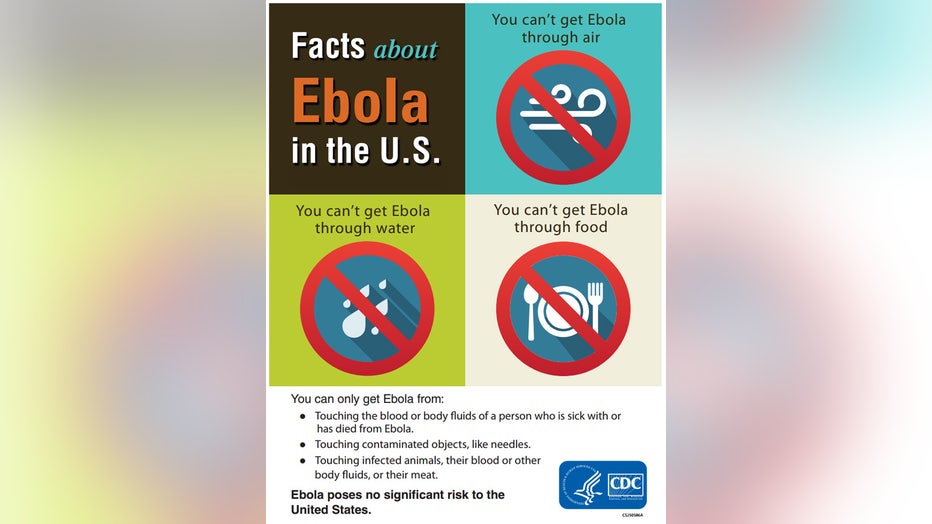 CLICK HERE for additional coverage on Ebola via FOX6Now.com