'Liam and I met a hero:' Father thanks firefighter for taking time out for 5-year-old son at church fire scene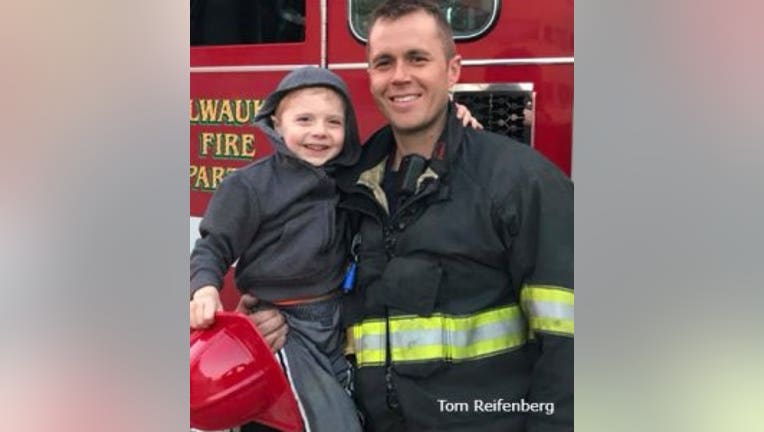 MILWAUKEE -- As more than 100 firefighters battled a massive, four-alarm blaze at the Trinity Evangelical Lutheran Church in downtown Milwaukee on Tuesday, May 15, a father and his young son with an affinity for police and fire officials stopped at the scene to take a look at the devastation. Afterwards, the father wrote a heartwarming post on Facebook -- thanking the "true hero" who took time out for his young son.

Tom Reifenberg said in the Facebook post he and his son Liam stopped by the scene near 9th and Highland in downtown Milwaukee on Tuesday evening after baseball practice. He noted it was "really heartbreaking to see this happen to such a gorgeous and historic church."

He said as they were on scene, his young son Liam "was asking so many questions about what was happening -- especially how the water was going from the fire hydrant all the way up to the people high in the ladder."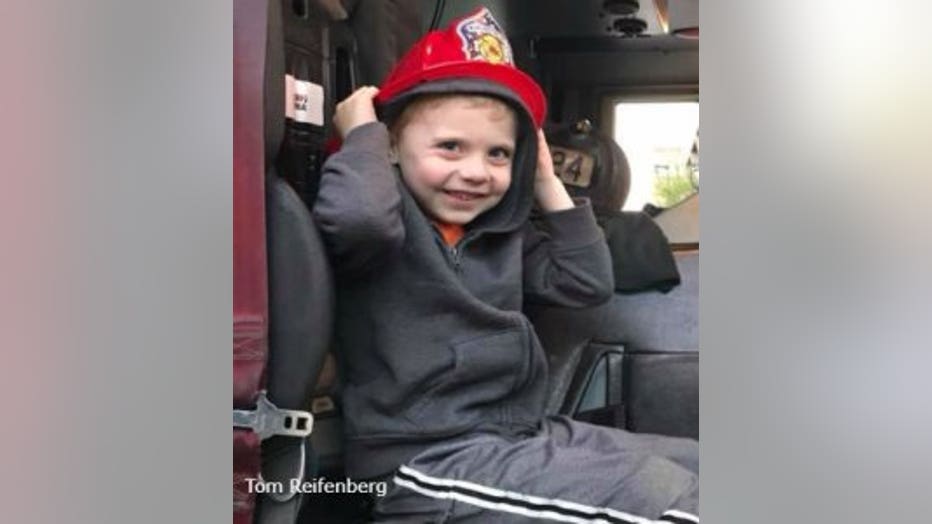 Liam Reifenberg (PHOTO: Tom Reifenberg)


They were soon approached by a firefighter -- who "simply said 'want to sit in the truck?'"

Reifenberg said his son Liam was given a Junior Fire Chief helmet and he got to sit in the fire truck that was still fighting the church fire moments prior.

He noted that the firefighter said he'd arrived on scene around 3 p.m. Reifenberg and his son were there around 8:30 p.m.

He said he and Liam thanked the firefighter and his partner, and they were back to work.

Reifenberg called the firefigher "a hero," and said "after five-and-a-half hours of working his tail off fighting one of the largest fires in Milwaukee in a long time," the firefighter "took a moment to give a 5-year-old boy an incredible experience -- putting a huge smile on his face."

He said he's not sure whether the firefighter will see the Facebook post, but said "maybe if enough people share it, someone will recognize this hero and let him know how awesome he really was, in more ways than one."



Fire officials on Wednesday said the fire caused $17 million in damage to Trinity Evangelical Lutheran Church.

The cause remains under investigation.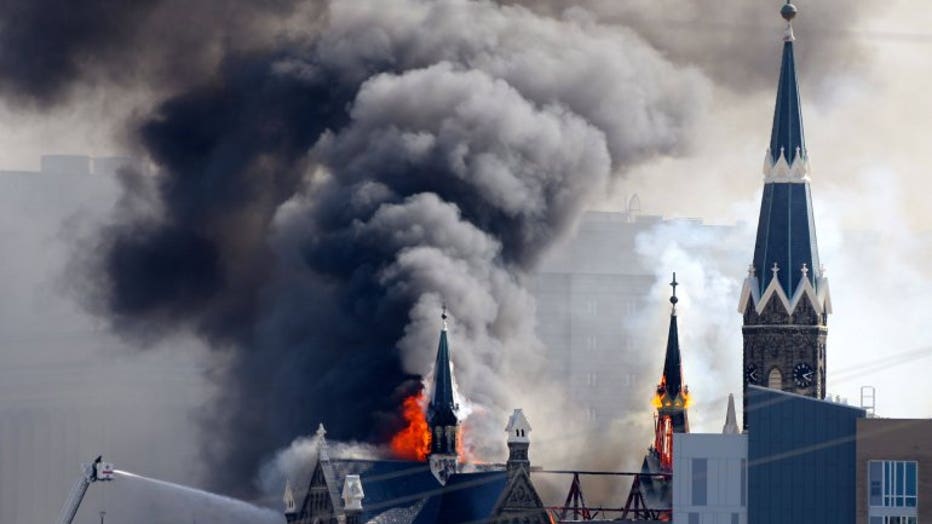 Fire at Trinity Evangelical Lutheran Church, Milwaukee courtesy: David Hay Jones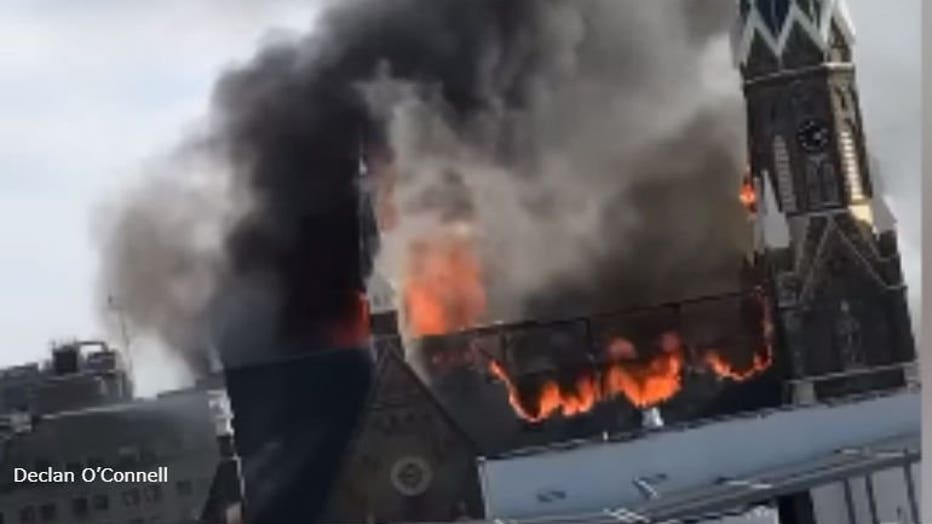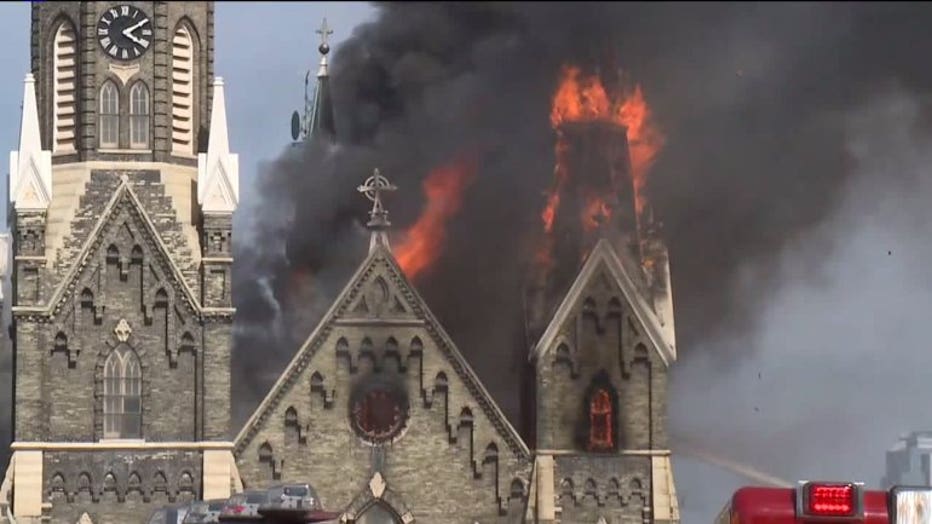 Fire at Trinity Evangelical Lutheran Church, Milwaukee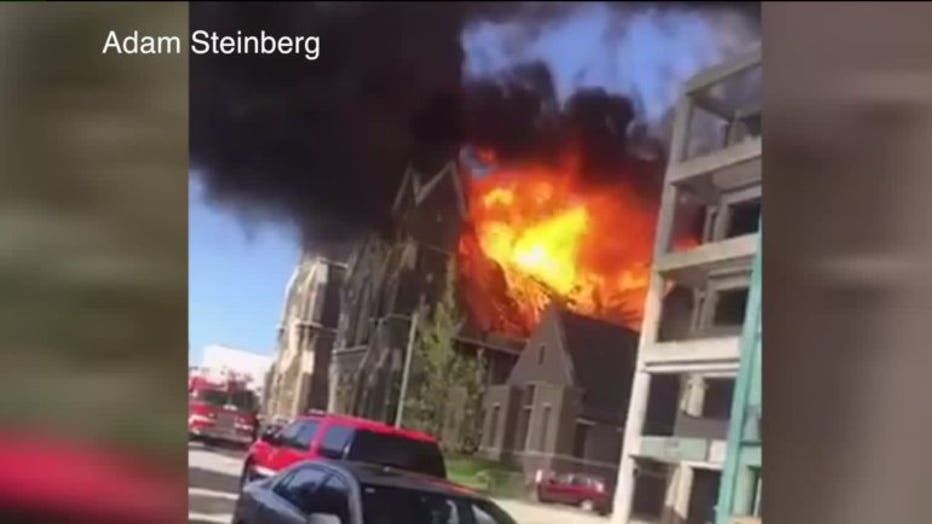 Reverend Jonah Burakowski of Trinity Lutheran Church indicated the congregation is committed to restoring or rebuilding the church at the same corner.

Trinity Evangelical Lutheran Church was built in 1878.