Lena Taylor joins Milwaukee mayoral race, Chris Larson eyes run
MILWAUKEE - In 50 days, Milwaukee will vote in the primary for who should be the city's next mayor.
The runner-up in the 2020 mayoral race now announces she's running to finish the term she lost, a term which runs through 2024. State Senator Lena Taylor is the eighth person running for Milwaukee mayor – and she'll be facing off against the acting mayor, the county sheriff and others.
SIGN UP TODAY: Get daily headlines, breaking news emails from FOX6 News
"I love this place. I was born and raised here. I live on the block that I grew up on.  I believe in us and I believe that we can do better than where we are. And there are some great things about us and I want to be able to highlight those things. And I want to be able to make it where all ships can rise," said Taylor in an interview with FOX6.
In the four regular elections against incumbent Tom Barrett, Taylor did the best capturing 36% of the vote to his 62%
The only other candidate who did better against Barrett was Acting Mayor Marvin Pratt, who lost in a special election in 2004.
This time around, the new acting mayor hopes to win.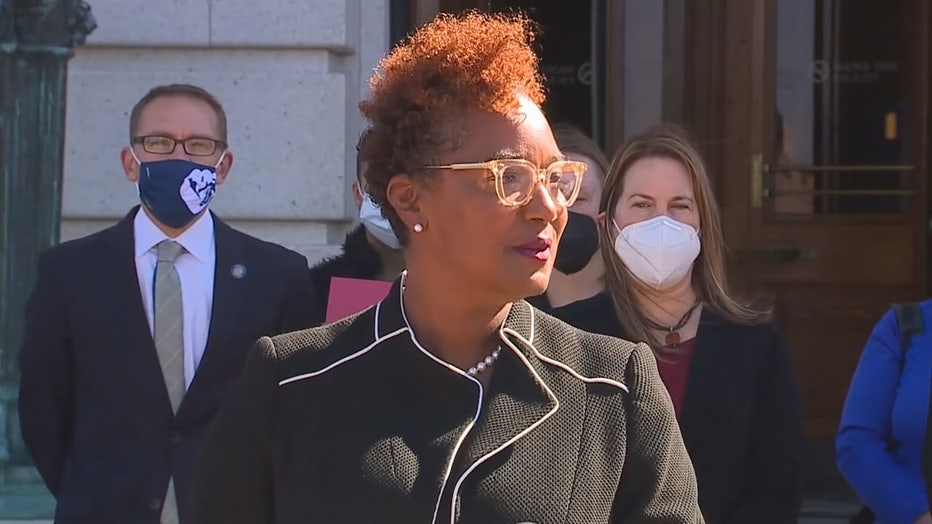 State Sen. Lena Taylor (D-Milwaukee)
"I have always wished Sen. Taylor well, and I continue to wish Sen. Taylor well," said Acting Mayor Cavalier Johnson.
Johnson answered FOX6's questions about the race during his visit to the Lil' Jeanetta Robinson Gifts of Love event, giving away school supplies to kids. It honors the memory of Jeanetta Robinson, who was murdered in 1984 at the age of 9. At her sixth birthday party---which comes after Christmas---she gave her gifts to children attending her party who hadn't received Christmas gifts.
"I hope they take away some joy and the idea of sharing, love, knowing that someone cares for them," said Charles Walton, uncle of Jeanetta, who witnessed his niece giving away her Christmas presents.
The acting mayor's visit comes as the city prepares for a competitive race to decide who should lead the city.
"I feel very, very good about where we are with our campaign. I was the first person to announce that I was going to be seeking the opportunity to fulfill the remainder of now-Ambassador Tom Barrett's term in office and we got off to a nice start, a running start, a great headstart. And I think that the work we have done over the course of the last couple of months has been really fantastic," said Johnson.
"I think I'm the people's choice," said Taylor.
Sen. Taylor last week announced she was suspending her campaign to be Wisconsin lieutenant governor.
If elected, it would be the first time the city ever elected a woman as mayor, and she would be the first black person elected to the city's top spot, though the city has had two black acting mayors: Pratt and the current leader, Johnson.
"I think that competition is not a bad thing. I think it's a good thing. The swearing in was beautiful for Acting Mayor Johnson. And, and I'm excited that he's excited having grown up in the city and want to be able to run," Taylor told FOX6. "I just fundamentally believe I'm the better candidate. I fundamentally believe I come with more experience than any other candidate that is in the race. And I believe that I fundamentally come with plans that are not only things that I'm talking about now, but that I've talked about for time, for years as a matter of fact."
Taylor is the only state legislator running, as State Rep. Daniel Riemer dropped out of the race less than a week after filling his official paperwork to enter the mayoral race. He told FOX6 he hadn't made up his mind about whom he'd be voting for in the election.
Now, State. Sen. Chris Larson makes it official: he is considering a run.
"I think Milwaukee has a need for bold, progressive leadership that clears a path for everyone to rise up, not just the developers, the rich folks that buy politicians, and the special interests that hinder progress," he tweeted.  "But what I really want to know is: what do you think? Are you content with the current slate of candidates? Do you think the donor-class should again choose who is in charge of us? What issues are not being addressed that we need to tackle with greater urgency?"
Larson, if he decides to run, would become the ninth person in the crowded field.
"If there's 10-20 candidates, for somebody to survive the primary to be one of the top two vote-getters, gosh, they only need 15% of the vote or 20% of the vote to survive the primary," said Mordecai Lee, UWM professor emeritus. "So, what they're doing is they're trying to find the base and excite the base and get the base out to vote, just so they can survive the primary."
A deadline is fast approaching. On January 11, 2022, the mayoral candidates need to submit 1,500 signatures to get on the ballot. The non-partisan primary is set for Feb. 15, with the top two vote-getters moving on to the special election on April 5, 2022.