Lakefront visions unveiled: Teams take part in competition to design "Lakefront Gateway Plaza"
MILWAUKEE -- City of Milwaukee officials on Thursday, July 2nd unveiled plans from four design teams that are participating in a public design competition for the "Lakefront Gateway Plaza" this summer.

The plaza site is between Michigan Street and Clybourn Street, east of Lincoln Memorial Drive. The land currently is a lawn bisected by Harbor Drive that folks attending Summerfest merely walk past.

The Lakefront Gateway project is a unique collaboration between the city of Milwaukee, Milwaukee County and the State of Wisconsin. Its purpose is to improve public spaces at the downtown lakefront, improve connections between the lakefront, downtown Milwaukee, and the Historic Third Ward, and create and enhance development sites.

A central goal of the larger project is improved public civic space. The new public space will establish a clear sense of place and identity, both unto itself as well as for Milwaukee's downtown lakefront as a whole.

Identified as a catalytic project in the "Downtown Comprehensive Area" plan, a new 1.5 acre public space on the downtown lakefront is envisioned to be a world-class public plaza.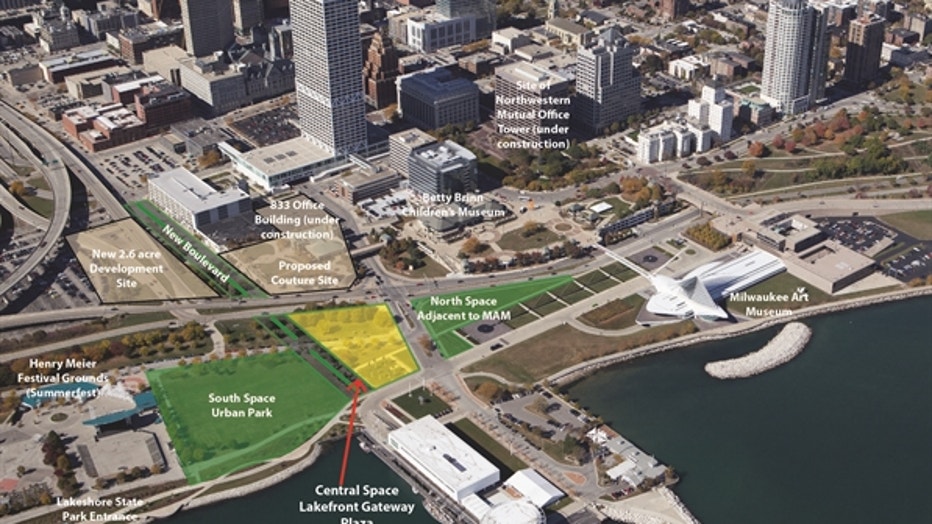 This past fall, 24 teams from around the country responded to a request for qualifications (RFQ) to submit entries in the Lakefront Gateway Design Contest.

The city, (led by the Department of City Development), Milwaukee County and Milwaukee County Parks, worked with neighboring stakeholders to invite the top four teams to submit designs for the competition.

The selected design will be used to secure funds and grants for further design and construction.

The designs include fountains, an elevated beacon, a cafe and pedestrian bridges.

This summer, the city will collect public comment and in the fall, officials will select a final design.



Lakefront Gateway Plaza Design Competition Design Teams:

AECOM

AECOM Landscape, URS, Tillotson Design Associates, Cynthia Reeves, Delta Fountains

GRAEF

PFS Studio, Rinka Chung, DEW (Dan Euser), NEWaukee

James Corner Field Operations

La Dallman Architects, Robert Silman & Associates, Kapur & Associates, Marilu Knode, DEW (Dan Euser), HLB Lighting Applied Ecological Services

Office of James Burnett

Johnsen Schmaling Architects, Buro Happold Engineering, Focus Lighting, Shore Art Advisory, K. Singh & Associates, Fountain Source

Competition Timeline

Past:







Upcoming:

CLICK HERE to view the submissions for this project.

READ MORE about this project via the Milwaukee Business Journal.