Lakefront Marathon: Deputies running for those who died in the line of duty among hundreds who raced


MILWAUKEE -- It was an early start for many on a rainy Sunday, October 2nd who took part in the annual Lakefront Marathon! The race began at Grafton High School, and the course finished along the shores of Lake Michigan -- just north of the Milwaukee Art Museum at Veterans Park.

This was the 36th annual Lakefront Marathon -- a Boston Marathon qualifying race.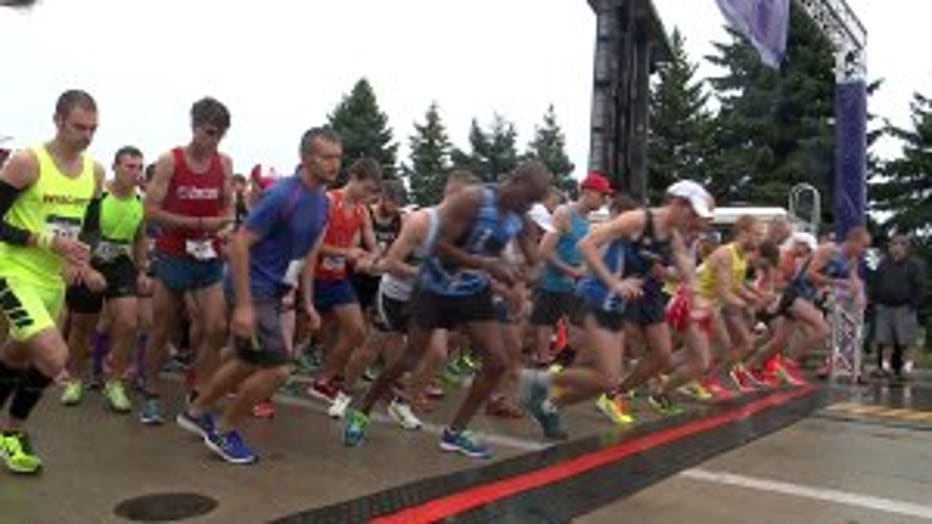 "I feel like I`m ready. I just really want to cross that finish line," Shannon Darton, a first time marathon runner said.

Darton was one of 3,000 runners pushing through the rain for 26.2 miles.

"All through the winters I run, and even if it`s below zero, I run outside. I did a half marathon in April and that one was sleeting, snowy and windy -- so this doesn`t seem too bad actually," Darton said.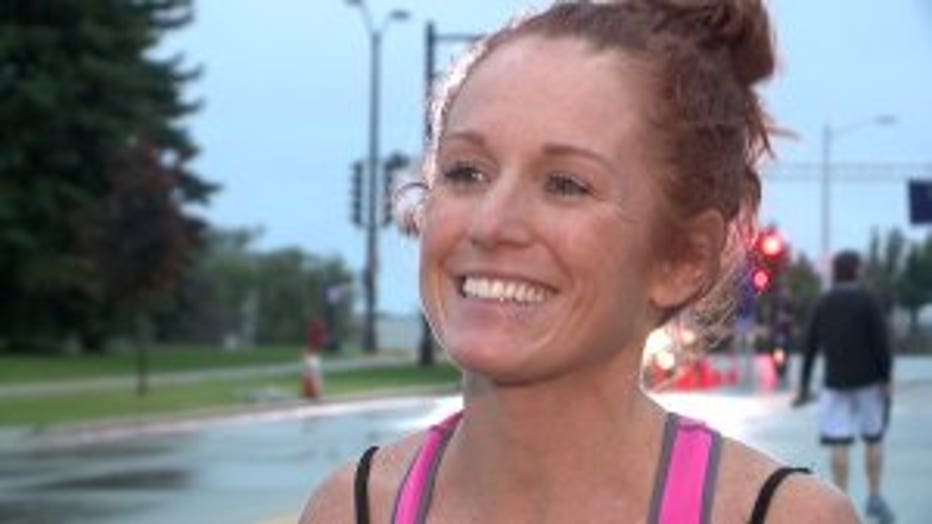 Shannon Darton, a first time marathon runner


FOX6 News caught up with some Washington County Sheriff's deputies, running in honor of the men and women killed in the line of duty. They ran the Lakefront Marathon in full police gear, which added 15 to 20 pounds.

"Little added extra weight, little added extra pain -- but it`s really minimal when it comes to the pain the families of officers go through when they lose their loved ones," Chad Beres, Washington County Sheriff's deputy said.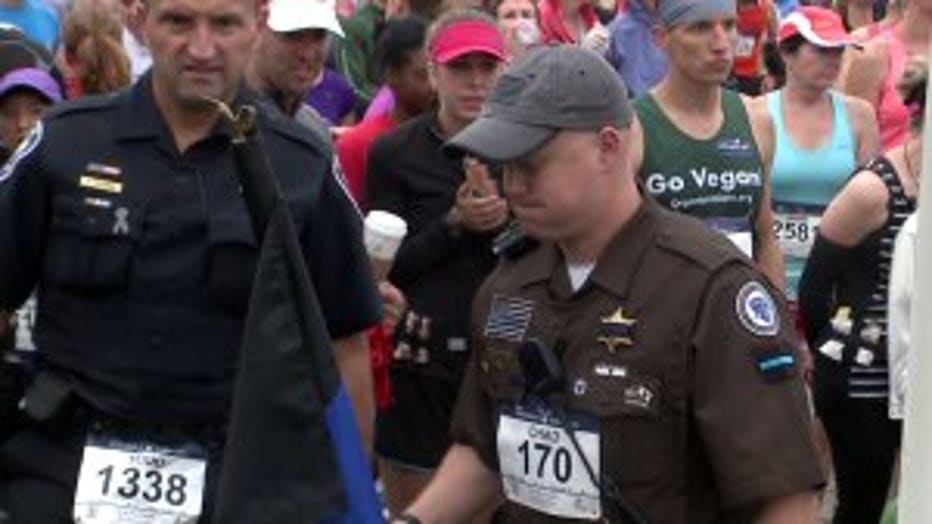 Along the lakefront, friends and family members gathered to cheer on their loved ones.

Steve Ashley was rooting for his son-in-law, who hoped to finish the race in under three hours.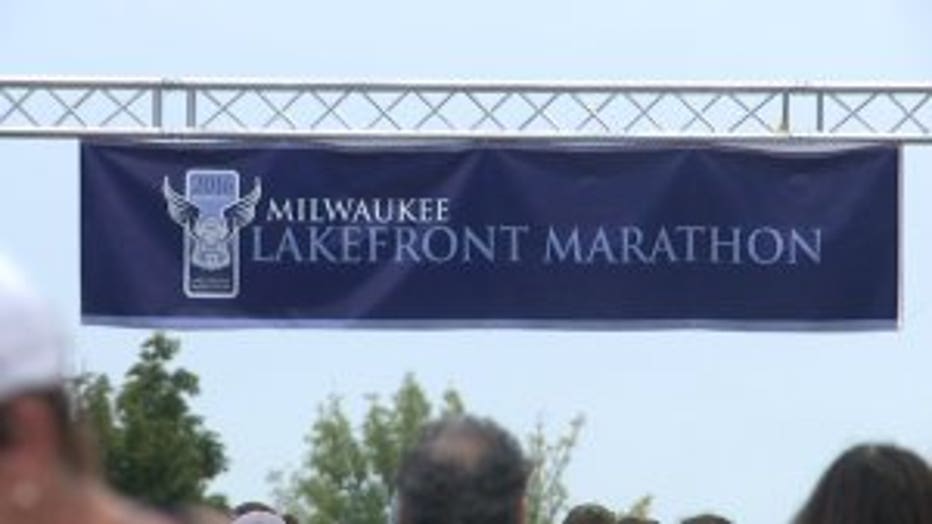 "'And he was a little ahead of that pace when he came here at the eight-mile mark," Ashley said.

Ashley was tracking his son-in-law with the new "Race Runner" app.

The Lakefront Marathon is the largest marathon in Wisconsin -- and the runners and spectators agreed -- the rain didn't hurt!

"You know, if they can run 26 miles in this rain, than I can stand it for a little while," Ashley said.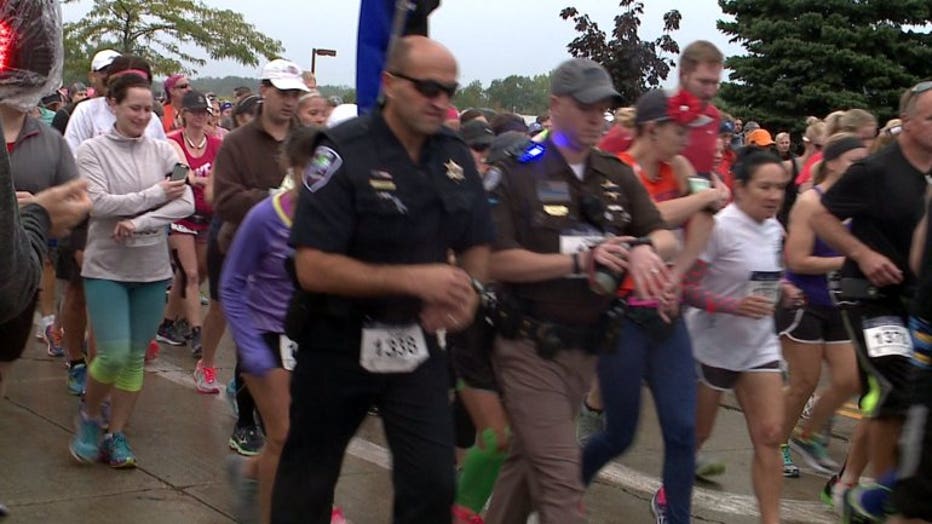 The winner Sunday was David Eckhart from Park Ridge, Illinois -- who finished the marathon in 2 hours and 27 minutes.

The top five male finishers were as follows:

1.) David Eckhart 2:27:22, Park Ridge, IL
2.) Scott Allen 2:31:48, Milwaukee, WI
3.) Sean Hasenstein 2:33:21, Sheboygan, WI
4.) Kory Cool, 2:33:55, Manhattan, KS
5.) Ryan Jaskiewicz 2:34:23, La Grange Park, IL

CLICK HERE for more Lakefront Marathon results.