Kenosha Co. sheriff meets with NAACP, issues apology for comments after arrest of 5 in Premium Outlet theft
Kenosha County Sheriff David Beth


KENOSHA COUNTY -- Kenosha County Sheriff David Beth on Monday, Jan. 29 issued a letter to apologize for some comments he made to the media in the aftermath of an incident in which five people were arrested following the theft of thousands of dollars worth of merchandise from the Tommy Hilfiger store at Prime Outlet Mall in Pleasant Prairie on Jan. 24. The suspects were taken into custody after a pursuit ended in a crash that totaled a vehicle driven by a 16-year-old boy who was leaving the DMV after passing his driving test and receiving his license.

Some feared his comments sounded racist.

"It was offensive. Yes," Veronica King, president of the NAACP Kenosha said. "He deviated and started talking about warehousing offenders and making statements like 'men who get 10 different women pregnant' and making statements like 'I bet if I looked at their school records they didn't finish school.'"

In his letter of apology, Sheriff Beth noted that he was very bothered by the fact that "if timing was only a few feet different," this could've been much more serious, and he was reminded that his own daughter who had recently received her driver's license would've traveled the same route on her way home.

Sheriff Beth said he met with members of the Kenosha NAACP, and he said "even though my comments were not meant to offend people, I can see how they may have."

He went on to say he plans to work with lawmakers in Madison "to strengthen penalties for those that break the law."

Below is Sheriff Beth's letter issued Monday:

"I would like to publicly apologize for some of the comments I made during a press conference I held this past week on January 25, 2018.

On January 24, 2018, one of our deputies spotted a vehicle involved in a Felony Theft from an outlet store in Pleasant Prairie. He gave chase and the suspect vehicle ended up traveling through a red light in the Village of Somers and struck a 16-year-old and his mother. The 16-year-old had just obtained his driver's license minutes earlier at the Department of Motor Vehicles a mile away. The five suspects ran from the scene and were quickly apprehended. Thousands of dollars of stolen merchandise were recovered in the car.

I am extremely aware that it bothered me that if timing was only a few feet different at the time of the collision, it may have been a much more serious accident. The 16-year-old reminded me of my own daughter who just received her driver's license less than a month ago and would have traveled this same intersection on her way home after earning it with her mother.

In the press conference I should have kept my comments better directed toward the incident itself and not allowed my emotions to get the better of me at the time. I have been involved in hundreds of on-camera interviews and press conferences and have shared my emotions before, but never in this fashion or this extent.

The interesting part of this entire situation is I have received comments both in support of what I said and also not in support. I appreciate comments on both sides and have taken them all to heart.

This morning I had a wonderful meeting with two members of Kenosha NAACP whom I greatly respect. Even though my comments were not meant to offend people, I can see how they may have. I will always be passionate in my defense for the vulnerable and the victims, but I will do my best not let this happen again.

I plan on working with State Legislators to strengthen penalties for those that break the law and place Kenosha's citizens in harm's way in the future. My goal is to do my best to protect those that live, work, play or travel through Kenosha County. In the situation last week, my comments did not necessarily live up to even my own expectations for my office and I again apologize."

Below is what Sheriff Beth had to say to FOX6 News on Thursday, Jan. 25 -- the day after the five arrests following the Prime Outlet Mall theft:

"Yesterday at 4:20 in the afternoon the Pleasant Prairie Police Department had a felony shoplifting.

What we found is they stole about $6,000 worth of clothing from Tommy Hilfiger at Prime Outlets.

They gave out a description of a gray car that traveled northbound -- a deputy saw it going northbound about Highway 158, the vehicle exited at Highway 142, going east and then our deputy went in pursuit. At Highway H, 88th Avenue, the vehicle traveled through a red light and hit a small, gray Ford Focus.

In that car, it would've been five feet difference, the 16-year-old who just got his driver's license minutes earlier with his mom, probably would've been killed.

He just left the DMV. Just a mile away from the DMV. Just passed his driver's test.

The way the accident occurred, the suspect car blew the red light, and the 16-year-old with his brand new fresh license -- hit him in the side. They collided. If it would've been five feet difference, this car traveling at whatever speed he was traveling, or she was through the red light, would've T-boned this car right in the driver's side and probably killed the driver and maybe the passenger of the car.

Then after they did this, the five suspects all got out and ran.

I was one of the officers that arrived on scene shortly after the accident. Members of Kenosha County Sheriff's Department, Kenosha Police Department, State Patrol, Pleasant Prairie Police Department, all arrived surrounded the four suspects that initially were out in the field -- got them into custody and then our dog tracked down the one female that had ran south on Highway 142.

Road was shut down for about an hour-and-a-half.

I think one of the reasons why this bothered me so incredibly much is a lot of times, society and people, we slap people's hands that create, that do these crimes, and it's like, oh, they're just going to do it again -- and we think that it's, it's, well, a crime that doesn't really affect people. We almost lost a 16-year-old that really never even had a full day of driving a car yet and possibly his mother, and they stole $6,000 worth of clothing.

Two of the suspects were transported to the area hospitals because they had a hard time breathing because we chased them and one actually had a fracture around their eye from the accident that occurred.

They ranged anywhere from 16 to 23, they came down from Milwaukee and the driver didn't have a driver's license. The vehicle wasn't insured. They could really care less obviously about anyone else's safety. They cost not just this group but other people like this cost society billions of dollars every year. They go into the Walmarts. They go into the stores. They shoplift. They steal. They get into accidents. They do drive-by shootings. I don't know. I'd love to do a little bit of background on the five people that are here.

One is being held on a probation hold. I think it was the driver, not sure. Sandra Smith. I'd love to see her transcripts from high school and grade school and see what kind of person she really is. I'd like to see where she's working. I'd like to see what the other ones here who didn't talk to the officers -- I'd like to know how the 16-year-old got into the car and supposedly didn't know who the driver was of the car. What 16-year-old gets into a car of somebody with no plates? Doesn't know who they are and comes down to Kenosha.

This is, these five people are a cancer on society. These five people need to go away. They are not an asset. I think what we need to do as a society and lawmakers -- we need to come up with laws that at a certain threshold, these people just disappear. We build large warehouses and we have individual cells, and we put them in it. We don't let them back out. We don't let them carjack cars while we're pumping gas at gas stations. We don't let them do drive-by shootings anymore. If they don't want to get a job, if they don't want to be an asset to society, we remove them from society. We don't let these people go out and have more children. We separate them. We put them in places. What we're doing is we're allowing our communities to be completely destroyed for our children and our grandchildren and the futures to come.

We're allowing these people to come, in this case from Milwaukee, they come from Chicago, they come from even the inner city of Kenosha, they do these crimes, and they get slapped on the wrist. And it's not the judge's fault. It's the way we have the laws set up. We're afraid of being politically incorrect. We're afraid of putting these people who hurt people, whether it be financially, physically, kill people, we allow them to continue to go in and out and in and out of the jail.

I know jails cost money, but we need to warehouse these people. We should be able to eliminate the rec areas. Let's feed them. Let's keep them alive. We need to make it a place that no one wants to go to. We need to make it a place that people like this no longer can hurt other people in our community.

I'm fed up with it. I know the community's fed up with it. I know the state is fed up with it. I know this country is fed up with these people. To have a shooting go on and then have people riot and loot and burn and do things after a shooting goes on, these people have to be corralled up too and we just have to start taking the people that cause us harm and put them away and take them out of society.

We need to be more like European countries or other countries that when people commit a crime, they get locked away. They get -- we need to learn from these other countries. See what they do. See how they -- see why people are so afraid to commit a crime in their country. We need to get to that point. I'm terrified for what our communities are going to look like for my grandchildren and my great-grandchildren when they come out.

So often people like this grow up in inner cities, and I don't care what race, what nationality, how old they are, and then the people of our communities that were once nice, they move away, they move further out. Well eventually that running further out is going to disappear -- and we're going to have the cancer taking over everything and we're going to be afraid to leave our homes, going to be afraid to go to stores, going to be afraid to drive on roads. We need to as a society get a handle and say "enough is enough."

The part that really corked me was the 16-year-old that almost died the day he got his driver's license. I didn't see him really happy. He was shaking. And mom was mad. Mom was -- she was "now this is gonna be a blemish on his report, on his record," and I said "I can't change that part." She was mad. And I got it. Their car. Their little Ford Focus that he was driving. It's probably totaled. Imagine that. The first day.

I'll fight for whatever it takes to take this -- to get these people...I'm not saying anything I don't think the average person thinks. They're tired. Everyone's tired of it. I see it all the time. I've reached the boiling point. I can't take anymore. I can't take this trash coming down here and doing this.

I read in the report that the 16-year-old (suspect) said "I don't know who was driving. I don't know the person that was driving the car." How do you not know the person who was driving the car that you were in in a different city?

I believe what they did is they came in, grabbed armfuls -- the getaway car was sitting right outside of the door, they ran out the door and just threw the stuff in the car.

They'll be out in a week. They'll be out in a couple days. They'll be out later today. I think they should rethink how they do the system. Create an agent that every person that goes into jail...we all make mistakes. Got it. That isn't it. I'm not for, if this person had a 5-year-old daughter and she didn't have any money and she swiped a jacket for her 5-year-old daughter so she has a winter jacket. I got that. We do fundraisers for our inner city schools and the kids, they don't have jackets. I got that. That isn't what this is. They went in with the intent of stealing $6,000 worth of clothing.

I don't know how there were five people in the car. It was packed. When the car spun out the windows blew out -- there was stuff scattered around the area.

We as taxpayers paid their hospital bill to go to the hospital because they ran from police, we paid for their rescue squad call. Tommy Hilfiger, that's $6,000 worth of stuff that you have to mark up. We've got a little boy who lost his car. We're lucky he didn't lose his life. And he's got a blemish on his record now which I feel terrible about. And it wasn't anyone's fault except for these five pieces of trash. Two females, two males."

Veronica King said she told Sheriff Beth the apology is a good first step towards a better relationship between law enforcement and the community. She said she's planning a panel discussion in the future.

Prosecutors say it was more than $4,000 worth of stolen merchandise that was recovered from the suspect vehicle following the pursuit Wednesday, Jan. 24. Five people were taken into custody after the retail theft from the Tommy Hilfiger store in the Premium Outlet Mall.

In an update on Friday, Jan. 26, Kenosha County sheriff's officials said they've been contacted by numerous other law enforcement agencies due to similar crimes in their jurisdictions -- and the suspects in this case are believed to have stolen $33,000 worth of items out of Illinois.

According to authorities, at approximately 4:17 p.m. on Jan. 24, Pleasant Prairie police notified the Kenosha County Sheriff's Office about a retail theft that happened at the Tommy Hilfiger store.

Police advised that the suspect vehicle was a silver Pontiac and was last seen heading northbound from the mall.

A Kenosha County deputy observed the vehicle driving north on I-94 near State Highway 158 and attempted to stop this car.  The Pontiac exited the freeway and drove east on County Highway  S.  The Pontiac accelerated, trying to elude the deputy -- reaching speeds of more than 100 miles-per-hour.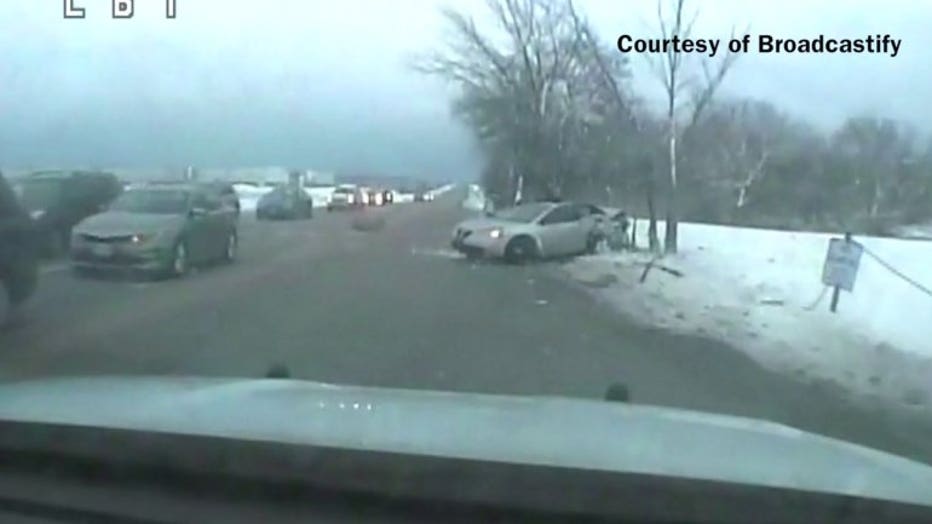 Crash after pursuit following retail theft at Premium Outlet Mall


The Pontiac failed to stop for the red traffic signal at County Highway H -- causing a crash with two other vehicles.  The occupants of those two vehicles were not injured in this crash.

The five occupants of the Pontiac exited and began running east on County Highway S.  With the assistance of Pleasant Prairie police, Kenosha police and other assisting deputies, all five suspects were apprehended.




Two of the suspects were treated and released for minor injuries. A search of the suspect vehicle uncovered more than $4,000 worth of stolen merchandise.

Sheriff Beth noted that one of the vehicles involved in the crash with the suspect vehicle was driven by a 16-year-old boy who passed his driving test moments prior -- and had just received his license. He was driving from the DMV when the crash happened. His vehicle was totaled.

The suspects range in age from 16 to 23. All are from Milwaukee. A criminal complaint notes the suspect vehicle was "filled floor to ceiling with clothing products," and there was Nike and Pink products "spilling out of the trunk."

Kenosha County sheriff's officials identified them as: Eugene Scull, 19, Sandra Smith, 20, Kevion Thompson, 18 and Wanda Winslow, 23.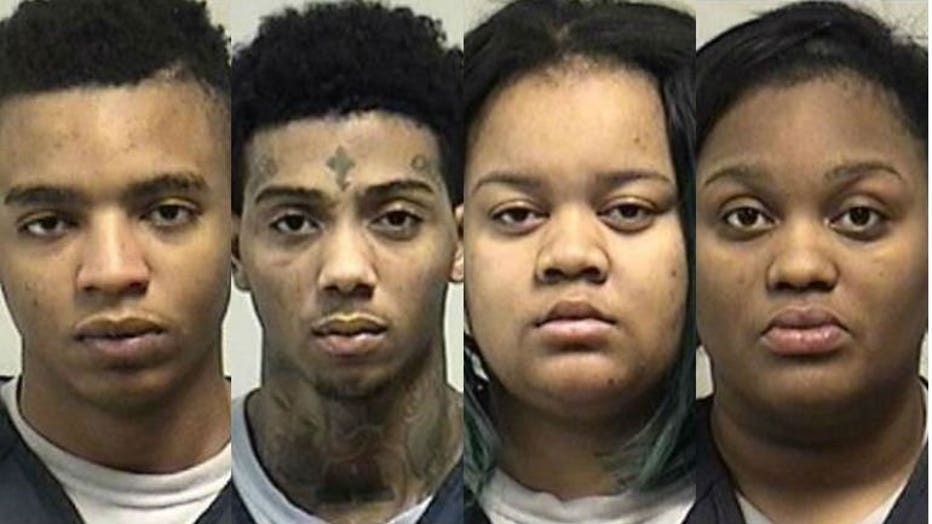 Eugene Scull, Kevion Thompson, Sandra Smith, Wanda Winslow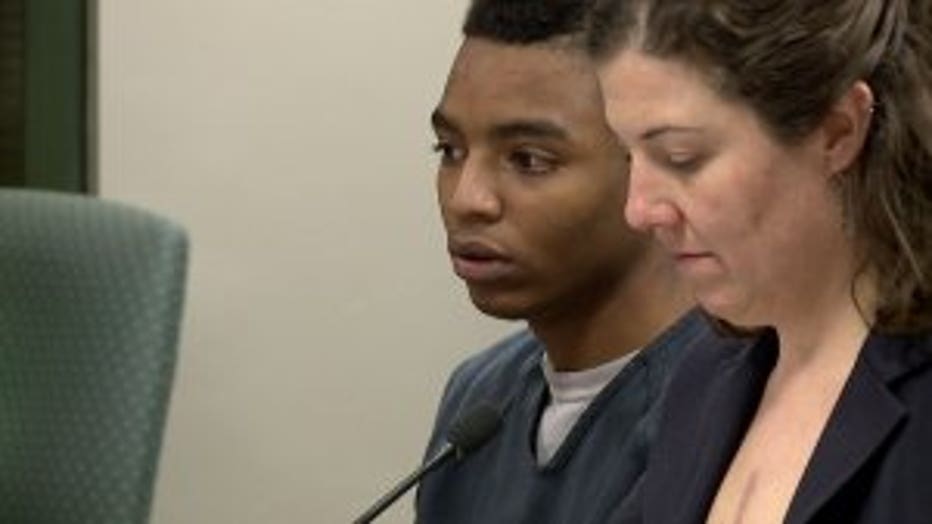 All four were in court for their initial appearances Thursday.

Cash bond was set at follows:

Scull: $15,000
Smith: $30,000
Thompson: $15,000
Winslow: $20,000

They're each due back in court on Feb. 2 for their preliminary hearings.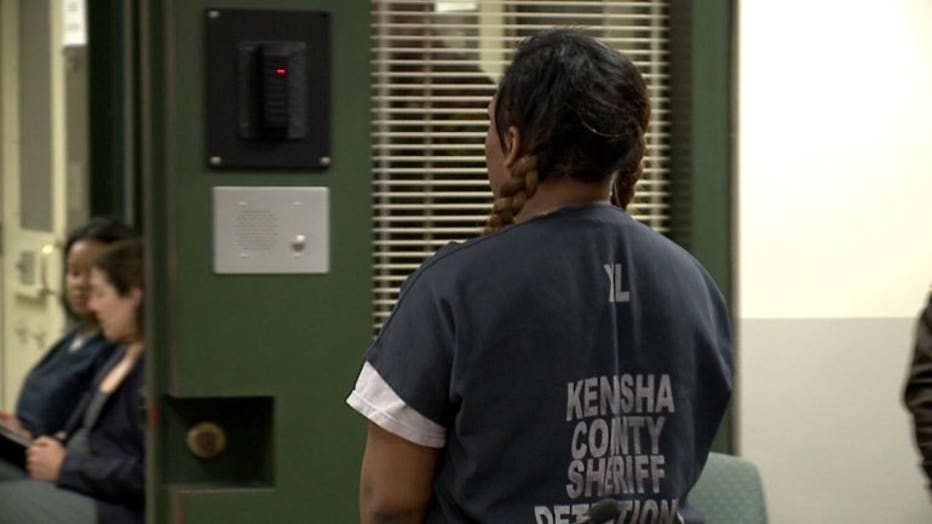 They are *not* the wanted members of the "Paper Team" crew accused in connection with 20+ crimes involving the theft of stolen merchandise in two months across SE Wisconsin.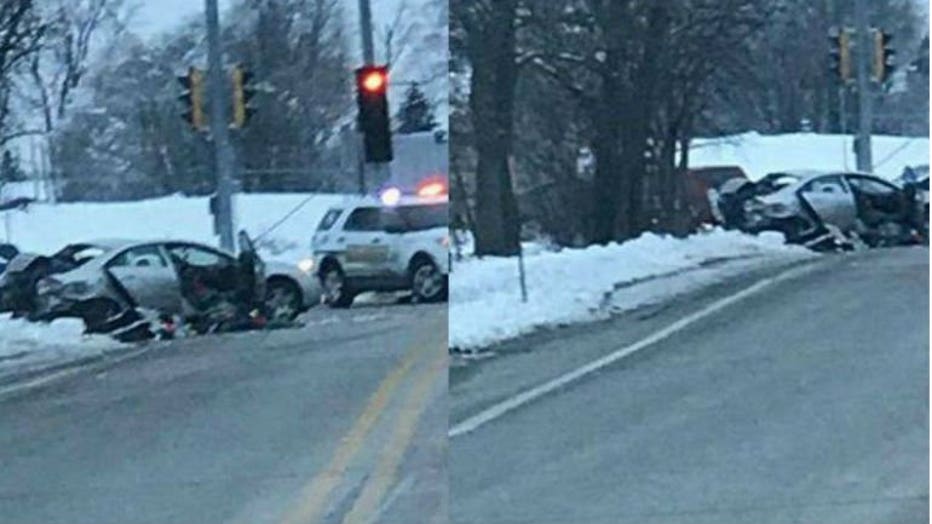 Crash in Kenosha Co. after retail theft at Premium Outlet Mall