Joe Biden meets with Wisconsin Democrats in Milwaukee
MILWAUKEE - Democratic presidential candidate Joe Biden was in Wisconsin on Friday, Oct. 30 -- for a private meeting at Milwaukee Mitchell International Airport.
The Biden campaign invited just 25 local supporters, including Milwaukee Mayor Tom Barrett and Milwaukee County Sheriff Earnell Lucas.
Democrats have been critical of President Donald Trump's large campaign rallies and for the way the president has handled the COVID-19 pandemic. The Biden-Harris campaign has been holding drive-in and other small events.
The hanger doors at the AvFlight facility, where the event was held, were kept open as a COVID-19 precaution.
Biden said the president has waved the white flag and has given up when it comes to the pandemic.
The former vice president, who wore a mask throughout the event, said he has a plan to fight the virus without shutting down the economy. He called for mask mandates and increased testing. 
Biden also promised to protect the health care system and bring down the price of prescription drugs.
Although he is running as a Democrat, Biden said he will govern as an American and that he needs Wisconsin voters to put him in the White House.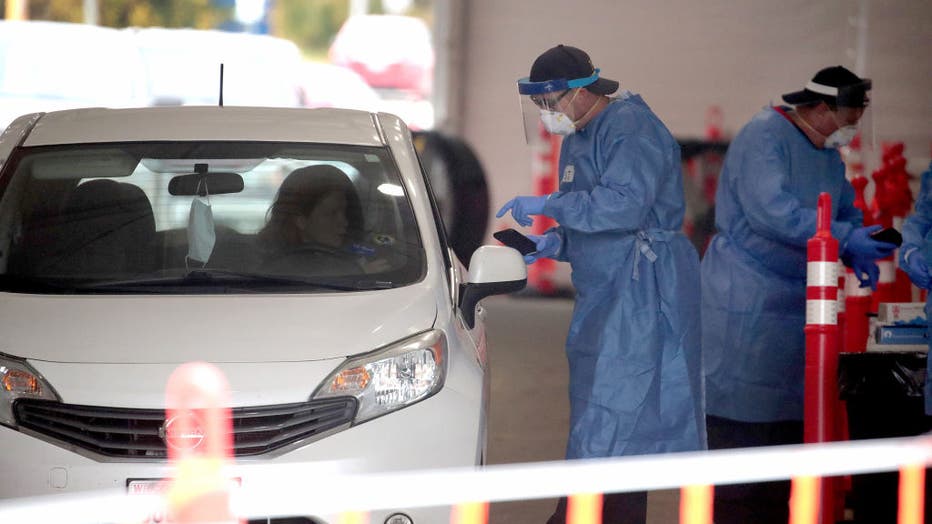 Members of the Wisconsin National Guard operate a mobile COVID-19 test center on the grounds of Miller Park on October 29, 2020 in Milwaukee, Wisconsin.
"I believe you can use your power. Your power to vote and change the course of this country and it starts here in Wisconsin," Biden said.
While Biden was speaking, a group of supporters and protesters gathered outside. Emotions were running high.
When FOX6 News was interviewing a Biden supporter, protesters shined a light in the supporter's face. A third man got involved, and a bit of a scuffle ensued before the men walked away.
Democrats hope they can channel emotion into more votes between not and Election Day, Nov. 3.
FREE DOWNLOAD: Get breaking news alerts in the FOX6 News app for iOS or Android.
"We're glad to have the vice president here in town, because Wisconsin is a very important battleground state, and we want folks to know that. That's why we're here." said Chris Walton, Democratic Party of Milwaukee County Chairman.
The Democratic Party of Milwaukee County plans to meet with Biden near the intersection of Layton and Howell to welcome Biden when his plane lands.