"It's to honor the boys:" Annual Veterans Day Parade marches on


MILWAUKEE (WITI) -- Milwaukee's annual Veterans Day Parade takes place on Saturday, November 8th. It steps off at 11 a.m. -- and ends at the War Memorial on the lakefront.

The parade boasts over 1,000 veterans and military marching in the parade from all over southeastern Wisconsin as well as floats, marching bands, baton twirlers, and more. The parade would not be complete without a few Jeeps and tanks as well.

The parade itself (route map below) starts at Plankinton and Kilbourn. It winds south to E. Wells St. and then heads east to Prospect Ave. It eventually winds up at Veterans Park on Milwaukee's lakefront.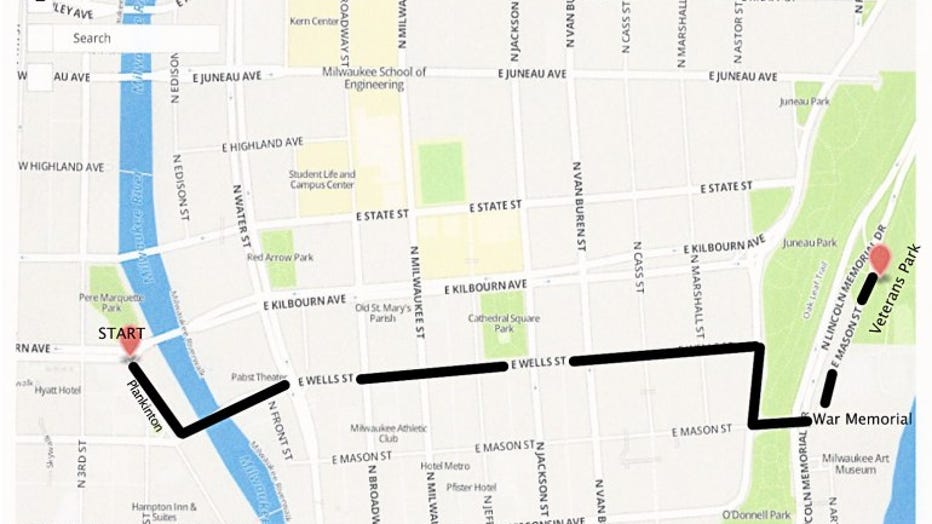 This year's parade was in jeopardy until TransCanada Corporation donated $20,000 to the cause.

TransCanada says it has worked hard over the past 60 years to earn and maintain the trust of community neighbors and uphold a reputation as a leader in the safe, reliable and responsible operation of North American energy infrastructure.

That's why when an employee saw the news story about the Veterans Day Parade, and its critical financial situation, TransCanada stepped in to help, said Matt Stubbs, an Area Manager with TransCanada.

"This event is important to the people of Milwaukee and especially meaningful to the families of active duty military and veterans." said Stubbs. "At TransCanada, we are proud to support our veterans, and we recruit veterans to enter into our workforce through the Helmets to Hardhats program.  Supporting these activities made sense."

It was on the verge of being canceled, but thanks to new sponsorship, the Milwaukee Veterans Day Parade soldiered on Saturday morning.

It's hard to believe the parade almost didn't happen. But when several sponsors dropped out, it looked like the Veterans Day Parade was going on permanent leave.

"Happy that everyone came out," said Don Brooks, navy veteran.

Transcanada Corporation stepped in as a new backer and so Milwaukee marches on.

John Petek is raising his own money.

"We're seeing flags for the homeless and unemployed veterans," said John Petek, with For All The Right Reasons Foundation.

$1 for a flag, or $5 for 3 flags.

"We feed over 300 homeless veterans every week," said Petek.

The money also covers shipping to send soldiers overseas something sweet.

"We just got done collecting hundreds of pounds of candy for the troops," said Petek.

Some south Milwaukee students are raising money for Honor Flight Wisconsin.

"Without them where would our country be? They go out and they fight our freedom and our rights across the world," said Dom Parello,

Don Brooks served.

"Being a part of something bigger than yourself," said Brooks.

Tom Hundt never did, but he pays tribute.

"It's to honor the boys. It's a great parade," said Hundt.

As well as any patriot could. He's not sad, just proud -- like everyone else.

For more information, visit honorourmilitary.us.

Related stories: