"I'm running for president:" On the campaign trail, Governor Walker's stump speech is taking shape


SOUTH CAROLINA -- Three days after making his bid for the White House official, Governor Scott Walker was in South Carolina and Georgia -- on the campaign trail. Walker made his first official campaign stop on Tuesday, July 14th at the Red Rock Harley-Davidson dealership in Las Vegas.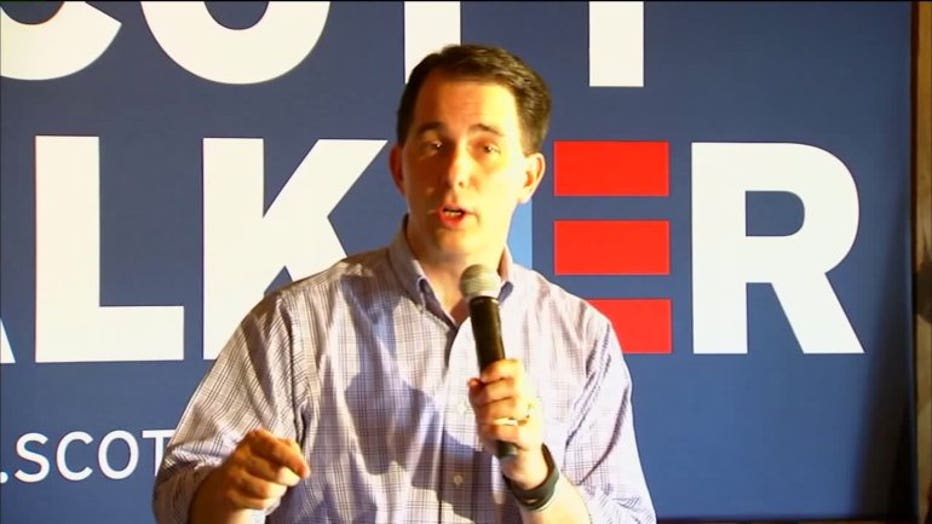 On Wednesday morning, Walker was in Charleston, South Carolina at the Low Country Harley-Davidson dealership.

Then, around midday, he was in Lexington, South Carolina for a BBQ Meet & Greet event.

Another BBQ Meet & Greet event was scheduled in Mauldin, South Carolina.

Around dinner time, Walker was set to be in Atlanta, Georgia.

"I'm Scott Walker. I'm running for president and I'm asking for your vote. I'm wearing my Harley boots today," Walker said on Wednesday in South Carolina.

Early in his official presidential campaign -- Walker's stump speech is taking shape.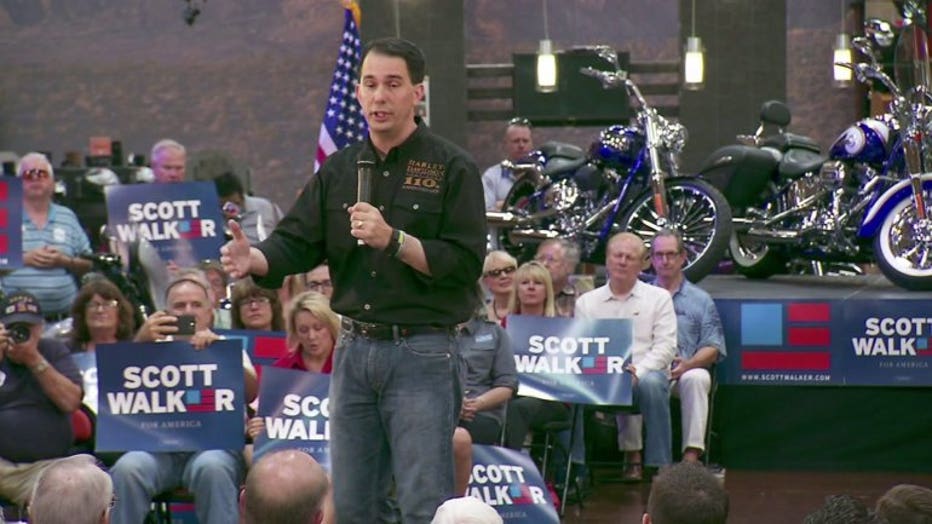 "We passed the Castle Doctrine and concealed carry so people could protect themselves and their families and their property," Walker said.

Walker is highlighting his gubernatorial record -- to hit many of the hot-button issues for conservative voters.

"It needs to be easy to vote, but hard to cheat. You need to have a photo I.D. to vote in my state," Walker said.

A $1 bill is quickly becoming one of Walker's most-used props. He frequently pulls one out before asking these questions: "Where would you rather spend that? Would you rather send it to Washington? Or would you rather keep it in your kids' or your grandkids' school?"

And on the topic of taxes, Walker has this to say:

"We've cut taxes by $2 billion in our state. If we can do it in Wisconsin, we can do it anywhere else in the country," Walker said.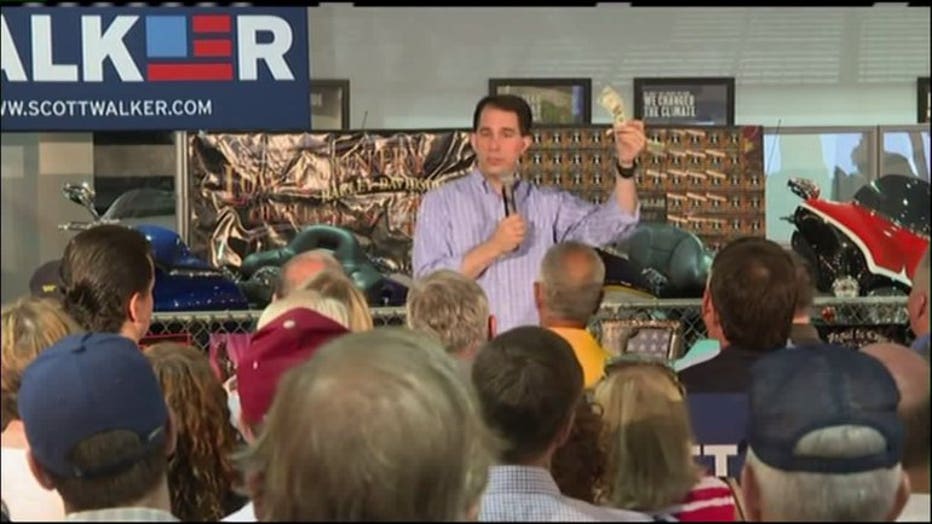 Walker's stump speech also mentions one of Wisconsin's most well-known companies: Kohl's.

"How does a company like Kohl's make money? They make it off of volume, right?" Walker said.

Walker is even branding his tax policy as the "Kohl's Curve."

"That's how I think about your money -- the taxpayers' money. You see, the government could charge higher rates and a few of you could afford it. Or we could lower the rates, broaden the base and increase the volume of people participating in the economy," Walker said.

Walker rounds out his speech by telling the voters why he wants to be president.

"I wanted my sons and all the other sons and daughters like them to grow up in a better state than I did. Well now I feel even more passionately about America," Walker said.

In his stump speech, Walker is also typically touching on topics like defense spending and education.

Walker will travel to New Hampshire on Thursday, July 16th -- on the next leg of his presidential announcement tour. Walker's initial tour has so far included stops in Nevada and South Carolina, and will ultimately take him to 16 cities across six states.

Walker's announcement tour is by far the most aggressive of all the 2016 GOP hopefuls, signaling his commitment to compete in every primary state.

Walker will make stops in Amherst and North Hampton, New Hampshire on Thursday to meet with voters and activists. At each event, Walker will share his message as a fighter and a winner with a proven record of reform in Wisconsin.

THURSDAY, JULY 16

Gov. Scott Walker Meet and Greet

Time:
Event begins 10:45 AM EDT
Remarks approximately 11:15 AM EDT

Location:
Joey's Diner
1 Craftsman Lane
Amherst, NH 03031

Gov. Scott Walker Meet and Greet

Time:
Event begins at 3:30 PM EDT

Location:
Seacoast Harley-Davidson
17 Lafayette Road
North Hampton, NH 03862

CLICK HERE for further coverage of Scott Walker and his presidential campaign via FOX6Now.com.