ICE raid caught on camera, Latino group calls out MPD for assisting agents


MILWAUKEE -- After U.S. Immigration and Customs Enforcement (ICE) raid was caught on camera on Milwaukee's south side Monday, Sept. 23, a Milwaukee Latino group called out the Milwaukee Police Department for assisting agents in the operation.

The video showed kids crying out for their father. Tears and confusion took over. This, after Kristine De La Cruz said she and her husband, Jose De La Cruz Espinosa, were met by ICE agents and Milwaukee police when they returned home.

"It was so scary, said Kristine De La Cruz. "It was just horrible. There were six ICE agents at our car. Kept knocking at our window. Next thing I knew, another Milwaukee police officer walked up, put his arm into my car, unlocked my car. My doors flew open. My girls were screaming. I just started to cry."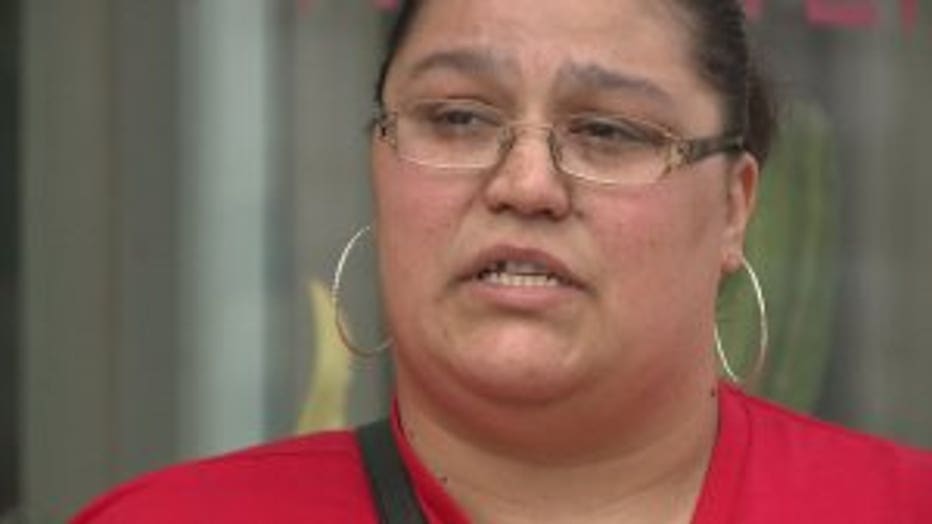 De La Cruz said she knew her family was about to be torn apart.

"It was just so far," said De La Cruz. "My husband was in handcuffs and gone."

De La Cruz said her husband is undocumented, but had been working to change his status.

"We have been talking to an immigration lawyer, trying to start the process of getting papers," said De La Cruz. "It's just money. We don't have a lot of money. So just wondering, are we going to be able to see him again? Is he going to get sent back to Mexico? Even if he gets sent back to Mexico, we don't have money to go there."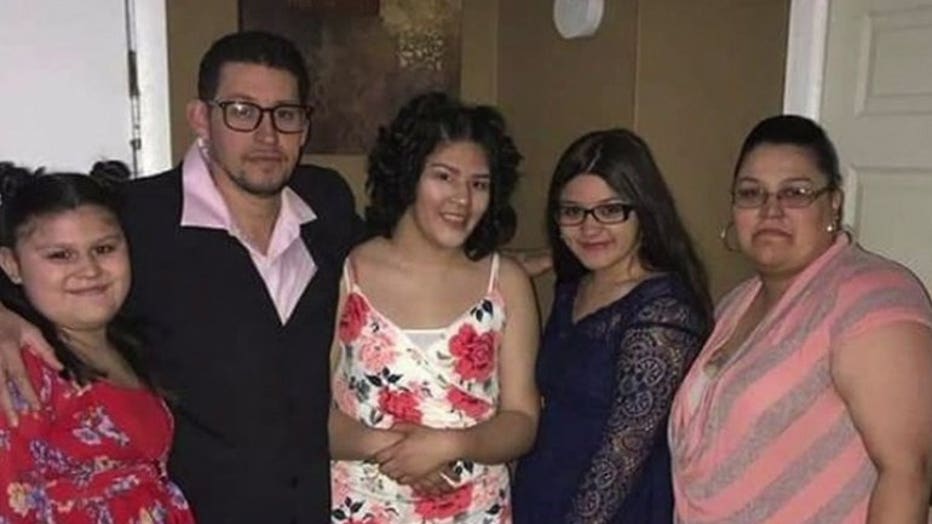 De La Cruz said the family was living paycheck to paycheck -- with husband the sole provider. Despite being on probation for a few criminal offenses, Kristine De La Cruz said her husband changed his life around.

"It's the past, and he deserves to have a second chance," De La Cruz said. "He just works. He is my husband. He is a father. That's it."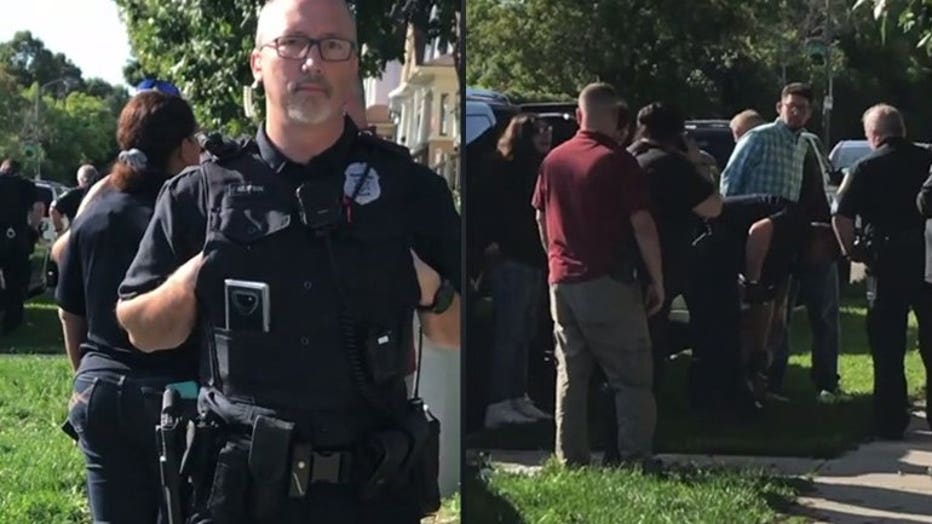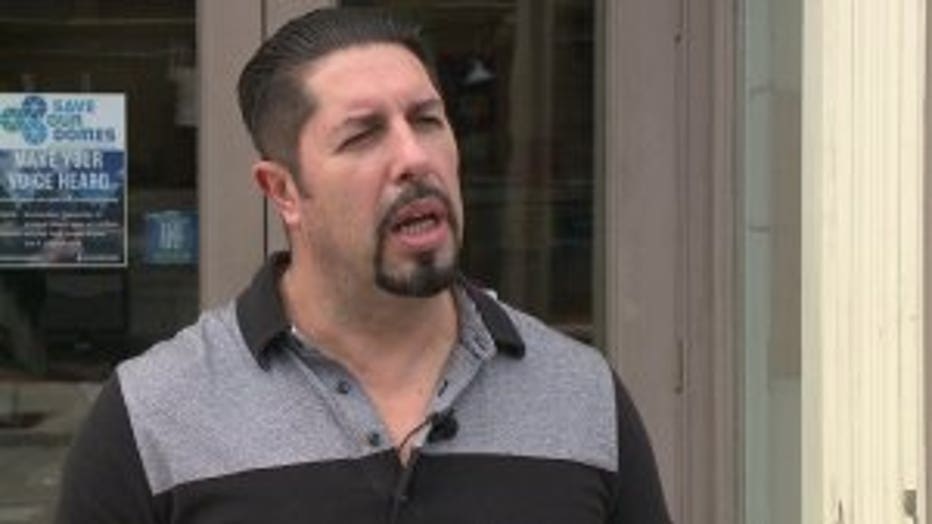 Primitivo Torres with Voces de la Frontera said he was bothered by how this all unfolded.

"We have a call to action this Thursday to change what is called the standard operating procedures -- and this specifically states no collaboration between MPD and Immigration Department unless there is judicial warrant," Torres said.

MPD told FOX6 News the department did not take part in the raid, but MPD was flagged down by ICE agents and helped with the arrest.

Voces de la Frontera scheduled the call to action for 4:30 p.m. on Thursday, Sept. 26 at City Hall -- where a public hearing before the Fire and Police Commission was scheduled as well.

As for Kristine De La Cruz, she was working to get her husband released --  raising money for an immigration lawyer.

Milwaukee Police Department statement

"On Monday, September 23, 2019, the Milwaukee Police Department responded to a request for assistance from the U.S. Immigration and Customs Enforcement (ICE) on the 2100 block of South 5th Street.

"Before MPD arrived at the scene, ICE agents had conducted a traffic stop of a vehicle. ICE agents advised MPD officers that they had a warrant for a subject located in the vehicle, later identified as Jose De La Cruz-Espinosa, and that the subject refused to exit the vehicle. De La Cruz-Espinosa was on probation for a 2017 Milwaukee County case for illegally concealing a firearm.

"While officers were on scene, the Department of Corrections issued a violation of probation (VOP) warrant for De La Cruz-Espinosa's arrest. Because of this warrant, and not because of his immigration status, MPD assisted in De La Cruz-Espinosa's arrest. ICE agents ultimately took him into custody."

Statement from ICE spokesperson

"Jose Alejandro De la Cruz-Espinosa, 38, is a citizen of Mexico who is illegally present in the U.S. On Sept. 23, 2019, deportation officers with U.S. Immigration and Customs Enforcement (ICE) arrested De la Cruz-Espinosa in Milwaukee, Wisconsin. He has a criminal history that includes several criminal offenses in Wisconsin's Brown and Marathon counties.

"As ICE officers were effecting this arrest, De la Cruz-Espinosa was uncooperative and refused to exit his vehicle or follow lawfully issued commands. After some time, De la Cruz-Espinosa complied with officers. Ultimately, ICE officers arrested De la Cruz as he was stepping out of the car.

"De La Cruz-Espinosa remains in ICE custody pending the disposition of his immigration case."

Statement from ICE Chicago Field Office Director Robert Guadian

"Regrettably, advocacy groups and others released inaccurate and misleading information about this recent arrest in Wisconsin. To be absolutely clear, U.S. immigration law provides ICE officers the authority to arrest aliens without a judicial warrant. Falsehoods advocated by individuals and groups with their own agenda widely spreads misinformation and may inspire some to violence."

Statement from ACLU Wisconsin

"The ACLU of Wisconsin condemns the decision of the Milwaukee Police Department (MPD) to collude with agents from Immigration and Customs Enforcement (ICE) in detaining a longtime Milwaukee resident and sending him to face deportation proceedings."

"On September 23rd, 2019, officers from the MPD assisted ICE in the arrest of Alejandro De La Cruz Espinoza as he returned home with his wife and three young children."

"Reports and videos demonstrate MPD officers' rude behavior to the family, laughing at Mrs. Espinoza De La Cruz and her daughters through the car windows, and pushing their hands through the windows to force open the door, drag children from the car, handcuff Mr. De La Cruz and hand him over to ICE.  This underscores the dehumanizing practices that are eroding healthy community relationships with the Milwaukee Police.  The ACLU of Wisconsin has long objected to MPD cooperating with immigration agents, and strongly objects here to MPD's decision to participate in an effort to enforce Trump's misguided deportation program as this only serves to reduce safety and encourage disorder and fear."

"This continued erosion of public trust occurred on the very same day that the Crime and Justice Institute released its first annual report on MPD's compliance with the settlement in the Stop and Frisk case. The essence of that agreement was to rebuild community trust by ending racial profiling and stops without reasonable suspicion. The report, however, showed that while parts of the agreement have been implemented the City is out of compliance with many provisions. In addition, last week, the Milwaukee Common Council voted to pay $260,000 to settle two cases involving MPD use of excessive force on Milwaukee residents."

"At a time when the MPD and Chief Morales should be focusing on improving practices and rebuilding damaged relationships with the community, their decision to join in immigration enforcement undermines the confidence and trust of Milwaukee residents."

"Having local police participate in immigration enforcement also makes our city less safe. When people believe that police officers will enforce immigration laws against them, they become less willing to report crime or serve as witnesses for fear that the police will help deport them. Moreover, this arrest ran counter to the intent and spirit of MPD's own Standard Operating Procedure 130, and prior statements by Chief Morales. It must end."

"We urge the community to join the immigrant advocacy group, Voces de la Frontera, in a demonstration at Milwaukee's City Hall at 4pm on Thursday, September 26."