"I didn't like seeing that!" Girl writes letter to Huffington Post after her name appears at top of "naughty list"


MICHIGAN (WITI) -- Ella Christie is pretty adamant she's never received coal in her stocking, and for that matter, she's only gotten in trouble "just once" at school. So you can imagine just how disheartened seven-year-old Ella felt when learning her name is ranked "number one" on a Huffington Post list of "Names that most often appear on the naughty list."

"I didn't like seeing that!" Ella told FOX6's sister station FOX17 in Michigan.

Ella told FOX17 she cried hard upon learning the news, but she says she wasn't about to let her name get a bad rap.

"I kind of thought that everyone would see that, like my friends would, and think I was naughty and not be my friend," Ella told FOX17.

So young Ella decided to write a letter to the Huffington Post.

The letter reads:

Dear Publisher People,

Hi, I'm Ella and I would like to tell you that the Bad Behaved child name list that you poblished is blony because #1 on that list was MY NAME! That made me cry!!! I've oly got into trouble once Just once in every grade! Flips are bad and I've only gotten one flip in my life!

Your Ferius Friend,

Ella

P.S. I would very much apricate it if you took that article right of the news.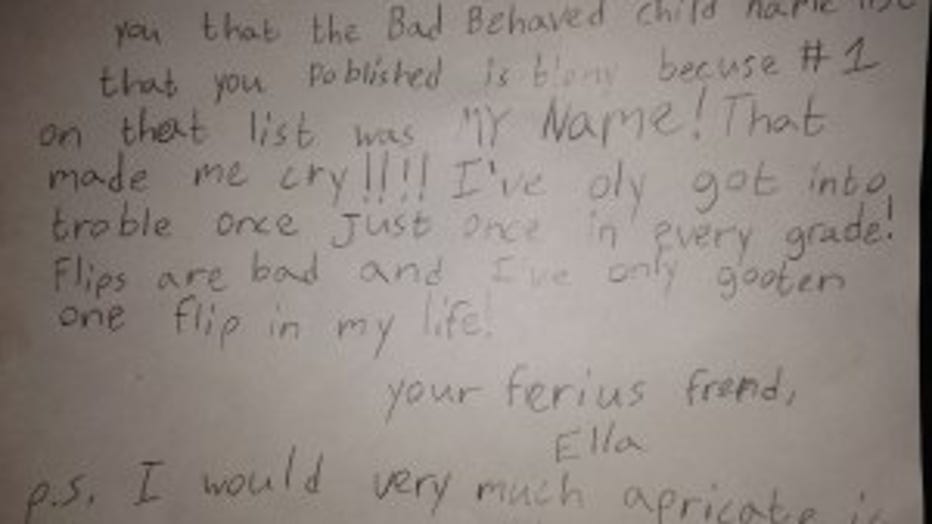 Ella's mom tells FOX17 she used the situation as an opportunity to teach her daughter how to deal with things she might not agree with.

I thought it'd be a good chance to talk to her about how to brush things off her shoulder," Mary Christie told FOX17.

Ella tells FOX17 she's still waiting to hear back from the "publisher people."

"They didn't really seem to care that I didn't like it," Ella told FOX 17.

The original Huffington Post article compiled the list of names from an education rewards program known as "School Stickers," which grabbed data from nearly 60,000 students in roughly 10,000 schools across the country that use the program.

CLICK HERE for more on this story via FOX17.

Related stories: