Hundreds of anti-Trump protesters rally in the streets of downtown Milwaukee


MILWAUKEE -- Hundreds of protesters took to the streets in downtown Milwaukee, and disrupted traffic Thursday night, November 10th -- voicing their concerns about the election -- upset with the fact that Donald Trump has been elected the 45th president of the United States.




The protest in Milwaukee Thursday came after demonstrations across the country Wednesday night.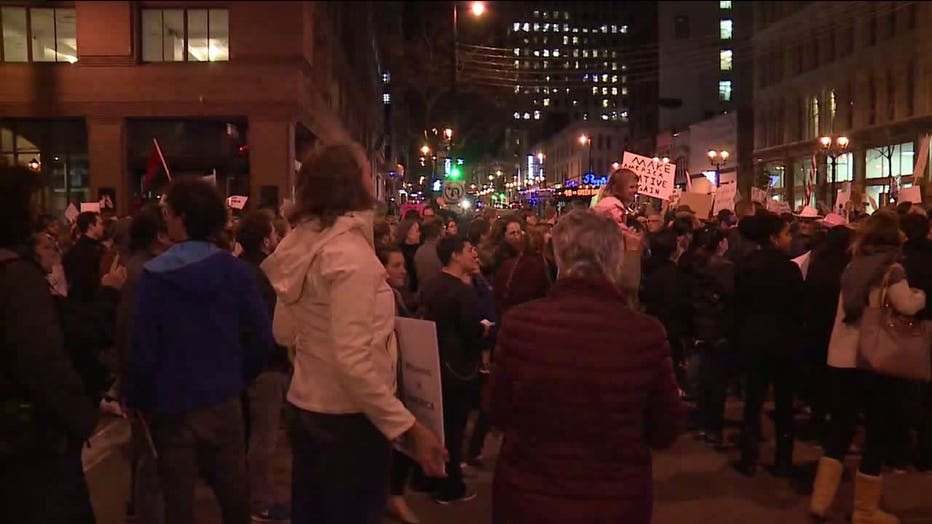 Anti-Trump protesters rally in downtown Milwaukee


In Milwaukee Thursday, protesters gathered at Red Arrow Park before marching through the streets of downtown Milwaukee. Their message: President-elect Donald Trump doesn't represent their values.




"I just feel dumbfounded and just numb," said Michael Drake.




The protesters shared outrage and disgust over the president-elect.

"We need to move forward. We're moving 200 years back with Donald Trump being the president," said Isaiah Lightfoot.

Drake and Lightfoot said the election on November 8th was the first they were old enough to vote in. They said the outcome was disheartening -- but Thursday's protest gave them hope.

"This is good that people care, but we need to do more than this," said Lightfoot.

PHOTO GALLERY






All walks of life joined together. Amanda Parr brought her five-year-old daughter.

"I think America needs to see this isn't a win. All these people out here are losing something. We're taking steps back. We're not moving forward," said Parr.

The hundreds of protesters said this was only a first step -- hoping from here people would come together again.

"These protests are working, but we need to be more active in making policies," said Lightfoot.

The protesters snarled traffic downtown.




They marched down Water Street and turned onto Wisconsin Avenue. There were several stops along the way where the crowd re-grouped. One of those locations was 4th and Wisconsin, near the Wisconsin Center.




As they went down toward State Street, Milwaukee police officers were on horseback in front of the BMO Harris Bradley Center -- where there was a Bucks game Thursday night.




There was briefly a concern the group may start walking on the interstate. But instead, they marched down 6th Street and onto McKinley.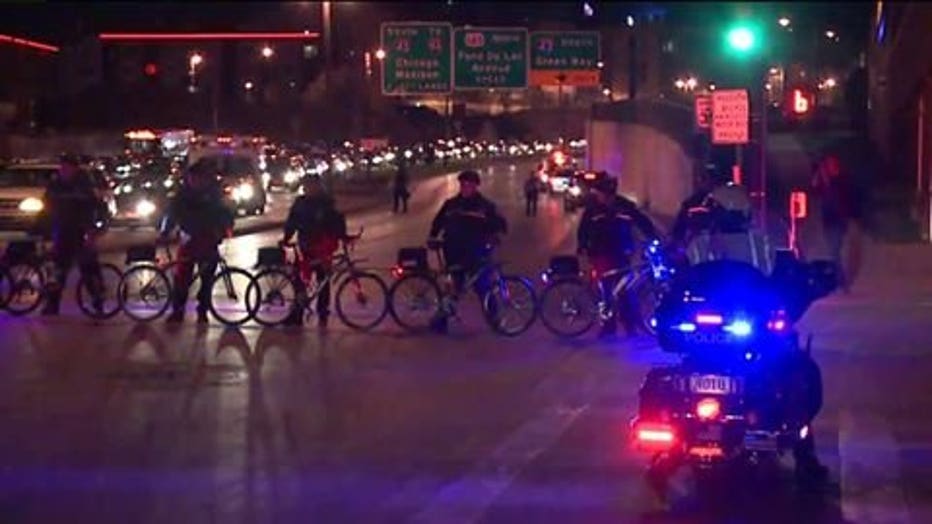 Milwaukee police tried to anticipate the group's moves all night -- blocking streets within a block radius along the route. Along the way, FOX6 News saw many people stuck in their cars. Some honked in support, while others called the protesters "cry babies."

One woman at the start of the rally said this wasn't about party politics. She said it was about their dislike and fear of Trump.

"I think it really is people taking revenge on Obama, and not wanting to follow up Obama with a woman. They think it was too much progress too soon," said Stephanie Meyer.

The protesters made their way back to Red Arrow Park around 7:45 p.m. A small group blocked traffic in front of the Marcus Center, before taking off again.




Police said there were no arrests or major incidents.




At one point, a FOX6 News crew witnessed a woman who was not a protester, pushing and shoving demonstrators as they marched by.

No one was seriously hurt.