Hundreds eat burgers with "Sad Papaw" after his grandchildren didn't show up for dinner


PURCELL, Oklahoma -- The power of social media has turned an Oklahoma grandfather into an internet celebrity -- and it's all due to five grandchildren who couldn't be bothered to show up for dinner.

Kenny "Papaw" Harmon won't be eating burgers alone any time soon. The internet sensation and Oklahoma native on Saturday, March 27th hosted a cookout for the public.

Some came from across the country to join Papaw for burgers.

"It's hard to get used to it. I haven't been able to wrap my head around this thing yet," Harmon said.

Harmon's new-found fame is thanks to a tweet sent out on Twitter that went viral around the world.

On March 16th, Harmon tweeted that his other grandchildren were "no shows" for a dinner he cooked for them.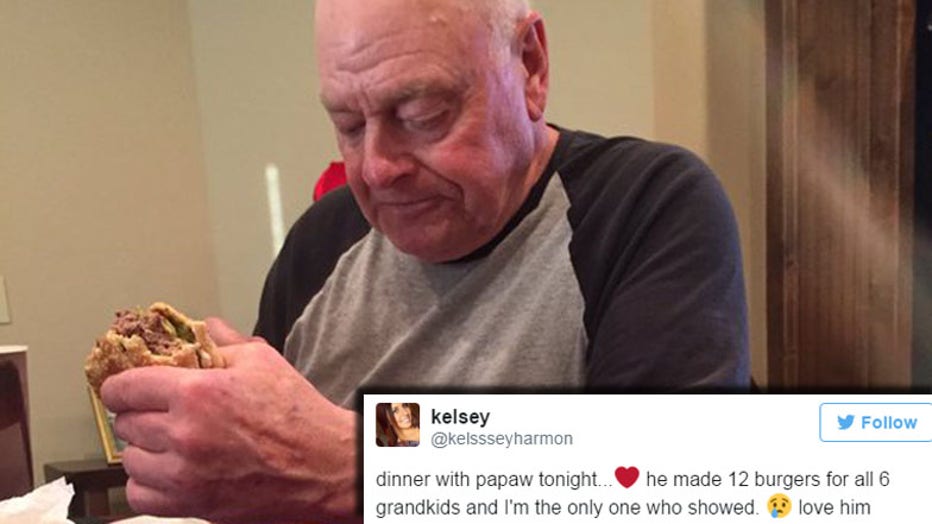 Support for Papaw quickly flooded in.

"I guess she touched on the right theme," Harmon said.

Fans from as far away as Houston, Texas, Phoenix, Arizona and even Australia came to Papaw's cookout.

"I don't have a papaw. All my family's passed away, so I want to show him my support," one guest said.

Harmon said he's still trying to make sense of all of this, but he said he believes people came to his cookout in honor of, and to remember their own grandparents.

"The theme that comes to me from almost everybody is their grandparents, their great-grandparents, what they want to do now or what they wish they had done before," Harmon said.