"He's perfect in his own way:" Cedarburg teen with rare brain disorder thrives as a volunteer


CEDARBURG -- In this trip of life, you never know what direction things will take you. For a Cedarburg family, an unexpected turn opened their eyes to a whole new world.

The fastest way to get from Milwaukee to Cedarburg is to head north on I-43. You could, also, follow the back roads -- it just takes a little longer.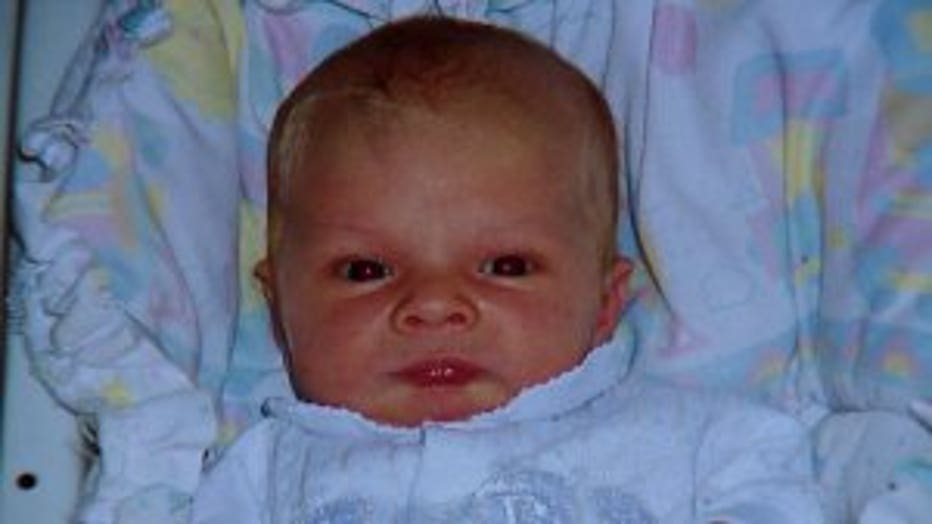 Caleb Griswold was born with a rare brain disorder called Agenesis of the corpus callosum. It means he does not have the bridge that connects the two hemispheres of his brain.


For Caleb Griswold, his whole life has been about taking the back roads.

"When he was born, they diagnosed him with Agenesis of the corpus callosum," explained Laura Griswold, Caleb's mother.

Born without the main highway connecting his brain, his parents  -- Laura and Andy -- knew early his path in life wouldn't be easy.

"They said, he will be cognitively disabled," Laura recalled. "We were told, he'll probably never walk. He'll probably never talk and those are really hard things to hear. "

The thing about taking the road less traveled, you can't always predict where it's going.

"He just thrived so much," said Andy Griswold, Caleb's father.

"He just has this perseverance and this tenacity," echoed Laura. "He will take the back roads."


Caleb Griswold looks through photos with his parents Laura and Andy Griswold.


Caleb isn't your average teenager, but it has nothing to with his rare brain disorder.

"For a 17-year-old boy to want to the serve the community that much - to serve other people that much - is amazing," said Andy.

Just down the road from his Cedarburg home, there's a place where Caleb becomes a mayor of sorts. He spends his time at Muttland Meadows Dog Park in Grafton.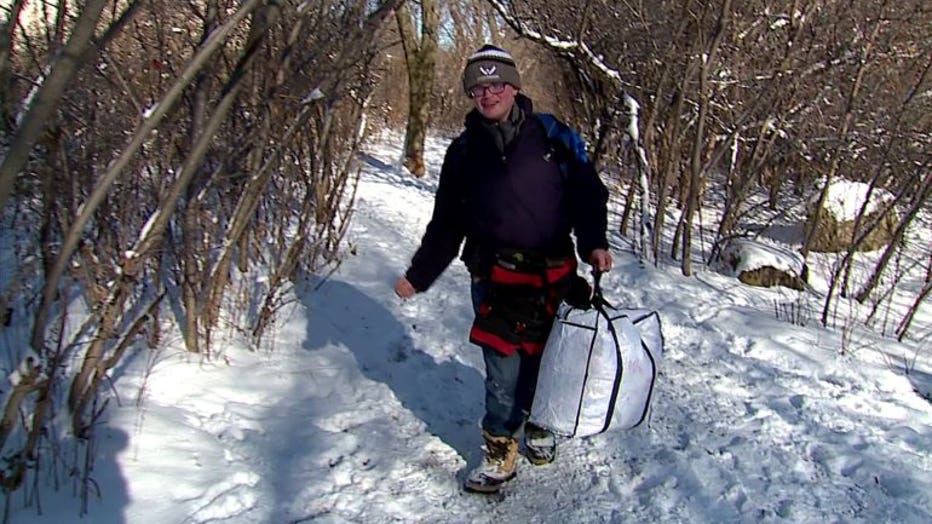 Caleb Griswold volunteers his time at Muttland Meadows dog park in Grafton.


At the park, he fills up water bowls and keeps things tidy. It's an idea, his parents say, he came up with on his own.

It's a role he serves proudly and takes very seriously. And, it's not just about park maintenance.

"He knows them by name. You know, that really makes people feel warm and welcome when they come," said Laura. "Caleb has a way of making people feel welcome and included."

He's building relationships.


Caleb Griswold greets a dog owner at Muttland Meadows dog park.


"The most endearing thing about him is when he connects with people," said Laura. "He will ask questions and, kinda get his way into their lives and that is how he is building these relationships."

"Caleb is just so outgoing," Andy said.

He connects with both owners and animals in a way many people can't.

"They come to him because a lot of the owners have a hard time getting their dogs to the gate. And, Caleb can work his magic and get them there," explained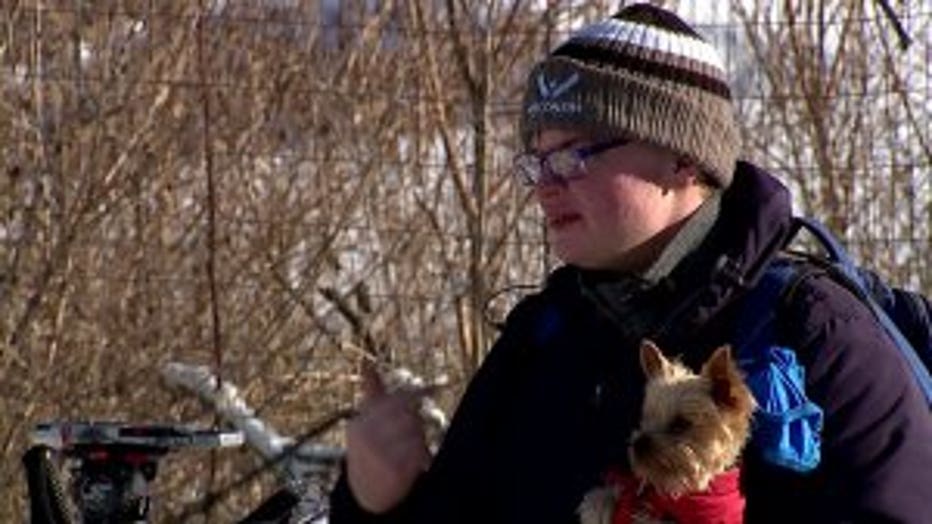 Laura.

It doesn't stop at the dog park. Every Saturday, Caleb volunteers at the Ozaukee County Humane Society in Saukville. He completes tasks behind the scenes that help keep operations running smoothly like laundry and cleaning out cages.

"He has a very hard work ethic," said Laura.

Each thing he does, he learns a new skill to help him grow.

"As parents, we wanted him to be as independent as possible -- using his gifts, which would be animals and hospitality," Laura said.

All his volunteer work has created new experiences and an independence his parents thought he may never have.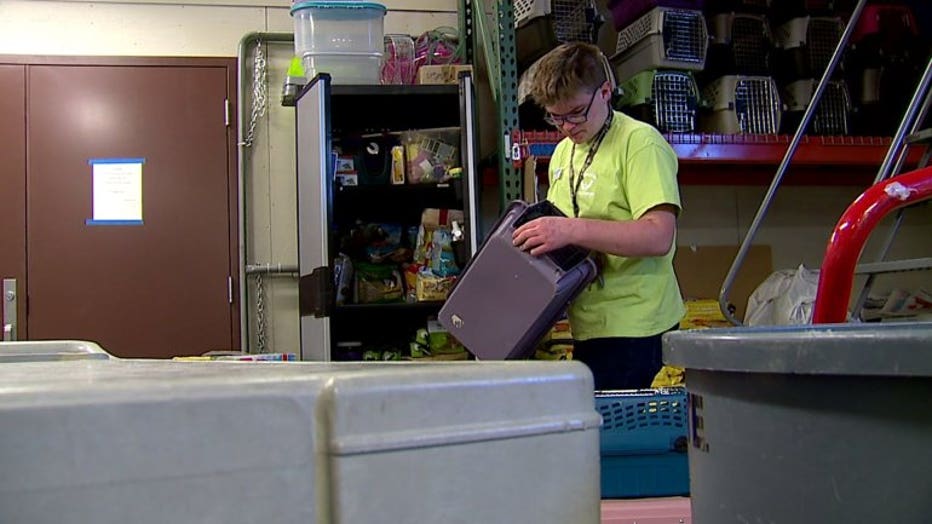 Caleb Griswold volunteers every Saturday at the Ozaukee County Humane Society.


"The part of the brain they told us was lacking was empathy and that is exactly the piece he's just thriving in and doing so well," Laura said.

He's lead his parents in an unexpected direction -- taking them on a detour through the back roads that's given them a whole new perspective.

"I just came to the realization that he's perfect in his own way. God made him the way he is for a purpose," Andy said.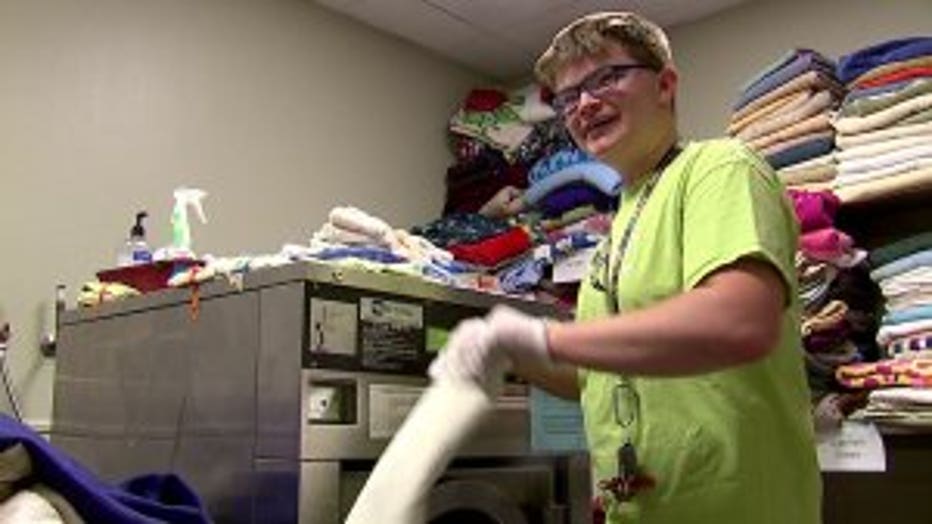 "It's just a miracle," said Laura. "It's just so beautiful."

In addition to his volunteer work at the dog park and the humane society, Caleb also visits a nursing home every Sunday with his dog, Xander.

Caleb's parents say once he graduates high school they are working on plans for him to intern at the Milwaukee County Zoo.