"He's adjusting well:" Humane Society releases video of injured Cudahy fox, in new outdoor enclosure


MILWAUKEE -- Officials with the Wisconsin Humane Society's "Wildlife Rehabilitation Center" have provided an update on the Cudahy fox found with a rat trap stuck to its paw, and taken in for treatment on September 2nd.

The fox was moved outside this weekend, on Saturday, October 8th.

Wildlife Rehabilitation Center officials on Sunday posted video of the fox in his new outdoor home to Facebook, and said:

"Stress in captivity is unavoidable for wild animals, so we provide ample enrichment and hiding places to help reduce his captive-stress. You can tell from his anxious 'yawning' that he's not super comfortable in this enclosure yet, but so far he is adjusting well to his increased exercise space. Most exciting - checkout his full use of that healed foot!"



PHOTO GALLERY



The baby fox, one of a family of foxes living in a Cudahy neighborhood was found by neighbors with a rat trap stuck on his paw. Neighbors were able to get the fox to enter a cage they rented from the Wisconsin Humane Society, and he was then taken to the facility for treatment on September 2nd.

Wildlife Rehabilitation Center officials on September 22nd, for the first time, released a photo of the fox's foot. They were finally able to do so because it is looking "much, much, much" better than it did at admission, officials said.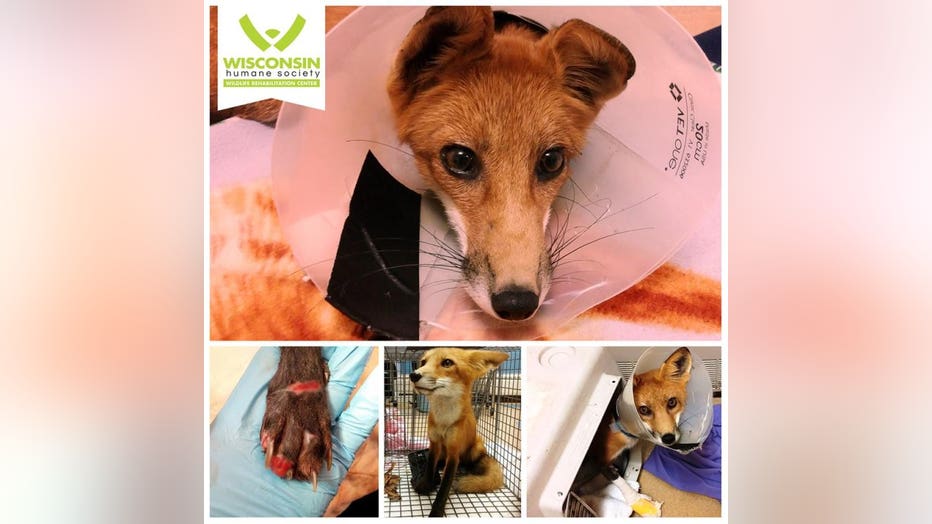 Cudahy fox (PHOTO: Wisconsin Humane Society)


On September 27th, another photo of the fox's foot was released.

Humane Society officials said the soft-tissue injuries to his paw continue to heal "remarkably fast."

On the advice of one of the Humane Society's consulting veterinarians, they began applying honey to the lesions on his paw, and that is helping him heal.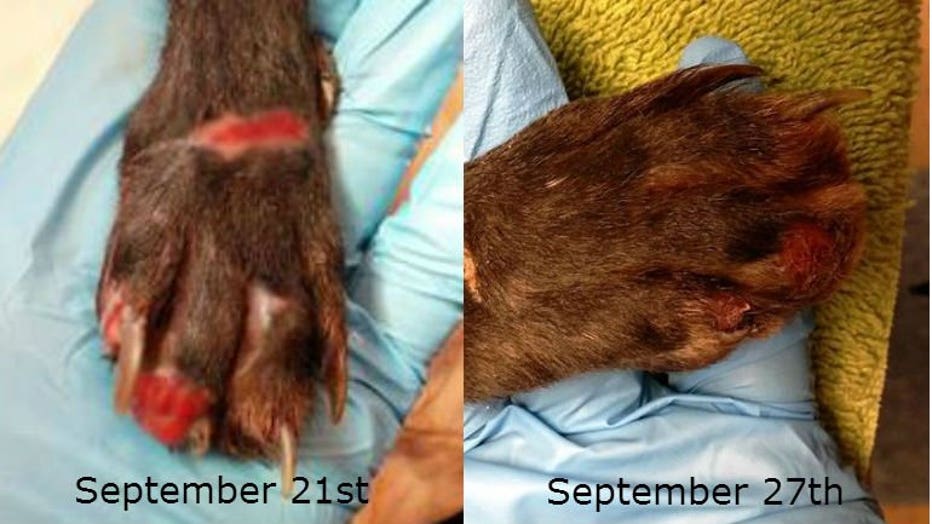 Cudahy fox (PHOTO: Wildlife Rehabilitation Center at Wisconsin Humane Society)


Barb Lierman helped rescue the injured fox. His little paw was crushed, bones fractured and tissue damaged by the rat trap.


"It was horrid. I wanted to do something so bad but there wasn't anything we could do," said Lierman.

Lierman said she was thrilled to discover the fox had entered the safe trap she set up on September 1st, after first noticing the rat trap on August 29th.

"We were just so happy. We hugged. We were relieved. It was ecstatic," said Lierman.

Several of the fox's bones were broken and soft tissue was damaged on his right paw. Part of his toe was also cut off.

It is critical that the fox is able to use his paw to pounce on prey in the wild, officials said.

CLICK HERE if you would like to make a donation to assist in this fox's care.

PHOTO GALLERY