Heroin deaths skyrocket, DOJ says it starts with pills


WEST BEND (WITI) -- The heroin pipeline is gushing into Wisconsin and addicts are filling up local morgues.

A FOX6 investigation finds a record 111 people died last year from overdosing on heroin and other opiates in Milwaukee County alone.  But it's far from a Milwaukee-only problem.

Vickie Kuechler is still in shock after her 32-year-old daughter, Stacie Kovnesky, died of a herion overdose last month.  She says Stacie had grown increasingly distant the past couple of years.

"It started out with the, 'Love you mom, real busy, sorry I didn't get back to you,' and I accepted it," Kuechler said.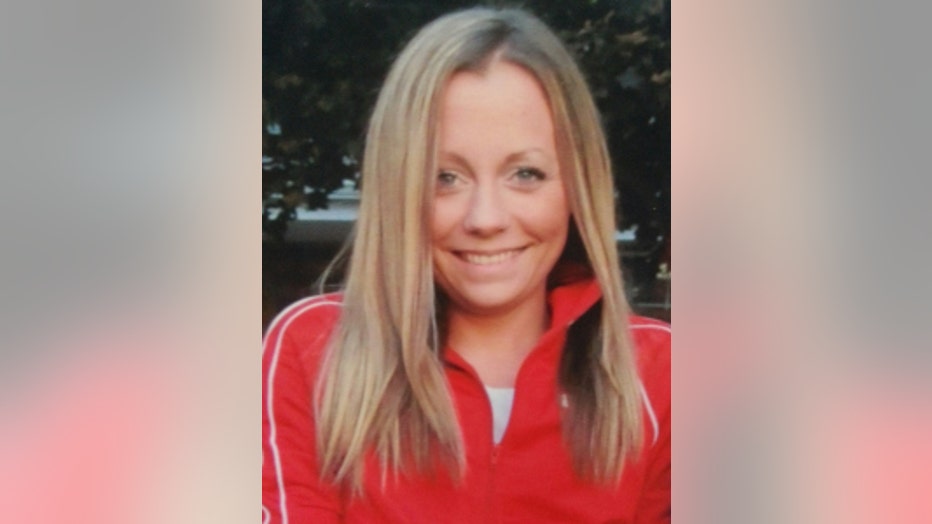 Stacie Kovnesky overdosed on heroin and died April 3, 2013.


Stacie had a heroin addiction.  Her mom found a poem on the internet that she says describes the power of heroin addiction so well, her daughter asked for a copy.

"Just try me once and I might never let you go," Kuechler reads from the poem, "but try me twice and I will own your soul."

In March, Stacie had just been released from a Methadone clinic. She was finally clean.

"She had told her father  - because he was just coming out of a coma - that he had to get better to see her.  He'd be so proud of her," Kuechler said.

But on April 3rd she used heroin again, overdosed and died.

"I'll take 'til you have nothing more to give," the poem continues, "and when I am finished with you you will be lucky to live.'"

Vickie shared her story surrounded by friends, family and people she just met who know the pain of losing a loved one to a heroin addiction.

They all have something in common.  They live in Washington County.

"We're in West Bend, Wisconsin, you know? This doesn't happen." said Jill Dhein, mother of a heroin addict who is currently in jail.

A few years ago--even a few months ago--Germantown might have seemed a peculiar place for a rally to "Stop Heroin."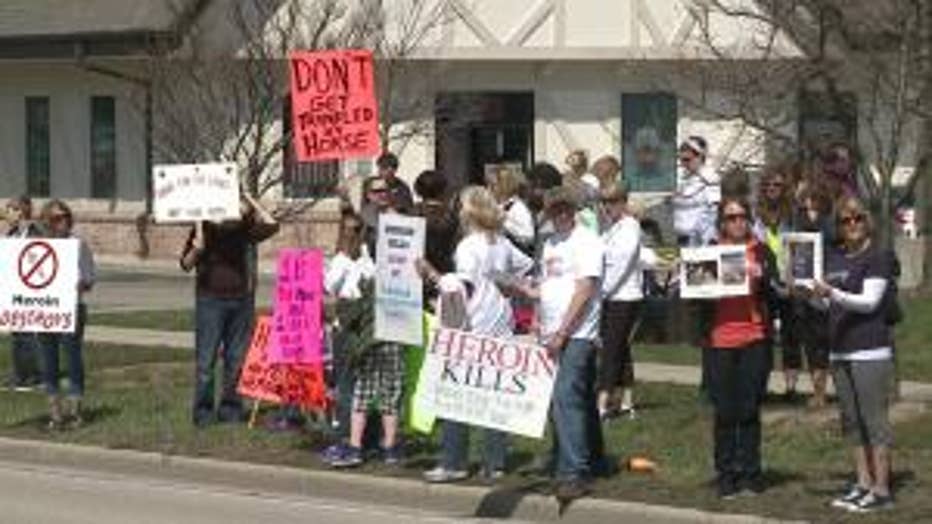 On April 27, 2013, a Washington County non-profit called "Project Second Start" hosts a "Stop Heroin" roadside rally in Germantown.


"We're out in the suburbs," said Barbara Privat, organizer of the rally for Project Second Start, a non-profit organization in Washington County.

It seems Washington County is fast becoming a hotspot for heroin dealers to unload their product.

"They're comin' in going, 'they're easy pickins.'" said Dhein.  "They're like lambs laying in the woods. We can go get them, because those kids are workers. Their parents are workers. And they have money.'  We're not all rich people, but we have money."

A recent raid on a Milwaukee tavern illustrates the point.

In December, police and federal agents found seven-thousand doses of heroin stored in the basement of Larry's Fiesta, 5219 W. Hampton in Milwaukee.  In a public hearing to renew the bar's license, police testified that the drugs belonged to one of the bar's employees.  According to police, that employee was using an apartment above the tavern to cut, bag and prepare the heroin for distribution by three Milwaukee dealers.

One month after the bust at Larry's Fiesta, one of those dealers -- known to buyers as "Corn" -- arranged to meet a West Bend couple at a Taco Bell in Milwaukee.  He sold them 30 dollars worth of heroin, and they drove back to West Bend to get high.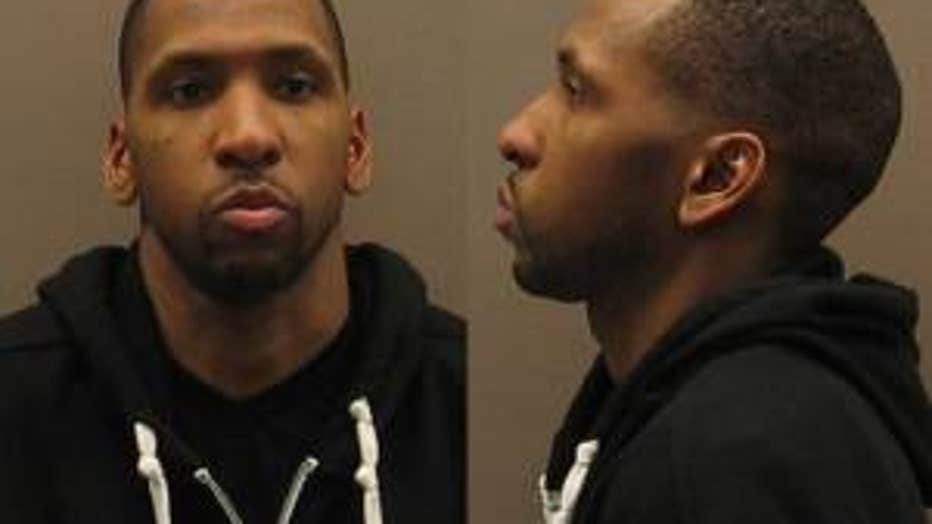 Cornelius Green is facing homicide charges for selling heroin to Jennifer Kahut and another man. Kahut died of an overdose.


The next day, Jennifer Kahut was dead.  Now, the man she got high with -- Richard Ronkoski -- is charged with homicide.  And so is "Corn" - the Milwaukee dealer whose real name is Cornelius Green.

"Heroin dealers don't care," Kuechler said.  "They are murderers, they don't care."

Kuechler wishes more dealers would be charged under Wisconsin's so-called "Len Bias" law, named for the University of Maryland Basketball Star who died in the 1980's of a cocaine overdose.  The law allows prosecutors to hold dealers accountable for deaths caused by the drugs they supply.

And right now, there is no shortage of supply in Wisconsin.

In 2008, just five Wisconsin counties submitted 10 or more heroin cases to the state crime lab for analysis.  By 2010, eleven counties hit that benchmark.  Last year, there were eighteen from Milwaukee to the far Northwoods.


"It's exploded," said Wisconsin Attorney General J.B. Van Hollen.

According to the Attorney General, today's heroin addict is different from the one you might remember from the 1970s.

"A heroin addict was the long greasy haired junkie who had track marks and everything else and that is not the case anymore," Van Hollen said.  "Heroin has been changed."

But it's why heroin use is so rampant that should be most alarming to parents.

"It all starts with prescription drugs," Kuechler said.

Stacie Kovnesky suffered a hand injury in the fall of 2008 while working with a horse.  her mom says she came home from the hospital with prescriptions for three different painkillers.

"I was wondering why she would need that many prescriptions that strong for an injured hand," Kuechler said.

Before long, Stacie was hooked on Oxycontin.

But what Vickie never realized -- and what most parents don't know -- is that Oxycontin (generic name oxycodone) is a derivative of opium.  In other words, it's heroin in a pill.

"That is all it is. It's a synthetic form of heroin," said David Spakowicz, Field Operations Director for the Wisconsin Department of Justice and one of the state's top drug cops.

Spakowicz says rampant abuse of prescription drugs has fed into a new generation of heroin addicts.  Over the past ten years, cocaine deaths in Milwaukee County have dropped, while deaths caused by Oxycontin, heroin and other opiates have skyrocketed.

But Spakowicz says painkiller abuse finally seems to be leveling off, thanks to heavy enforcement, public awareness, pill dropoffs and a reformulation of oxycontin that makes it nearly impossible to snort or inject.

"Unfortunately, we`ve seen because of that change in the reformulated product people are going to heroin," Spakowicz said.

All of those factors have driven up the price of black market pills. Spakowicz says a 20-miiligram pill of Oxycontin has doubled from 10 dollars to 20 dollars per pill.

"If I'm doing two of those -- a 20 in the morning and a 20 at night -- I went from a $20 a day addiction to a $40 a day addiction," Spakowicz said.

"Heroin is so much cheaper," Kuechler said.  "I believe my daughter told me you can get a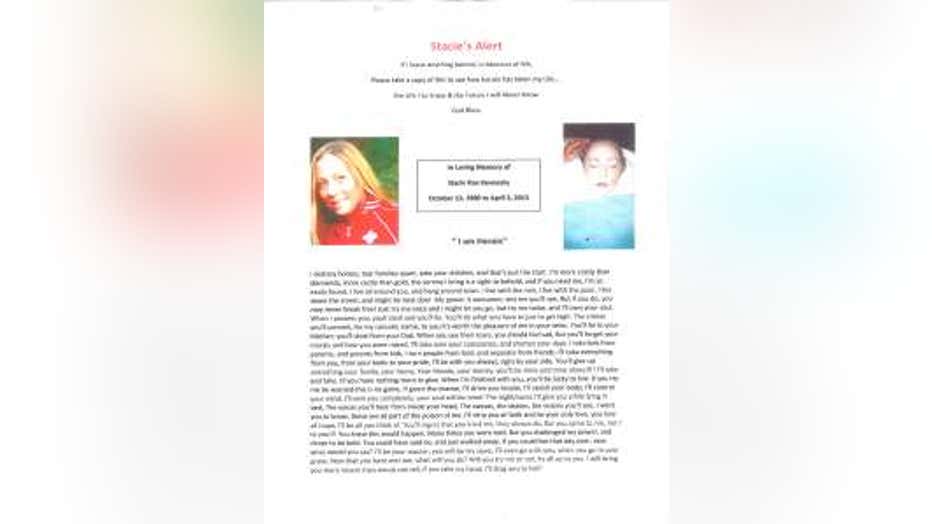 Vickie Kuechler passed out this flyer at a "Stop Heroin" rally in Germantown last month. It features an unsigned poem she found online.


fix for like five dollars."

But it's a perilous transition.
"You are playing Russian Roulette," Spakowicz warns.

And that is why these moms are speaking out.

"Start talking about it," Dhein insists.  "Stop sweeping it under the carpet!"

For Vickie Kuechler, the wound is fresh.  Her daughter died a little more than a month ago. But she didn't want to wait another day to warn others before it's too late.

She hands out copies of the poem she once showed her daughter.  The flyer is titled, "Stacie's Alert."  It ends with words that Kuechler read aloud, through streaming tears.

"Now that you have met me what will you do? Will you try me or not it is all up to you.  I will bring you more misery that words can tell. You take my hand I will drag you to hell."

Click here for more information on drugs like heroin from the US Drug Enforcement Administration.