'He would've been ecstatic:' Officer Rittner's widow throws 1st pitch at Miller Park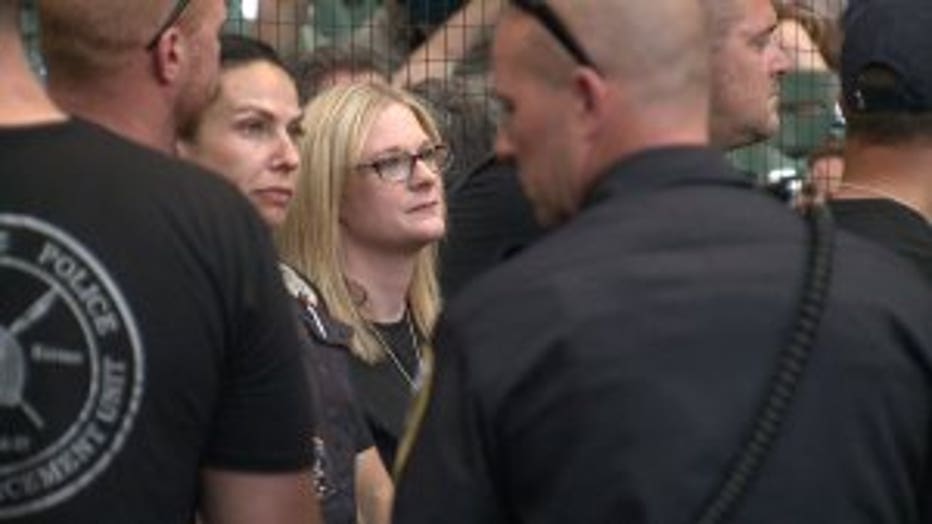 MILWAUKEE -- The Milwaukee Brewers honored Milwaukee Police Officer Matthew Rittner during the game Monday night, July 15 at Miller Park vs. the Atlanta Braves.

Rittner's widow, Caroline, threw out the first pitch, and the Brewers presented her with a jersey that hung in the clubhouse during spring training.

"It's our honor to do this tonight because, as much as anything, Matthew was not only part of this community, but a big Brewers fan," said Craig Counsell, Brewers manager.

Milwaukee police took part in the national anthem.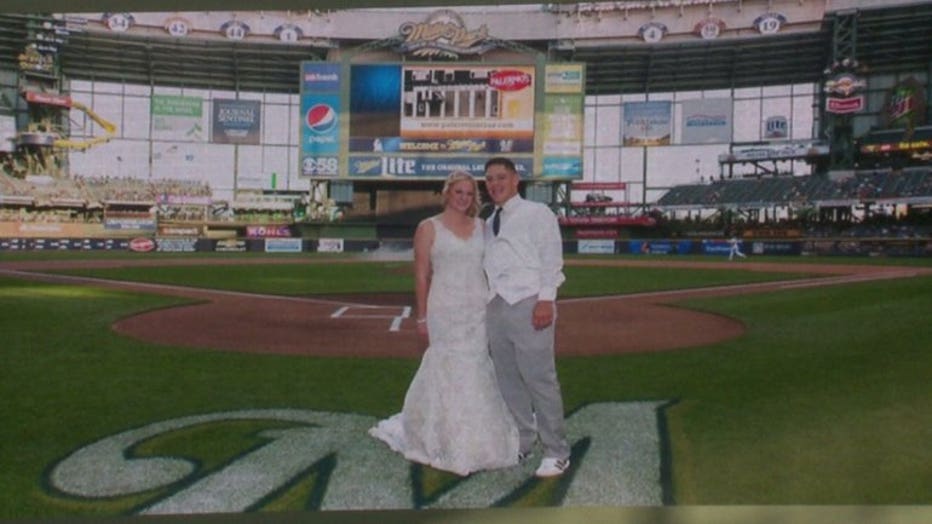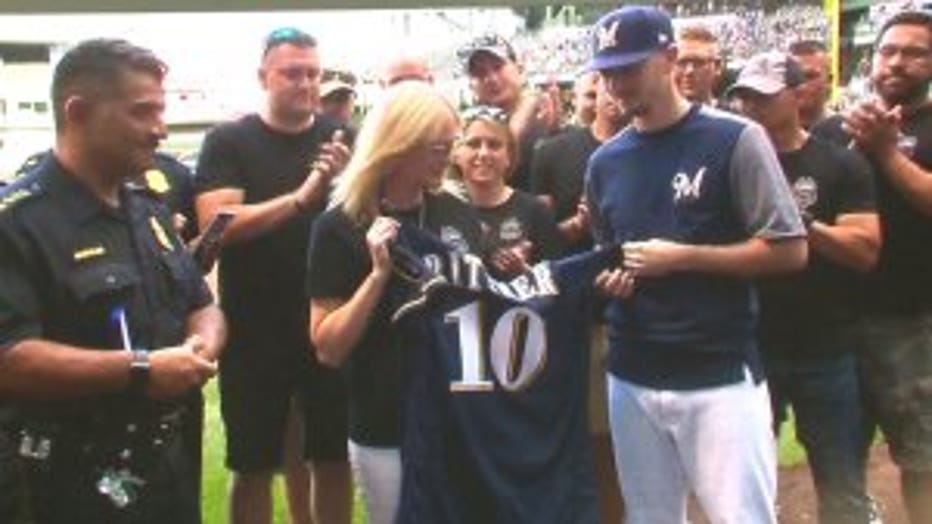 Miller Park was a special place for Officer Rittner and his wife, as they got married at the ballpark.

Monday marked the first time Caroline Rittner walked onto the field at Miller Park without her husband.

"Every time you see it, it just soaks you up," said Derrick Harris, MPD. "It's hard to believe sometimes that it actually happened."

Caroline Rittner was surrounded by members of the Tactical Enforcement Unit who were with Officer Rittner when he was shot and killed in February.

"It's a safe place for her. Place with a lot of memories, a lot of it tears. The Band-Aid off a little bit every time she comes back here," said Harris. "She started to get emotional, but be happy at the same time."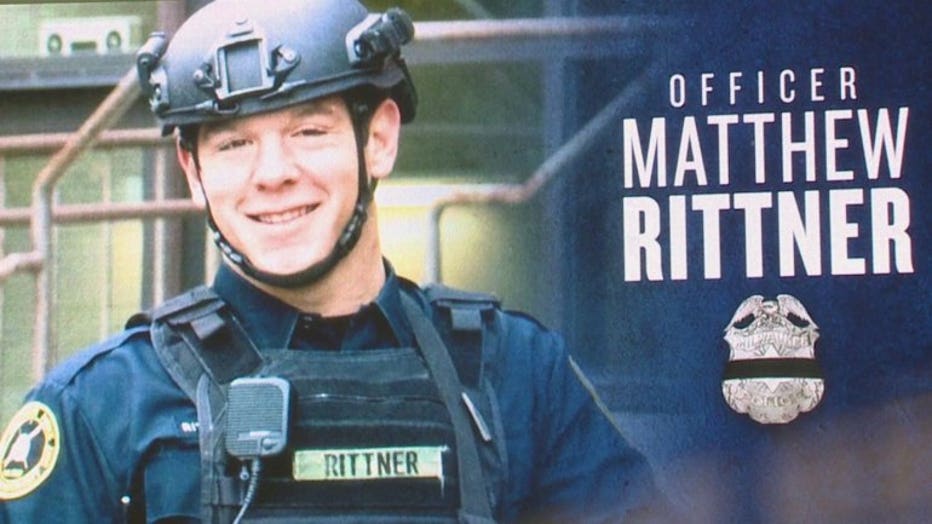 Fans honored Officer Rittner's life and supported his widow on a day that was like the many Officer Rittner spent at the ballpark.

"For us to walk out there on the field, he would have been ecstatic about that," said Harris. "It means a lot. After last week's trial, reliving those tragic moments over and over again -- to have the Brewers do such a kind thing, it means a lot to us."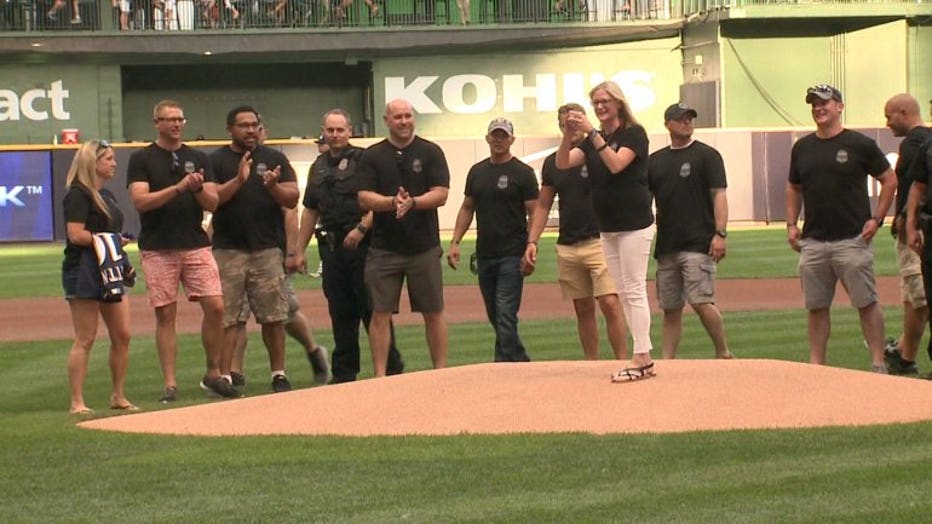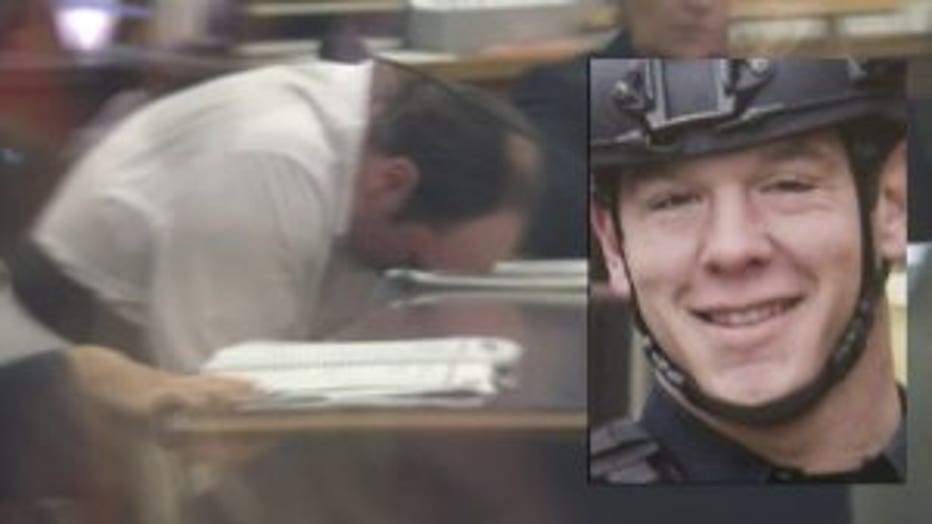 Jordan Fricke on Friday, July 12 was convicted in Officer Rittner's death. The jury found the 27-year-old man guilty of four counts: first degree intentional homicide, use of a dangerous weapon, first degree recklessly endangering safety, use of a dangerous weapon -- two counts, and maintaining a drug trafficking place.

Fricke will be sentenced on Aug. 29.

Prosecutors said Fricke fatally shot Rittner through Fricke's apartment door as Rittner and other officers executed a search warrant in February at Fricke's home near 12th and Manitoba in a drugs and firearms investigation. The defense argued Fricke fired in self-defense, and he was unaware it was the police outside.