"He never asks for anything from anybody:" But a 95-year-old Army veteran needs a wheelchair ramp


OCONOMOWOC (WITI) -- At 95 years old, a veteran living in Oconomowoc is doing something he's never done before. He's asking for help. After waiting for months for a company to install a wheelchair ramp at his home, he's left with nowhere else to turn, but to FOX6 News.

Ralph "Torchy" Dames lives on a fixed income in the home he's lived in all his life. Now, with the help of another veteran half his age, he's gearing up for one more battle.

The red, white and blue may have faded from Dames' Oconomowoc home, but the patriotism inside still burns bright.

"I started out Army Air Corp in 1942," Dames said.

Dames, known as "Torchy" from his speed-skating days served our country into the 1950s -- working his way up to the rank of captain. For 30 years, he oversaw the city's Memorial Day parade and served as commander of the VFW for seven years.

At 95 years old, he's still sharp as a tack -- but recently...

"My legs went out on me and I can`t stand very good.  Before that I was using a walker," Dames said.

That prompted his neighbor and close friend Dan Britten to jump into action.

"He never asks or expects anything from anybody.  It`s kind of a treat to help out a guy like him," Britten said.

A veteran himself, Britten saw an ad at Home Depot for a veteran's assistance program. A statement on the company's website says Home Depot "pledges to ensure every veteran has a safe place to call home." It uses grants to help pay for veteran home improvement projects. Britten applied, and says a contractor came out to the house in May.

"It sounded as though it would be done like yesterday -- and nothing ever materialized," Dames said.

Britten put up a temporary ramp as they waited. The current ramp isn't up to code, and the city is requiring that it be taken down in two weeks.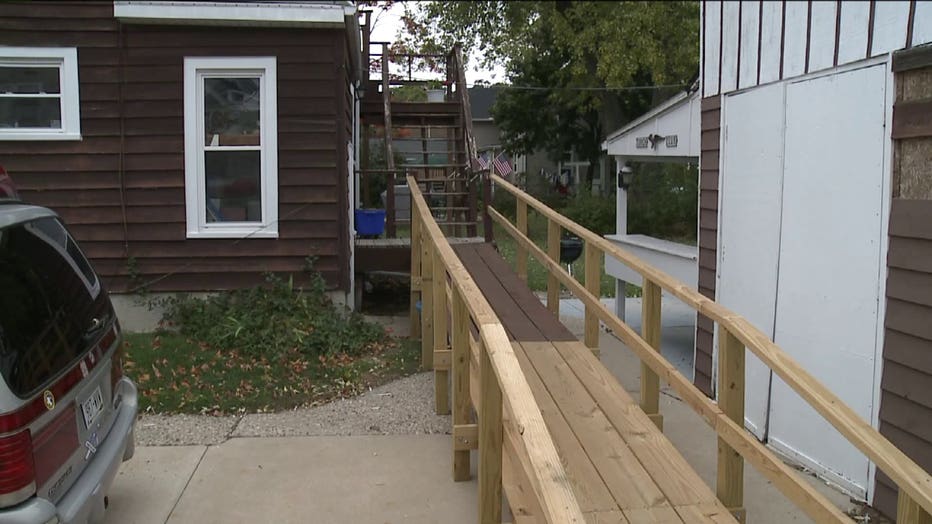 "I`ve been living on this dream that was promised on Memorial Day.  One holiday goes by, another holiday goes by and boom - nothing," Dames said.

For a man who is still fiercely independent...

"He doesn`t want to be put in a nursing home.  He`s a true soldier.  Refuses to ask for help cleaning dishes, cooking meals.  He`s still able to do it on his own," Britten said.

Dames says he just wants what he was promised all those months ago, and he says he's extremely grateful that his brother in arms is helping him take up the fight.

"This guy would bend over backwards for me, and when he bounces back again, he says, `What else can I do?'" Dames said.

FOX6 News reached out to the Home Depot in Delafield for comment on this story. Workers directed us to the individual who handles media relations, who wasn't available for comment.

Britten says he's now looking for anyone else who can help make a safe wheelchair ramp a reality for Torchy.