'Grumble' of pugs rounded up in Town of Grafton, soon available for adoption
SAUKVILLE -- Four little Pugs will soon be up for adoption after being rounded up in the Town of Grafton.

The Ozaukee County Sheriff's Department responded to calls about several pugs running loose near Lake Shore Road on Tuesday, Oct. 2. An officer was able to gather up three of the Pugs -- and a citizen brought in the fourth dog. The pugs were then brought to the Wisconsin Humane Society (WHS) Ozaukee Campus.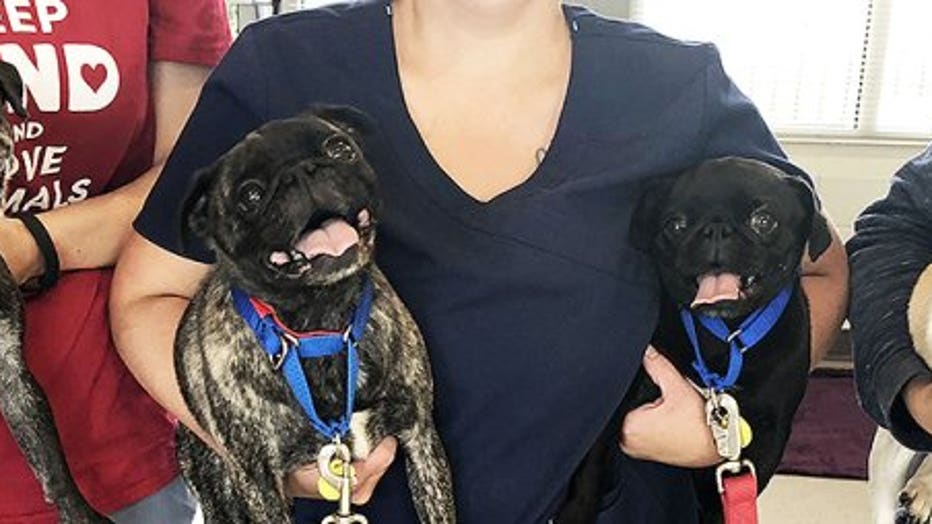 The four adult Pugs were named Pugster, Pugsley, Pugzilla and Pugsworth by employees, who originally suspected that the Pugs had gotten loose and would be quickly claimed. To their surprise, no one has come forward during the mandatory stray hold period, so the shelter is getting them ready to be adopted to new loving families.

WHS officials say the dogs range in age from about 2 years old to about 10 years old. They are all females.

Angela Speed, vice president of communications at WHS issued the following statement:

"They are heartbreakingly cute and silly. Two of the Pugs have gotten dental treatments and spay surgery, and should be available today. The other two are likely to be available later this week, and we are going to need extra help in placing Pugsworth. The sweet senior has numerous growths, a collapsed but non-painful eye, as well as dental issues, so we're looking for someone willing to open their heart and home to a very special dog with medical conditions."

Interested adopters should keep an eye on wihumane.org, as the dogs will be posted to the website as soon as they are available; adoptions are first-come, first-served, as long as it's a good fit. The Pugs can be adopted separately, although staff would welcome adopters willing to take on more than one.

For the record, a group of Pugs is adorably called a "grumble."