'Great British Bake Off' winner presents Queen Elizabeth with a purple orange drizzle birthday cake
Queen Elizabeth turned 90 years old on Thursday (April 21), and the winner of Season 6 of BBC's "The Great British Bake Off," Nadiya Hussain, was given the high honor of baking her majesty's birthday cake.

While most chefs would crumble under the pressure to make a treat literally deserving of a queen, the British monarchy couldn't have picked a better choice. Hussain won the baking competition in 2015 by whipping up 16 iced buns, a raspberry flavored mill-feuille, along with one of the challenging recipes of celebrity chef-judge Paul Hollywood, plus the multilayered piece de resistance "My Big Fat Wedding Cake" all in 3 hours.

RELATED: Will Ferrell wants to 'knock boots' with Queen Elizabeth, and other insane 'Late Night' shout-outs

But unlike Hussain's victory lap on reality TV, her dessert debut for the queen was a stumble. The cake was uneven, and towered awkwardly to one side. The Queen could barely muster a fake smile at the uneven cake.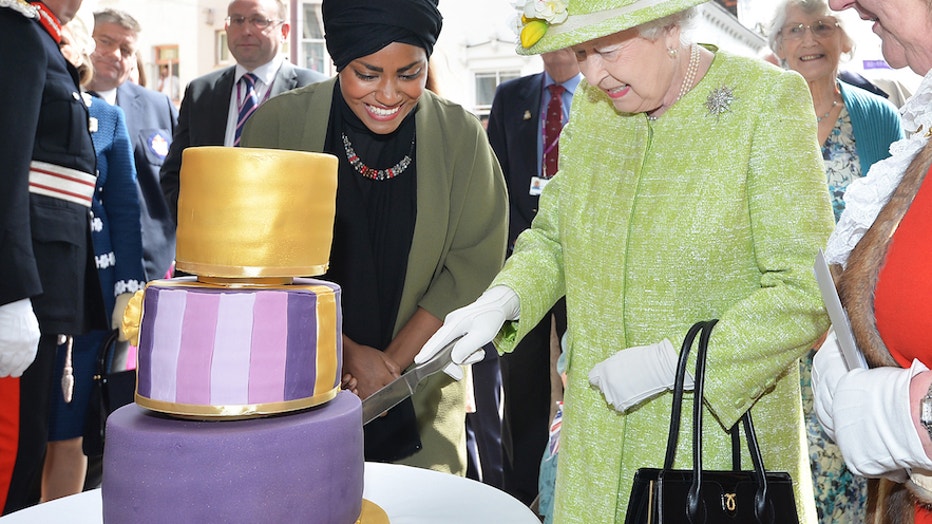 The triple layered royal purple and gold cake made for Queen Elizabeth's 90th was both simple, and sleek, colorful and fun, but obviously imperfect. And the Queen's people took notice.




Hussain's biggest fear of making an uneven cake for her majesty has unfortunately become a reality. "I'm officially nervous," she told BBC One cameras. "For a cake like this, you've got to get the spirit level out. That will bug me until I get every crumb off."

While she had to deliver a cake that fell below her own standards to the queen, what's worse is she then had to standby as the entire world watched the Queen cut into it. Here's hoping that the tiered orange drizzle cake made with layers of buttercream and marmalade filling tasted better than it looked.