Gov. Walker signs Planned Parenthood defunding bills in Waukesha


WAUKESHA — Governor Scott Walker signed two bills Thursday morning, February 18th that will cut millions of dollars from Planned Parenthood.

The governor signed the measures at Life's Connection, a pregnancy counseling office in Waukesha.

The first bill requires family planning clinics to bill Medicaid only for the actual acquisition costs and dispensing fees for birth control drugs. The change would cost Planned Parenthood about $4.5 million annually.

The second bill attempts to block Planned Parenthood from collecting federal Title X grant money. Currently Planned Parenthood is the only recipient of that grant money. Under the bill, the state could compete for the grants and could not distribute any of the money to abortion providers.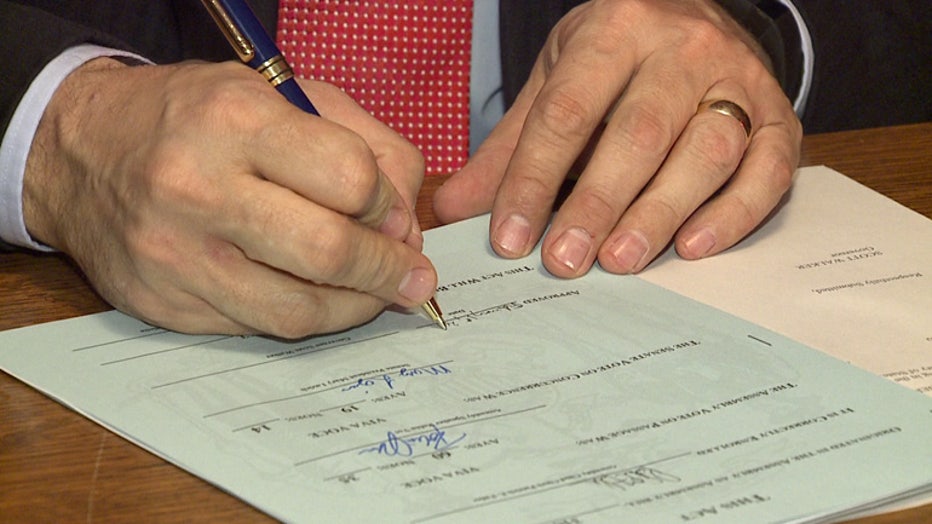 Gov. Walker signs bills in Waukesha


"The two pieces of legislation that we signed into law really help put the focus on making sure that, as we did with state tax dollars and federal tax dollars that come through the state, are protected and ensure that entities that receive them are non-controversial entities that provide assistance for women," Walker said.

Opponents of the law say it will restrict access to birth control, because Planned Parenthood won't be able to afford to continue supplying it.