Gov. Walker signs Milwaukee Bucks arena funding bill: "This is much more than an arena"


WEST ALLIS -- Governor Scott Walker signed the Milwaukee Bucks arena funding bill on Wednesday, August 12th at State Fair Park.

The Wisconsin Assembly passed the bill to have taxpayers pay $250 million to help pay for a new Milwaukee Bucks arena in downtown Milwaukee on July 28th. The bill passed on a bipartisan 52-34 vote. The Wisconsin Senate passed the bill on July 15th with a 21-10 vote.




Under the agreement, current and former Bucks owners will pay $250 million toward the $500 million cost of the arena. The $250 million taxpayer portion will eventually grow to about $400 million over 20 years.

Supporters say the new arena will bring jobs to Milwaukee and help improve the economy of the state. They say a new arena will help the city and state continue to move forward. They are relieved the funding bill has now been signed into law.

But critics still question whether a new Milwaukee Bucks arena in downtown Milwaukee will spur enough growth to justify the use of taxpayer dollars towards this project.




Governor Walker insists this project will make good use of public dollars.

"This is not pie-in-the-sky economic projections that you sometimes hear about these sorts of projects where they say 'this could be as much as this amount in economic impact.' This is direct dollars the state of Wisconsin gets," Walker said -- referring to the $6 million Wisconsin received each year from NBA players' income taxes.

Supporters say the success of the arena project depends on what happens far beyond the three-point line.

"This is much more than an arena. This is about economic development, and this is about thousands of people living, working, and playing in downtown Milwaukee and in this case, it`s about transforming an area that desperately needs transformation," Bucks President Peter Feigin said.

While the taxpayers' sticker prices is $250 million, the actual cost is closer to $400 million when you factor in interest: $80 million each from the state and Milwaukee County, $47 million from the city and $200 million from the Wisconsin Center District.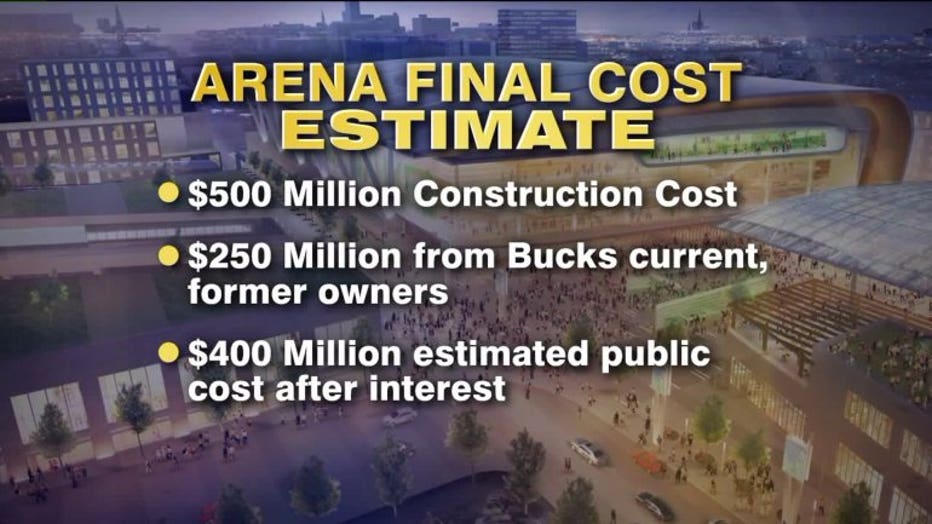 "I think you have to look at the return on investment, not the investment itself -- and we have potential for hundreds of millions in new development, in new tax revenue, and not to mention the new energy in the city," Steve Baas, vice president of the Metropolitan Milwaukee Association of Commerce (MMAC) said.

Milwaukee Mayor Tom Barrett told FOX6 News on Wednesday morning the Milwaukee Common Council will vote on the city's portion of the Bucks arena funding on September 22nd. A public hearing is set for August 31st. If all goes well, Bucks President Peter Feigin says the goal is to break ground on the arena in October of November. It's anticipated the arena would be ready for opening night in 2017.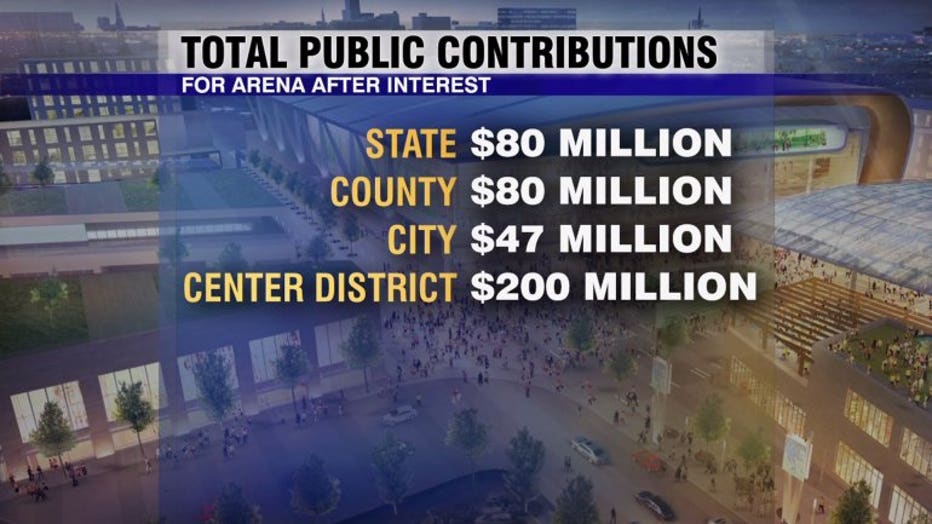 "I look at this as a $500 million public works project with a $250 million injection from the private sector," Mayor Barrett said.

As for Milwaukee County -- how it will come up with that $80 million remains unclear. Supporters say it's possible they'll come back in the fall and pass bills that will help Milwaukee County come up with the money needed to pay that $80 million.

The Milwaukee Bucks released the following statement from President Peter Feigin:

"Today's signing is the culmination of an extraordinary effort from a broad coalition to not only keep the Bucks in Wisconsin, but revitalize Milwaukee. The entire Bucks family is thankful for the leadership and bipartisan support of Governor Walker, state legislators, local officials, countless organizations and the community. We will continue to work with the city and county to move this public-private partnership forward as swiftly as possible and make this world-class sports and entertainment district a reality."



"Will the new arena be hosting NBA Finals games within a few years? I`m not one to predict but I think we look forward to our future. We have a chance to grow, get better each day and our goal is to hold that gold trophy in that new arena," Bucks Head Coach Jason Kidd said.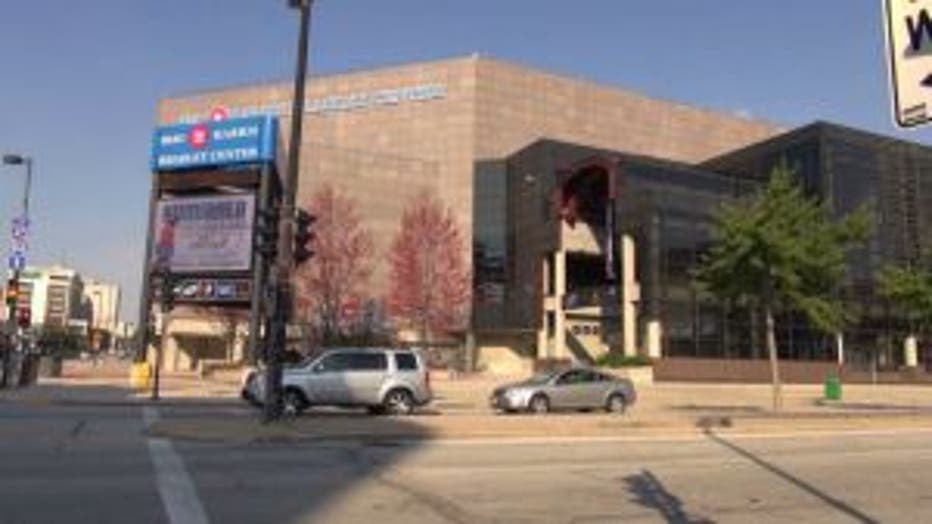 BMO Harris Bradley Center


Marquette University President Michael Lovell issued this statement:

"We at Marquette are grateful to Governor Walker and the Wisconsin Legislature for their leadership and bipartisan support of this important public-private partnership. The new arena is critical to Milwaukee's growth and its status as a first-class city, and the state's investment in that is commendable.

We are confident that the City of Milwaukee and Milwaukee County will complete this process, and we are excited to see the Bucks' billion-dollar vision realized. This is bigger than NBA basketball – this will be transformational for our city, region and state. Once again, we also thank Bucks owners Wes Edens and Marc Lasry, and Senator Kohl for their generous contribution to keep the Bucks in Milwaukee. We are thrilled to be a tenant in the new facility, and we look forward to breaking ground for the new home of Marquette Men's Basketball."

READ IT: Statement from Governor Walker's Office on signing of arena funding bill.

READ IT: Common Council to review arena plan in series of meetings beginning August 31st.