Gay pastor 'horrified' to find ugly slur on Whole Foods cake: lawsuit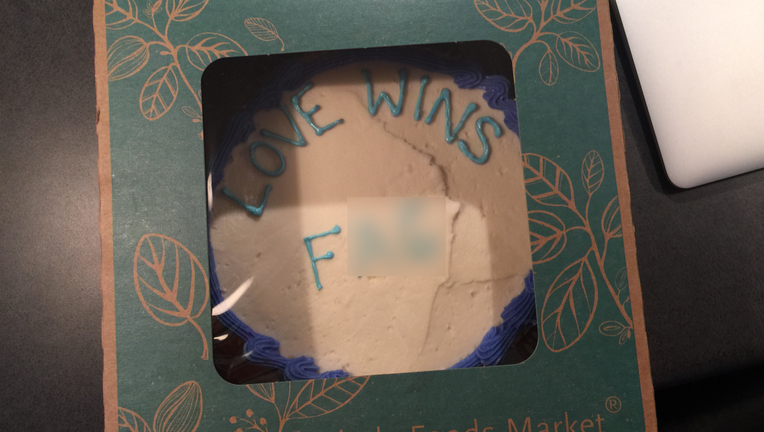 article


Pastor Jordan Brown says he found an anti-gay slur on the cake he bought from Whole Foods for a congregation member. (Kaplan Law Firm)

AUSTIN, Texas – A Texas pastor is suing Whole Foods after he says a bakery worker added an anti-gay slur to the message he requested on his frosted cake.

Brown, who is openly gay and preaches at the non-denominational Church of Open Doors, went to the flagship Whole Foods in Austin, Texas to buy a cake for one of his congregation members, according to a lawsuit filed in Travis County court.

The pastor says he pointed to a blank, pre-frosted cake and asked the bakery worker to write "Love Wins" on the frosting. It was not until he walked out of the N. Lamar Blvd. store, got into his car and looked down at the cake that he saw written in blue icing, "Love Wins F**," according to the suit.

After leaving a voicemail with the corporate office that he says wasn't returned, Jordan called the store, his lawyers say. Team Leader Geoff Nunez was immediately apologetic and promised to do everything possible to find the bakery associate responsible and correct the situation.

After two hours, Jordan's phone rang – it was Nunez calling him back to say that he didn't think anyone at Whole Foods had acted inappropriately, Brown recalled.

According to the lawsuit:

"Pastor Jordan asked Nunez directly, 'If the bakery associated did not do this, then who wrote this on my cake?' Nunez responded to the effect of, 'I don't know, and we can't help you,' and hung up the phone."

Whole Foods stood by Nunez, issuing the following statement:

The team member wrote "Love Wins" at the top of the cake as requested by the guest and that's exactly how the cake was packaged and sold at the store. Our team members do not accept or design bakery orders that include language or images that are offensive. Whole Foods Market has a zero tolerance policy for discrimination.

Brown says he has suffered severe emotional distress, and made the following video to explain what happened and to show the label he says is proof the cake wasn't tampered with: