Fond du Lac County sheriff to exhume Jane Doe remains found in 2008; new image released
FOND DU LAC -- As part of the ongoing investigation to determine the identity of Jane Doe, the Fond du Lac County Sheriff's Office released on Monday, April 23 a newly updated facial reconstruction of her. Investigators will also be utilizing new forensic technology to try to determine who she was.

The woman's remains were discovered by deer hunters in a shallow creek in the southern part of Fond du Lac County on Nov. 23, 2008.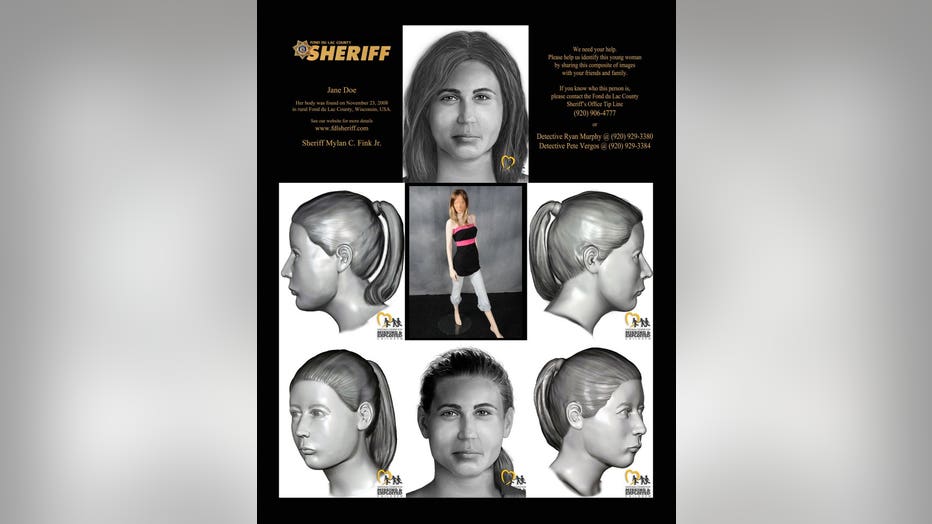 In addition to the new facial reconstruction, the Fond du Lac County Sheriff's Office, with assistance from the National Center for Missing & Exploited Children (NCMEC), will be exhuming Jane Doe's remains on Thursday, April 26. Officials say having access to the woman's remains will provide the forensic anthropologists another opportunity to examine her remains and focus on specific features unique to Jane Doe that may assist us in identifying her.

Furthermore, the Fond du Lac County Sheriff's Office will be facilitating chemical isotope analysis on her bones which could provide historical data that could lead us to geographic regions where Jane Doe may have previously resided.  Additional testing such as DNA phenotyping may also be performed.  DNA phenotyping can predict genetic ancestry, eye color, hair color, skin color, and face shape.

Jane Doe was petite, approximately 15-21 years of age, stood approximately 5'1" tall and weighed around 120 pounds.  Her hair was light brown to dark blonde in color, 12-14 inches in length, and she is believed to be Caucasian; however, she may be of Hispanic, Asian or Native American decent.

If you have information that could help authorities in this case, you're urged to call the Fond du Lac County Sheriff's Tip Line at 920-906-4777.