Flynn: Officer who fatally shot Sylville Smith is African-American; there are concerns for his safety


MILWAUKEE -- Milwaukee Police Chief Ed Flynn and Milwaukee Mayor Tom Barrett on Sunday afternoon, August 14th provided an update on unrest in the city beginning Saturday night, August 13th and continuing into the early morning hours Sunday in the wake of a fatal officer-involved shooting that happened Saturday afternoon.

Mayor Barrett spoke first, saying: "For the last 24 hours, this community has experienced a lot. We have been challenged in a way we have not been challenged for years."

"(Saturday) night was unlike anything I have seen in my adult life in this city. I'm proud of the way our police officers and firefighters responded. What you saw (Saturday) night was tremendous restraint by our officers. Not a single shot was fired by the police," Barrett said.

Barrett thanked those who have stepped up in the wake of the violence to help restore peace and clean up the neighborhood.

"I saw dozens if not hundreds of volunteers who were there to clean up after (Saturday) night. Those are good people who live in this community, who care about this community. Ironically, that is the reason the officers were in the neighborhood (Saturday afternoon).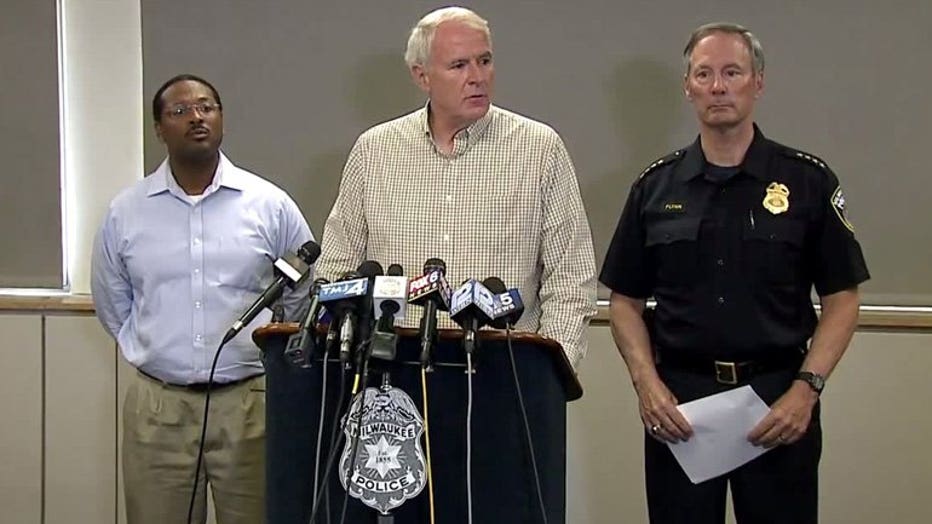 Ashanti Hamilton, Tom Barrett, Ed Flynn


Barrett said officers were in the area Saturday afternoon around 4:00 a.m. near 44th and Auer "to preserve the safety of the neighborhood" when the officer-involved shooting occurred following a traffic stop.

A pair of police officers stopped two people driving through the north-side neighborhood, police said. That led to a foot chase between the people in the car and police, which ended when an officer shot one of the two -- a 23-year-old man who was armed with a handgun, authorities said.

The police officer "ordered that individual to drop his gun, the individual did not drop his gun," Barrett said during a news conference later in the day. "He had the gun with him and the officer fired several times."




The man, identified by Milwaukee Police Chief Ed Flynn as Sylville Smith, died at the scene. It was unclear Sunday morning whether the second occupant of the car was in police custody. The officer who fired the fatal shots was not injured and will be placed on administrative duty during an investigation.

The officer who fired the deadly shots is 24 years old and has six years of service with the Milwaukee Police Department -- three as an officer.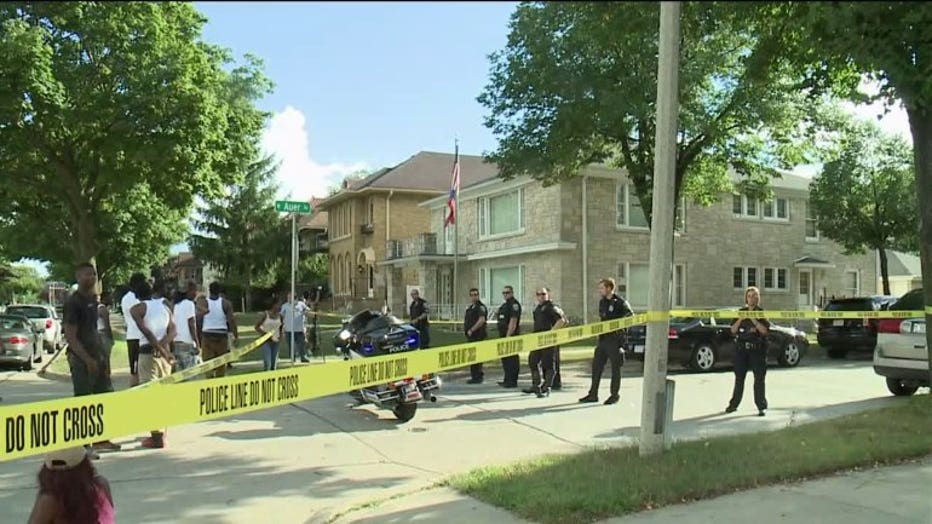 Officer-involved shooting near 44th & Auer


Chief Flynn said Sunday afternoon that officer is African-American. That officer is not being identified, as Flynn said there are concerns for his safety.

The officer was wearing a body camera at the time of the shooting. Flynn and Barrett said that body camera video is not being released at this point, as the investigation is ongoing. Barrett noted that the officer who fired in this case hadn't been interviewed as of 3:00 p.m. Sunday.

"A young man lost his life (Saturday) afternoon. No matter what, his family has to be hurting. There was a body camera the officer was wearing. The video will be under the jurisdiction of the state of Wisconsin. I have seen a still photo extracted from that video. That photo demonstrates, without question, that (Smith) had a gun in his hand. The police officer didn't know it at the time, but there were 23 rounds in that gun. He had more bullets in his gun than the police officer had in his gun. What that police officer encountered was an individual who had a gun in his hand. I would like to see the video released as soon as possible but I agree -- the officer has not even been interviewed yet, the officer who was involved," Barrett said.

"This happened (Saturday) night, OK? I don`t think there`s anyone in the country who`s released a body-worn camera of an officer-involved shooting in 24 hours or 36 hours. I think Chicago set the modern record with a week," Flynn said.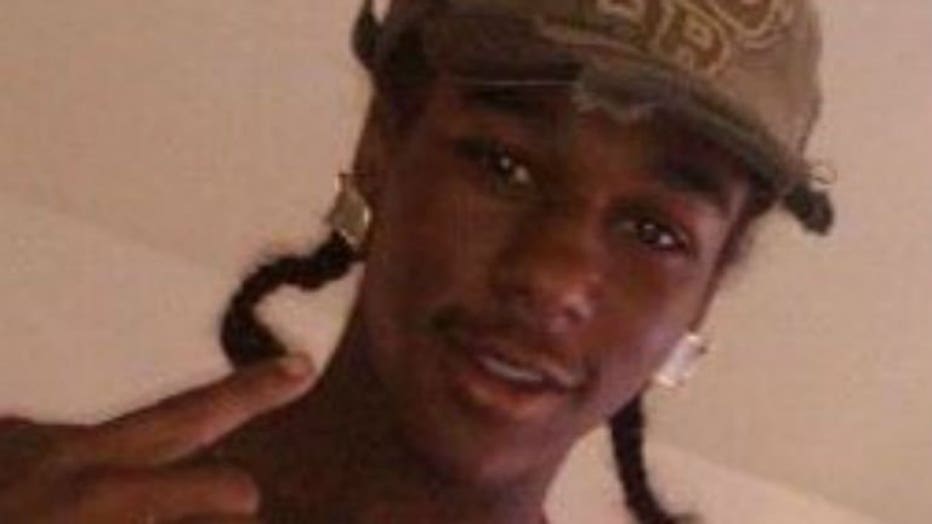 Flynn said the suspect, Sylville Smith, had a lengthy arrest record with MPD.

FOX6's AJ Bayatpour spoke with Smith's father, Patrick Smith Sunday -- who blamed himself for his son's death.

"They`re looking at their dad like, 'he`s doing all these things.' I just got out of jail probably two months ago, but I`ve been going back-and-forth in jail and they see these things -- so I`d like to apologize to my kids because this is the role model they look up to. When they see the wrong role model, this is what you get," Patrick Smith said.

Barrett and Flynn during the news conference broke down the impact of the violence that stemmed from the officer-involved shooting.

There were six fires set overnight -- at the BP gas station at Sherman and Burleigh, Jet Beauty at 35th and Fond du Lac, BMO Harris Bank at 36th and Fond du Lac, O'Reilly Auto Parts at Fond du Lac and Burleigh, MJM Liquor at Fond du Lac and North and a second liquor store at 21st and Hopkins.

A traffic signal was also bent and bus shelters overturned. Also, police squads were damaged during the course of the night. And there were reports of looting.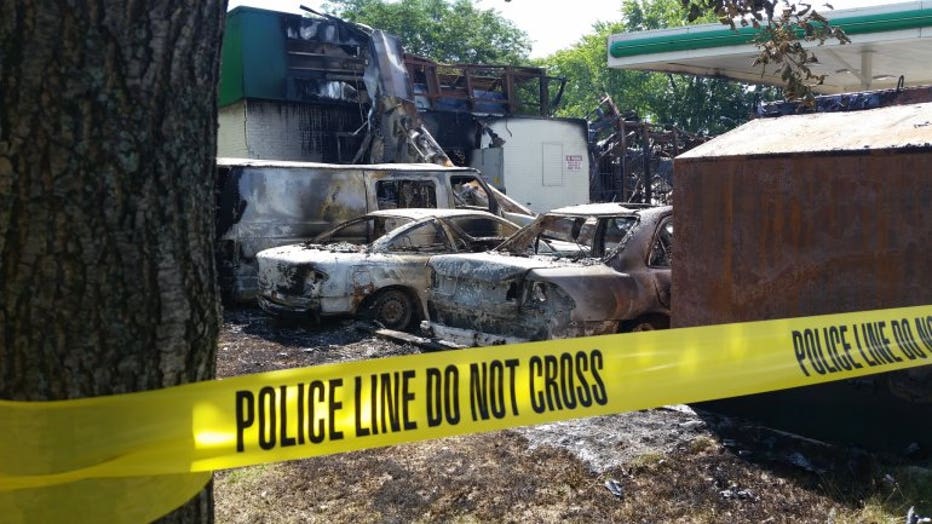 What remains after unrest near Sherman & Auer in Milwaukee


Barrett and Flynn said there were 17 arrests made overnight -- eight adult males, three adult females, two juvenile males for disorderly conduct, and three adult males, and one juvenile for burglary. All of those arrested have prior criminal records.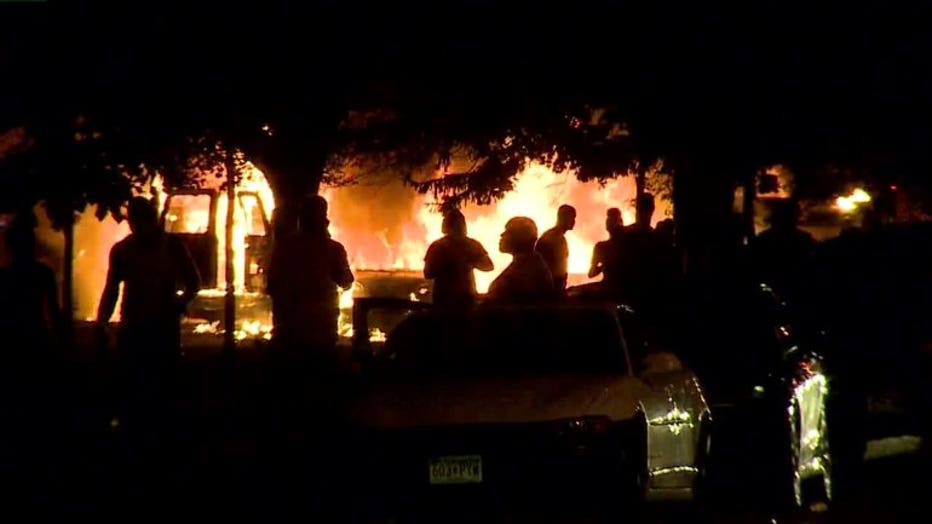 Fire burns at gas station near Sherman & Auer in Milwaukee


ShotSpotter, which tracks gunfire in the city, was activated 48 times overnight. Each activation could be a round of multiple shots, officials said.

"There was a great deal of gunfire in the area," Flynn said.

Seven squad cars were damaged -- one unmarked squad set on fire, one marked squad smashed by rioters and totaled, one marked squad struck by gunfire (a single shot to the truck area).

Eight rounds of gunfire struck a Bearcat vehicle being utilized during the unrest.

One squad and one wagon were struck by bricks -- breaking windows.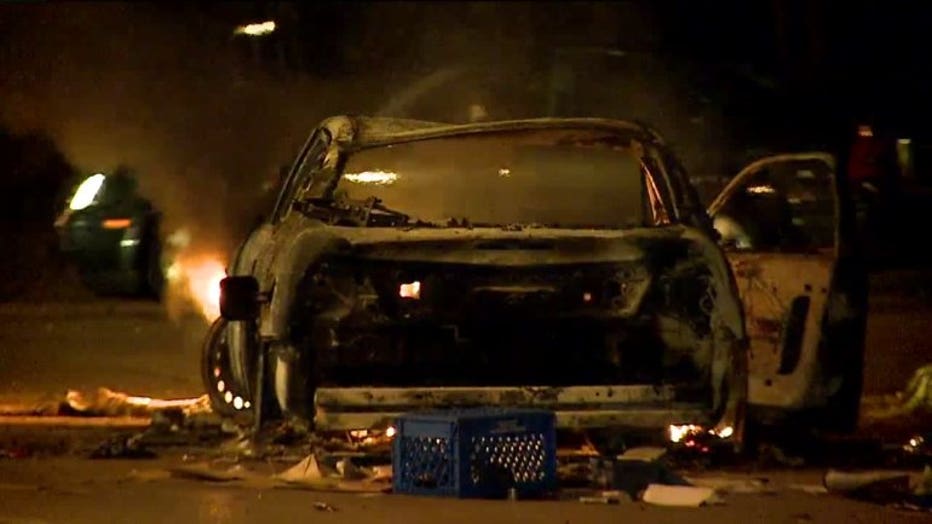 Unrest near Sherman & Auer in Milwaukee


Four officers were hurt overnight. A female officer was struck by concreted and sustained a concussion. She needed seven stitches. Another officer was hit by concrete in the arm, and another in the shin. The fourth officer was hit by flying glass. All officers had been treated and released by Sunday afternoon.

Police said a 16-year-old girl was struck by stray gunfire near 43rd and Burleigh. Four officers were hurt. Three were hit by concrete, and one by flying glass.

Amid all of this violence, Barrett and Flynn said there were no shots fired by law enforcement officers, nor was there use of pepper spray, batons or Tasers.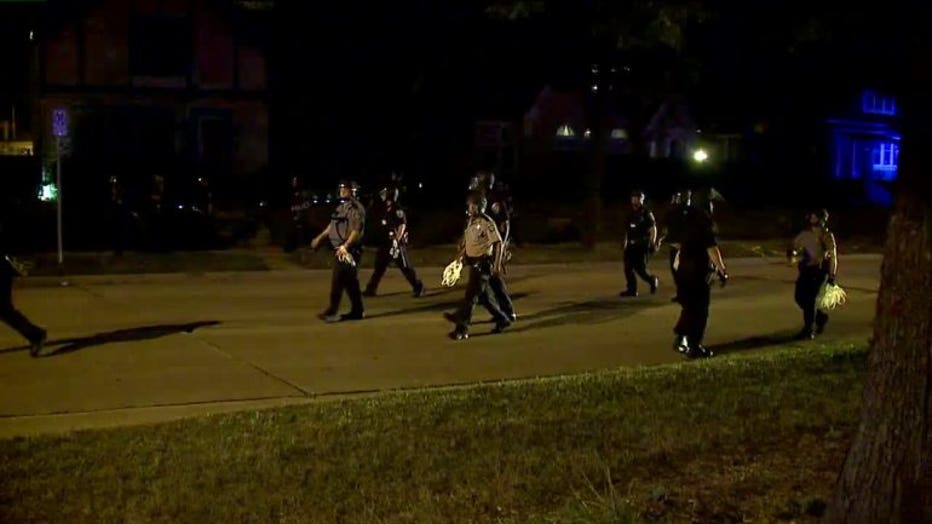 Unrest near Sherman & Auer in Milwaukee


On Sunday night, there will be 150 officers deployed as part of MPD's Major Incident Response Team. Flynn said all officers will be hitting the streets in two-person patrol units.

Governor Scott Walker has activated the National Guard -- but Barrett said the National Guard would not be deployed unless Chief Flynn deemed it necessary. 125 members of the National Guard were headed to Milwaukee Sunday.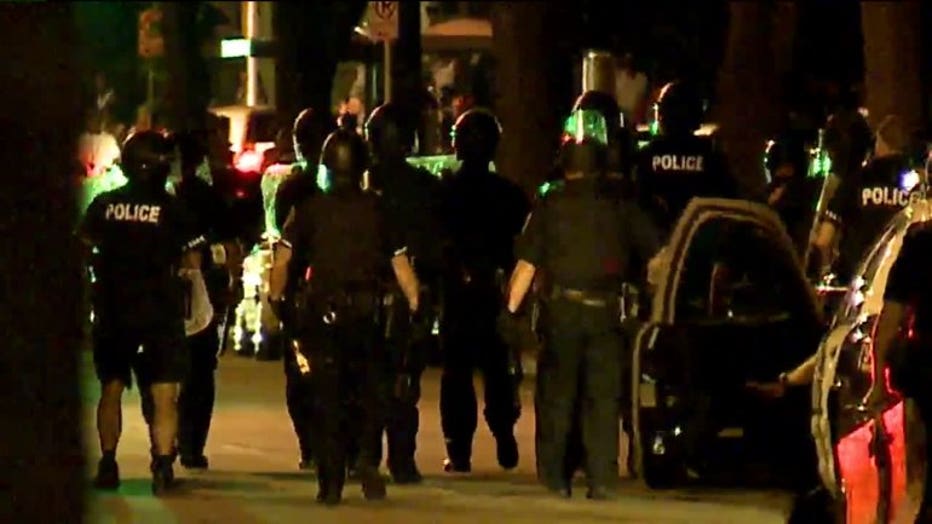 Unrest near Sherman & Auer in Milwaukee


"I hope calm will remain in this community, and we will not have to deploy the Guard," Barrett said. "This is still a very volatile situation. I'm seeking our community, the city that we love, to be calm (Sunday night) and the rest of the summer. What is that going to take? It's going to take parents making sure that their sons and daughters do not get involved in what happened (Saturday) night. I've been in every neighborhood in this city. I've been to funerals and wakes. We don't know what's going to happen if we have a flare-up like (Saturday) night. If you love your son, if you love your daughter, you love your grandchild, tell them to stay away from the area. Let's calm things down. We has a community owe it to each other, we owe it to everyone, to restore order."




A preacher at Sherman Park has called for a community gathering at 8:15 p.m. at the BP gas station to protect the neighborhood.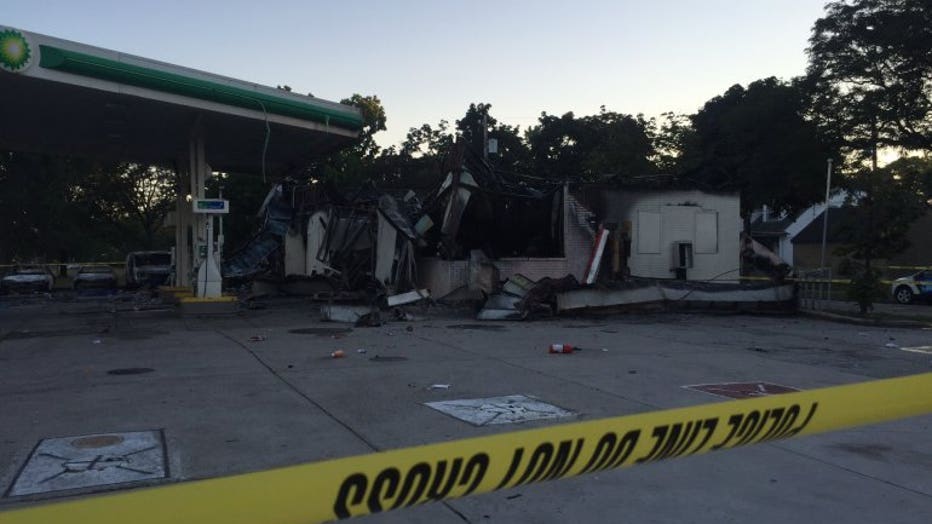 What remains after unrest near Sherman & Auer in Milwaukee