First weekend of summer brings heat, chance of storms


MILWAUKEE (WITI) -- Summer officially begins on Friday, June 21st -- and with it comes a chance for storms over the next several days -- along with temperatures in the 80s and high dewpoints -- making it FEEL like summer, and likely giving air conditioning units a workout.

The Storm Prediction Center has parts of the state of Wisconsin under a "slight risk" for severe weather on Friday, June 21st.

FOX6 Meteorologist Vince Condella said Thursday night storms in Minnesota and NW Wisconsin could head our way -- and bring storms to southeastern Wisconsin on Friday morning -- and occasional storms throughout the weekend.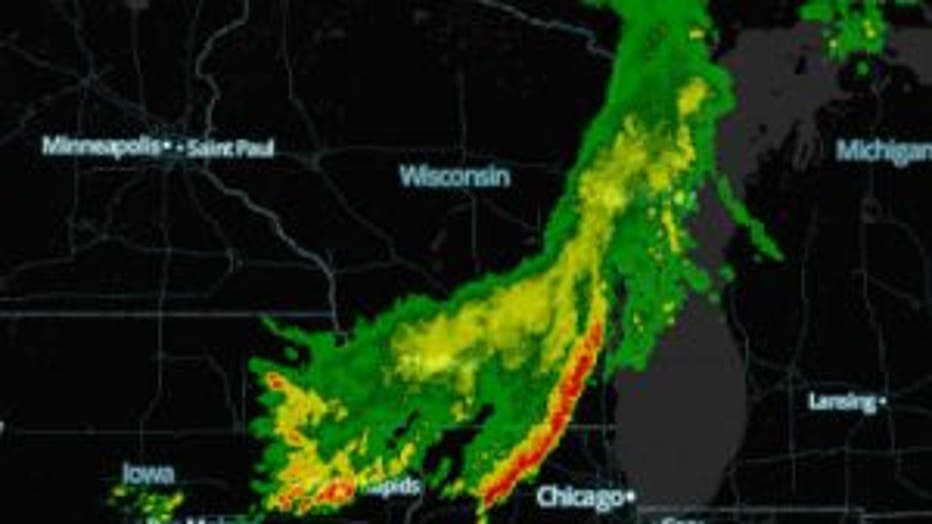 FOX6 Meteorologist Justin Zollitsch says the upcoming weekend brings highs close to 90 degrees, with ample humidity (dew points approaching 70°).

Zollitsch says the sultry airmass is also quite unstable, leading to occasional showers and thunderstorms through the weekend and even into the early part of next week.

A stalled front over Wisconsin will help trigger these thunderstorms from time to time.

Despite the chance for storms, Zollitsch says the chance of severe weather is marginal, saying despite the unstable airmass we lack a strong jetstream needed to sustain the storms when they develop.

As always, FOX6's weather team will be monitoring conditions throughout the weekend, as any storms pop up.

Here is Rob Haswell's forecast as of Friday morning, June 21st.

Today: Partly cloudy, warm, and humid. Thunderstorms likely in the morning and a chance again in the afternoon. High: 84°. A bit cooler lakeside.  Dewpoint rising to the mid 60s. Wind: S 9-17 mph

Tonight: Mix of stars and clouds. Very muggy with a chance of T'storms. Low: 70°. Wind: S 8-15 mph

Saturday: Partly sunny, hot, and humid with a chance for showers and storms. High: 88°, cooling late near the lake. Dewpoint rising to near 70°. Wind: SSW 8-15 mph

Sunday: Partly sunny with a chance of showers and storms. Morning low: 70°. Afternoon high: 92°, cooling late near the lake. Dewpoint near 70°. Wind: SSW 8-15 mph

Monday: Mix of sun and clouds. Chance of showers and storms. Morning low: 70°. Afternoon high: 88°, cooling late near the lake. Dewpoint upper 60s. Wind: SSW 8-15 mph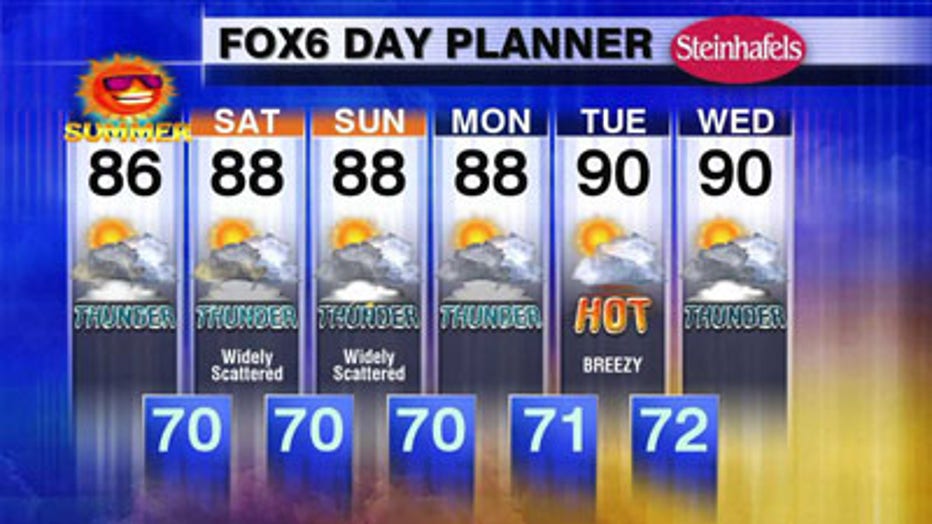 FOX6 News offers several tools to help you stay in touch with the weather.

The high-definition FOX6 Storm Center app for iPad is a full-featured weather app with the tools to keep you informed of weather news, current conditions and forecasts. The interactive radar provides an up-to-date map of precipitation for anywhere in the U.S.

Type your favorite location and see radar information and current conditions for those locations.

CLICK HERE TO DOWNLOAD THE FOX6 STORM CENTER IPAD APP
iPhone and iPad users tap here
CLICK HERE to MONITOR the radar via FOX6Now.com
CLICK HERE to "Like" the FOX6 Weather Team on Facebook
CLICK HERE to "Follow" the FOX6 Weather Team on Twitter