'Fire of Love' review: An explosively great documentary is one of the year's best films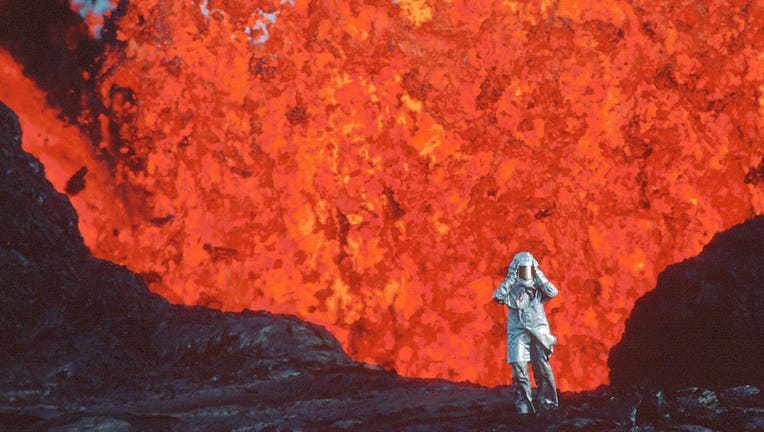 article
Chicago - Editor's note: This review originally ran as part of our coverage of the 2022 Sundance Film Festival on Jan. 21, 2022. It has been republished in light of the film's theatrical release on July 6. 
Pick just one of the major elements of this remarkable film — the mind-boggling footage from French volcanologists Katia and Maurice Krafft, Miranda July's appealingly curious narration, direction that's equal parts playful and mournful, masterful editing, a real humdinger of a love triangle — and that one element would be enough to make "Fire of Love" well worth approximately 100 or so minutes of your time. (93 minutes to watch, plus at least 10 to recover.) But director Sara Dosa allows all those fascinating pieces to roil together before, yes, erupting into a singular experience. 
RELATED: July movie preview: 'Thor: Love and Thunder,' Jordan Peele's 'Nope' and a million Minions
For a film that begins by telling us its heroes are long since dead, "Fire of Love" strikes an unexpectedly exuberant tone. That stems from its unusual subjects, a daring married couple who spent two decades traveling the world, capturing stunning images of volcanic eruptions. Dosa and team capitalize on the playful stylishness of the Kraffts' footage, turning to the French New Wave as inspiration. It's a choice that allows the audience to experience both the awe and joy felt by its subjects as they dance on the edge of destruction, lava spewing liquidly, even puckishly, just beyond their silhouettes. What footage do scientists capture when each day on the job is also a dream vacation? What's a day at the beach like when the sea is made of fire?
WATCH FREE ON TUBI: Sara Dosa's 2019 documentary "The Seer & the Unseen" — get the app
As with many great love stories, the romance becomes richer and more complex with age, as the Kraffts turn away from the bubbly red eruptions to their lethal gray cousins. Death is a constant presence in "Fire of Love," but its meaning to the Kraffts changes as they learn and experience more. It's here, in the film's more mournful second half, that Dosa really gets cooking. In the poetry of this precious scientific footage, Dosa unearths meditations on love, life, art, discovery, film, sacrifice and joy — and in doing so she brings the film back around to its early ebullience. When lava erupts from the earth, you see it raining furiously down. But if you shift your gaze past that veil of fire, you can also see it soaring up, up, up. Dosa, like the Kraffts, sees both at once, and her audience is all the richer for it.
Grade: A
"Fire of Love" is currently playing in select theaters. Rated PG. 93 minutes. Documentary. Dir: Sara Dosa. Featuring: Miranda July.
The Truth is in the Stars (2007): This tight documentary (it clocks in at just under 90 minutes, or around 9 Blue Origin missions) sees William Shatner enter into conversation with scientists and artists alike on the subject of "how the imaginative optimism of 'Star Trek' influenced multiple generations." Rated TV-14. 86 minutes. Dir: J. Craig Thompson. Also featuring Stephen Hawking, Ben Stiller, Gene Rodenberry, Neil deGrasse Tyson, Whoopi Goldberg.
"The Truth is in the Stars" is streaming free on Tubi — get the app
How to watch "Fire of Love"
"Fire of Love" is in select theaters nationwide. It is not currently available to stream.
About the writer: Allison Shoemaker is a Chicago-based pop-culture critic and journalist. She is the author of "How TV Can Make You Smarter," and a member of the Television Critics Association and the Chicago Film Critics Association. She is also a producer and co-host for the Podlander Presents network of podcasts. Find her on Twitter and Instagram at @allisonshoe. Allison is a Tomatometer-approved Top Critic on Rotten Tomatoes.
About Tubi: Tubi has more than 40,000 movies and television series from over 250 content partners, including every major studio, in addition to the largest offering of free live local and national news channels in streaming. The platform gives fans of entertainment, news and sports an easy way to discover new content that is available completely free.
Tubi is available on Android and iOS mobile devices, Amazon Echo Show, Google Nest Hub Max, Comcast Xfinity X1, Cox Contour, and on OTT devices such as Amazon Fire TV, Vizio TVs, Sony TVs, Samsung TVs, Roku, Apple TV, Chromecast, Android TV, PlayStation 5, Xbox Series X | S, and soon on Hisense TVs globally. Consumers can also watch Tubi content on the web at http://www.tubi.tv/.
Tubi and this television station are both owned by the FOX Corporation.