Explosion at Saukville foundry, seven suffer burn injuries


SAUKVILLE (WITI) -- An explosion and fire at Johnson Brass and Machine Foundry on Mill St. in Saukville injured seven workers on Monday afternoon, May 19th.

Officials say the explosion happened just after 4 p.m.

Apparently molten metal was being poured into a cast and it was spinning around. They say all of a sudden, it exploded, and knocked several people off a platform. Those victims were burned.

The metal was apparently heated to 2,100 degrees.

A fire started in one corner of the building -- and the foundry was immediately evacuated.

"I felt the vibration and heard the thud. I ran over -- saw the smoke and fire and immediately knew this was bad," one foundry worker said.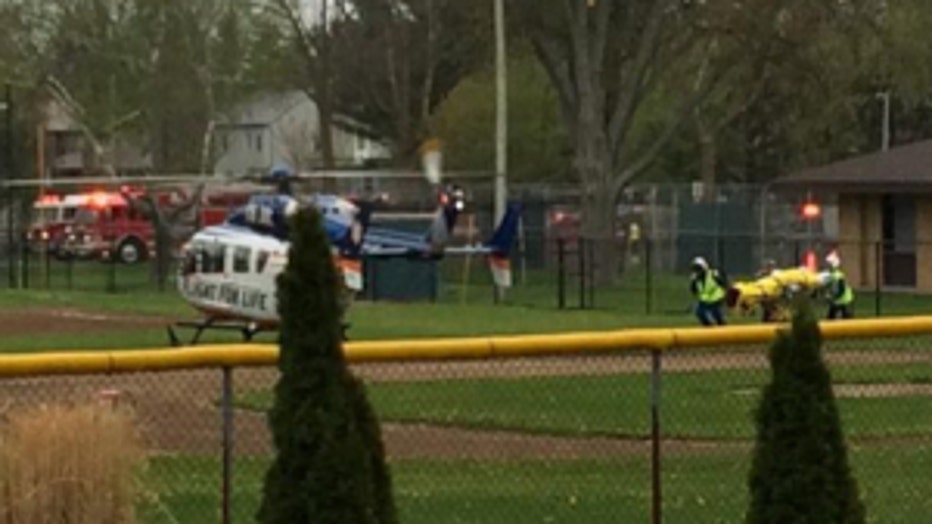 During a briefing, officials say of the seven people who were hurt, two were flown by Flight for Life to Columbia St. Mary's Hospital -- which has a burn center.

Two more were transported to Columbia St. Mary's by ambulance.

That brings the total number of patients at Columbia to four.

A Communications Coordinator for Columbia St. Mary's Hospital in Saukville tells FOX6 News three patients are being evaluated in the hospital's burn unit, and one patient, who was initially being evaluated in the hospital's emergency department, has been moved to the burn unit also.

The others injured were sent to hospitals closer to Saukville.

The condition of those injured in this incident is unknown.

The Johnson Brass foundry is situated in the middle of a residential area. However, no homes nearby were evacuated.

Those who were home at the time, though, say the explosion shook their walls!

"The whole house just shook. There was a 'boom.' Not sure what it was actually," Jill Gall said.

Gall says the explosion had her heart beating fast.

"I was scared as heck!  I came running out to see if there was an accident out front, or what was going on. Saw smoke billowing out from behind and that`s when couple of the ladies came out from the office area and said the foundry`s on fire," Gall said.

Later in the evening, Mark Edbauer Sr. came to the foundry to pick up his son's belongings.

"He worked here in the foundry," Edbauer said.

The last time Edbauer spoke to his son was when Mark Edbauer Jr. was headed to the hospital.

"He was in there when it whatever, blew apart. Some molten metal went down his back. Got just some minor injuries. Just about ready to release him from the hospital," Edbauer Sr. said.

Edbauer Sr. says his son is a former volunteer firefighter who had only worked at the foundry for a few months.

He is expected to recover.

"You don't want anything horrible to happen to any of these people," Edbauer Sr. said.

A lieutenant with the Saukville Fire Department indicated multiple fire departments aided with the explosion departments from Port Washington, Fredonia, and possibly Waubeka and Grafton. An emergency preparedness team was also on the scene.

Now, investigators are trying to determine what caused the explosion and subsequent fire.

One of the many things investigators will be looking into is whether there was moisture in the machine that malfunctioned.

Firefighters say when you're working with material in excess of 2,100 degrees, the temperature difference between that and water could result in an explosion.



According to the Johnson Brass website, the company (also known as Johnson Centrifugal Technology or JCT) has been in operation since 1905. It's now in its 4th generation of Johnson family ownership and operation.

JCT regularly manufactures metal components both in cast and wrought alloys. Pure copper, cast and wrought aluminum, Monel, nickel silver, chrome copper, copper silver, zirconium copper and stainless steel are all expertly formed through Johnson Centrifugal Technology.

The company is able to produce shapes and sizes that are unheard of in the industry, such as balls, stators, seals, valve bodies, gears, large flanged bushings, vacuum chamber liners and medical imaging mainframes.

Monitor FOX6 News and FOX6Now.com for updates on this developing story.