Dying grandmother gets wish for one final Whopper


GRANDVILLE, Mich. -- As a grandmother came to the end of her 6-month battle with cancer, she made one final request -- a double meat Whopper from Burger King.

Jacki Traxler still tears up remembering her beloved mother, Brenda Traxler, who passed away on New Year's Day. Now, months later, she's looking to thank the people who helped grant her mother's last wish.

"She was the best person in the whole world," said Jacki.

She describes her mom as a hard-working woman and a fantastic  grandmother to her two kids.

Brenda was diagnosed with stage three lung cancer in 2014, and in October her diagnosis increased to stage four. She was given just three months to live.

Jacki said her mother was sleeping a lot, wasn't getting up, and barely eating. Yet somehow, Jacki's mother found strength for one final request -- a double meat Whopper from Burger King.

"That was the last thing she wanted," Jacki said. "She loved Whoppers."

"Ever since she was pregnant with me and my sister Jodi, she made my dad go out in a snow storm and get double meat Whoppers when she was pregnant."

Jacki called three West Michigan Burger Kings at four in the morning, determined to get her mom that Whopper.

She asked if they were serving Whoppers and all three said no. But Jacki decided to give the BK Lounge on 44th and Kenowa in Grandville a second try.

She explained her mother's situation and they agreed.  The workers not only made the Whopper, but added a special note that read,  "You go girl. Wooo!! Get well soon."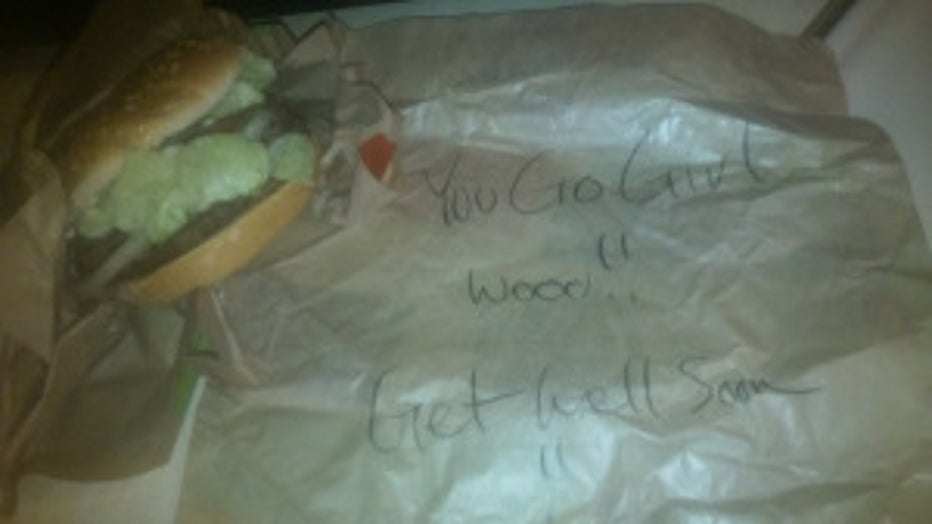 "I don't know who did it to this day," said Jacki. "I thank God for her because  that was the best thing anybody could have ever did."

Olivia Martinez, a manager at the Burger King on 44th in Grandville, says it's been a while since she made that whopper,  but remembers it clear as day.

"I didn't think making a Whopper for someone would actually go that far and make them feel that special," Martinez said.

Just two days after Brenda ate her final wish, she passed away.

"She passed away with what she loved and that was a double meat Whopper, she loved that," Jacki said. "It was the most amazing thing in the world."

Brenda told Jacki it was the best Whopper she'd ever had.